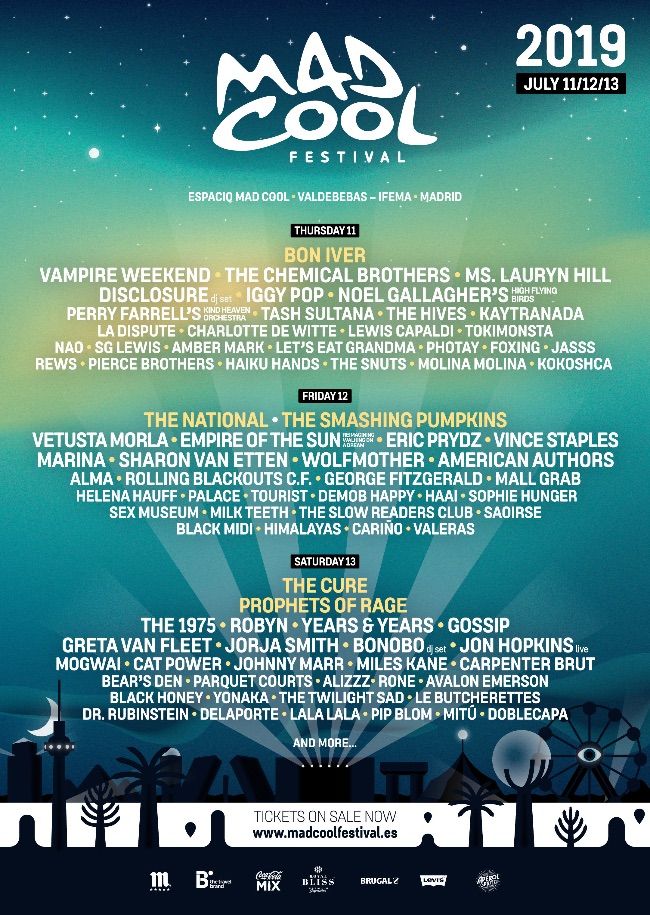 Mad Cool Festival completes it's line up for 2019!
Mad Cool Festival is very proud to curate this year's line-up and sincerely hope to achieve and repeat the great success of the award winning 2018 edition. Accolades included the prestigious NME 'Best Line Up Award' and the music industry ILMC Arthur Award for 'New Gig on the Block'. The latest wave of confirmed bands straddles a wide variety of genre and styles from Gossip's blistering soul swagger, to American Authors' dynamic rock stylings, electronic music from Tourist, and Demob Happy's scuzzy rock 'n' roll. Mad Cool genuinely hope we will once more fulfill the wishes of thousands of music fans in what has become a seminal international music event.
It was back on 6th November that The National were the first surprise of the 2019 line up and since then, there have been nonstop additions. Mad Cool Festival continued as they began with tsunami style announcements including another 23 bands such as; The Smashing Pumpkins, Noel Gallagher's High Flying Birds, Greta Van Fleet, Jorja Smith, Bonobo, Jon Hopkins, The Hives…
Today, while we wait for the winners of the Vibra Mahou Mad Cool Talent competition to be announced and a couple of other juicy surprises, Mad Cool completes its 2019 line up. Sadly, previously announced American soul-popster H.E.R has cancelled the whole of her European tour and as such will no longer be performing at Mad Cool. Furthermore for logistical reasons beyond our control, Teenage Fanclub have also been forced to cancel their Mad Cool appearance however we are very pleased to stay that Ms.Lauryn Hill and American Authors will be playing the festival in their stead.
Tickets are available at: madcoolfestival.es/tickets.php
Mad Cool 2019 Final Line Up Additions are:
Prophets of Rage
Ms. Lauryn Hill
Gossip
MARINA
Empire of the Sun
Cat Power
Johnny Marr
American Authors
Perry Farrell's Kind of Heaven Orchestra
Bear's Den
Parquet Courts
Let's Eat Grandma
Rone
Avalon Emerson
Palace
Tourist
Demob Happy
Black Honey
Amber Mark
SG Lewis
Saoirse
Himalayas
Cariño
Pierce Brothers
Haiku Hands
Molina Molina
Kokoshca
Dr. Rubinstein