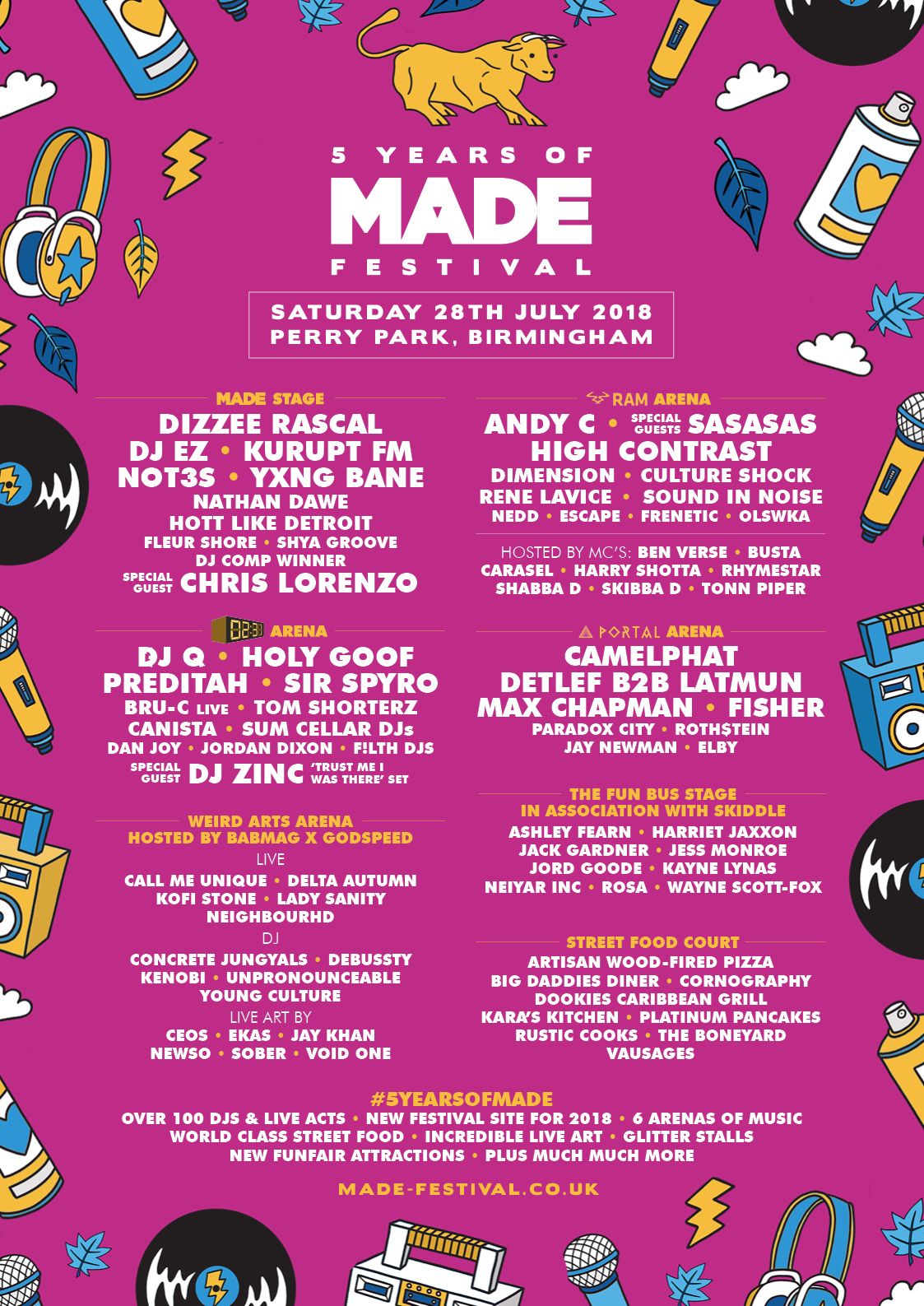 MADE ANNOUNCES TWO MORE STAGES, LIVE ART AND STREET FOOD AS BIRMINGHAM'S MOST IMPRESSIVE MUSIC FESTIVAL APPROACHES SELL OUT
MADE Festival has announced two more stages, live arts, a diverse street food court, fairground rides, glitter stalls and much more as it returns for 2018 to celebrate 5 years and a new home in Perry Park, Birmingham. Following 4 years of consecutively sold out events, MADE Festival 2018 tickets are already 85% sold and this event will sell out soon. The West Midlands' largest and best loved music festival will feature the Weird Arts Arena, a chance to experience different forms of street culture with spoken word, graffiti artists, live performances and more. Also, new for MADE 2018 is The Fun Bus Stage, a double decker bus specially kitted out for festivals with a killer soundsystem, which opens out to the crowd to deliver DJ sets and live performances. You don't have to be on board to enjoy the fun! As in previous years, MADE Festival will also showcase the best in local street art talent, with crowds able to experience live art creation. Of course, no festival is complete without the food to keep you going, and MADE 2018 brings a diverse selection of street food traders to Perry Park, from Caribbean grills to wood-fired pizza. And once their food has gone down, festival-goers can have some fun on the fairground rides, then visit the 100% environmentally-friendly glitter stalls to glam up, before jumping to the headline acts which include Dizzee Rascal, DJ EZ, Andy C, Kurupt FM, DJ Q, Chris Lorenzo, Preditah, High Contrast, Camelphat, Holy Goof, Not3s, SASASAS, Yxng Bane and many more. Travel from the city centre to the new site at Perry Park is fast and easy – Uber takes 10 minutes, trains 12 minutes, and buses just 14 minutes. Buses to the MADE MY NIGHT after parties are also available to pre-book, giving the choice of the BASS Lovers Party with Chris Lorenzo, DJ Q, Turno and Problem Central, or HOUSE Lovers Party with Special Unnanounced Guests, Jacky, Eli Brown b2b Mason Maynard and loads more. Tickets to Birmingham's most impressive music festival are still available (but not for much longer) at just £47.50 + b/f from www.made-festival.co.uk.
The Weird Arts Arena is hosted by BabMag & GodSpeed and is where MADE festival-goers can visit to enjoy a celebration of the diverse arts and street culture to be found in the West Midlands. MADE Festival has a long history of supporting street culture in the area and the Weird Arts Arena is bigger than ever, offering a platform for some incredible people to showcase their talents. Live performances come from Call Me Unique, Delta Autumn, Kofi Stone, Neighbourhd and Lady Sanity, who represented Birmingham at the closing / handover ceremony at the Gold Coast Commonwealth Games. Also featured are the cream of the areas rising DJ talent, including, Alex Daz, Concrete Jungyals, Debussty, Konobi and Young Culture.
The Fun Bus Stage is a great place to hang out when you need a breather from the main stages. A lineup of hugely talented DJs, both local and further afield,will take full advantage of this amazing double decker bus, specially designed to get the festival party started, including Harriet Jaxxon, a Ministry of Sound international touring DJ and Capital FM regular. The Fun Bus Stage will be a hidden gem that festival-goers should definitely check out.
MADE Festival shows its appreciation for Birmingham's incredible street artists once again this year. Visitors will be able to see these artists creating awe-inspiring murals and artwork live. Artists featured include one of the world's most respected street artists, Newso, (who, together with Gent, created the infamous MADE wall) still very active in the local scene but in demand worldwide for his unique collage style. Alongside Newso, festival-goers will be able to check out the skills of Jay Khan, Ceos, Ekas, Sober and Void One.
When stomachs start to rumble MADE Festival offers a delicious selection in the newly announced Street Food Court. Whether it's gourmet hot dogs, burgers, international flavours, pancakes, corn on the cob, vegan food and more, MADE's got you covered. Tasty treats will be provided by Big Daddies, Diner, Rustic Cooks, Artisan Wood-Fired Pizza, The Boneyard, Dookies Caribbean Grill, Cornography, Kara's Kitchen, Platinum Pancakes, Spice Is Right and Vausages.
Travel to MADE Festival's new home in Perry Park is easy, with plenty of public transport available to get you there. Shuttle buses will run back from the festival site to Digbeth Coach Station from 9pm with tickets just £4.50. The after-parties are separate ticketed events, and when booking there is a ticket plus bus option, currently on second release at just £16.50. The BASS Lovers after-party is just two minutes walk from Digbeth Coach Station and HOUSE Lovers after-party is just five minutes walk.
Everything is shaping up perfectly for MADE's 5th year celebrations and with tickets selling out very soon, Birmingham's biggest festival is going to deliver its most impressive event yet.