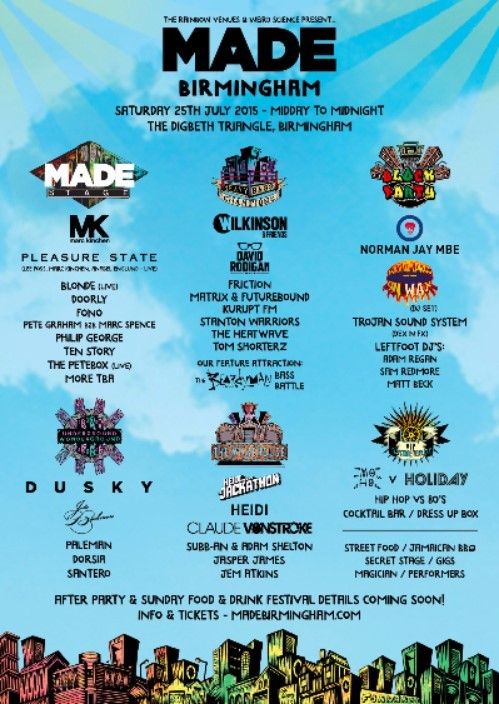 MADE Birmingham stages
After a highly successful launch in 2014, Weird Science and The Rainbow Venues have combined their collective forces to take MADE Birmingham 2015 into a new realm of creative festival experience.
Following on from its initial lineup unveiling in late March (featuring MK, Wilkinson, David Rodigan, Norman Jay, Julio Bashmore, Dusky and many more), the Midlands based metropolitan festival now reveal more by announcing six concept stages that will spread across Digbeth's industrial area taking in both outdoor and indoor areas, and pushing the boundaries of inner city events.
MADE STAGE
The centrepiece stage of MADE Birmingham 2015 will get a total make over by our creative partners Fables and Stax Creations. Overshadowed by the iconic Digbeth arches, the MADE Stage forms the heart of this years festival. Amazing DJs and live acts, breathtaking production with a spectacular fireworks crescendo will make this arena one hard to leave.
LINE UP:
MK
Pleasure State (Live)
Blonde (Live)
Philip George
Doorly
Fono
The Petebox (Live)
Pete Graham b2b Mark Spence
Ten Story
**Two further Special Guests to be announced.
HEAVYBASS CHAMPIONS
Seconds out, round one. The Heavybass Champions stage brings together a cross section of the best UK's bass artists on the sickest concept stage you'll see this year; Digbeth's own Boxing Ring! At the top of the bill, we welcome Wilkinson & Friends for a headline performance. Plus a full programme of massive bass-lines spanning every weight class and genre. We are also very pleased to announce a very special feature presentation – Beardyman's Bass Battle!
LINE UP:
Wilkinson & Friends
David Rodigan
Friction
Kurupt FM
Matrix & Futurebound
Stanton Warriors
The Heatwave
Tom Shorterz
Escape
DJ Comp Winner – details coming soon!
Our feature presentation:
Beardyman's Bass Battle
BLOCK PARTY
Ladies & Gentlemen. We are pleased to announce that this year each of our stages have a theme. The first of five stage announcements this week is the BLOCK PARTY. Think NYC Block Party, combined with a touch of Jamaica and you will be on the right lines…. in association with our friends from Leftfoot who are celebrating 15 years of bringing the best beats to the wonderful city of Birmingham.
LINE UP:
Norman Jay MBE
Nightmares on Wax (DJ Set)
Trojan Sound System (Dex n FX)
Leftfoot DJs:
Adam Regan
Sam Redmore
Matt Beck
UNDERGROUND WONDERGROUND
The second themed stage announced for @MADE Birmingham 2015 is UNDERGROUND WONDERGROUND. A heads down immersive experience harking back to the early 90's acid house scene accompanied by some of the best UK house producers at the moment. Take a trip into the darkened word of quality underground music, off the wall decor and smily ravers who'll want to know where you come from.
LINE UP:
Dusky
Julio Bashmore
Paleman
Dorsia
Santero
Jay Newman
Callan Moulton
WAREHOUSE
The familiar surrounds of the UK's favourite WAREHOUSE is incorporated into MADE Birmingham's unique outdoor/indoor site. A space that has seen The Prodigy tear the roof off will be transformed in a way that you have never seen before. Daytime warehouse raving, has never been so much fun – especially since we have the one and only Heidi orchestrating the party proceedings with her Jackathon brand.
LINE UP:
Heidi Presents Jackathon…
Heidi
Claude VonStroke
Subb-an & Adam Shelton
Jasper James
Jem Atkins