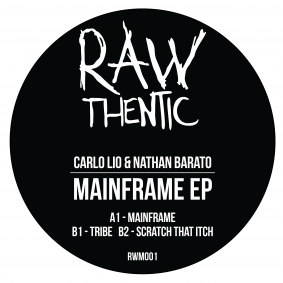 Carlo Lio & Nathan Barato - Mainframe EP
Carlo Lio and Nathan Barato reinvent their Rawthentic imprint this March with a three track collaborative release entitled 'Mainframe' EP.
As solo artists both producers have enjoyed a lot of success in recent years; Nathan Barato's releases have appeared on Hot Creations, Relief and Hottrax, whereas Carlo Lio's output includes SCI+TEC, Mindshake, Intec and Kaluki. The last time the Canadians collaborated together was for 2016's 'Feeding The Rhythm' EP on Saved Records, however the pair's next project sees them return to Rawthentic – their imprint renowned for its solid output during its initial decade-long run.
A rhythmic cut from start to finish, 'Mainframe' is built on a cacophony of percussive elements as stuttering vocal samples operate through. Rumbling bass and sharp snares then form the high-octane 'Tribe', making way for the energetic 'Scratch That Itch' which combines rolling drums with muffled vox samples and distorted effects to conclude the release with a twisted aesthetic.
Carlo Lio & Nathan Barato 'Mainframe EP' drops on Rawthentic on 30th March 2018.
Tracklist
1. Mainframe
2. Tribe
3. Scratch That Itch
http://www.rawthenticmusic.com
https://www.facebook.com/carloliodj
https://www.facebook.com/nathan.barato.fanpage
https://www.facebook.com/rawthenticmusic