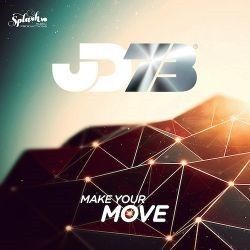 JD73 - Make Your Move
Hot off the heels of his current soulful smash, 'Believe In Love' (ft Fraser), the incredible multi-faceted Jazz/Soul/Funk head, Dan Goldman aka JD73, unleashes his eagerly awaited third album 'Make You Move'! Executed to the highest level of production and musicianship and influenced by artists including Quincy Jones, Rod Temperton/ Heatwave, Chaka Khan, D'angelo and Herbie Hancock, among others, 'Make You Move' has been 4 years in the making. With 10 stunning tracks, (from a choice of 30!) penned and arranged by Dan, the album beautifully joins the dots between Jazz, Soul, Funk, Disco and Electronica. From the gospel-funk-infused grooves of the opening title track, the sweet Neo-Soul outing 'Gimme A Chance', and the feel-good Jazz-Funk fuelled 'What You Got', every irresistible cut will have your hips swaying, your feet shuffling and your heart dancing!
'Make Your Move' features world-class Northern UK based musicians and vocalists, including Pete Simpson (Sunburst Band, Opolopo, Domu) Sarah Garvey (aka Ella May/Nightmares On Wax) Miss Modest (JD73) Fraser Jowle (JD73, Afro Elements), Harriet Soulstress, (an up and coming vocal talent from Bradford) and The Haggis Horns (Mark Ronson, The Fantasy Funk Band). The album sees Dan build build on the sound and success of his last JD73 album Pure Gold, taking the sound into deeper, more spacious territory with songs and sonics designed specifically to make the listener feel uplifted! JD73's message is clear on this album: "If you're stuck in a rut, unhappy in your situation, or simply looking for a new direction in these crazy times, don't fear change- Make Your Move!"
Sampler Track Listing
1 What You Got Feat. Miss Modest
2 Make Your Move Feat. Miss Modest
3 All Night Long Feat. Ella May
4 Don't Wanna Lose This Feeling Feat. Pete Simpson
5 Gimme A Chance Feat. Harriet Soulstress
'Make Your Move' will be released on July 31st 2015 worldwide on Splash Music Productions.