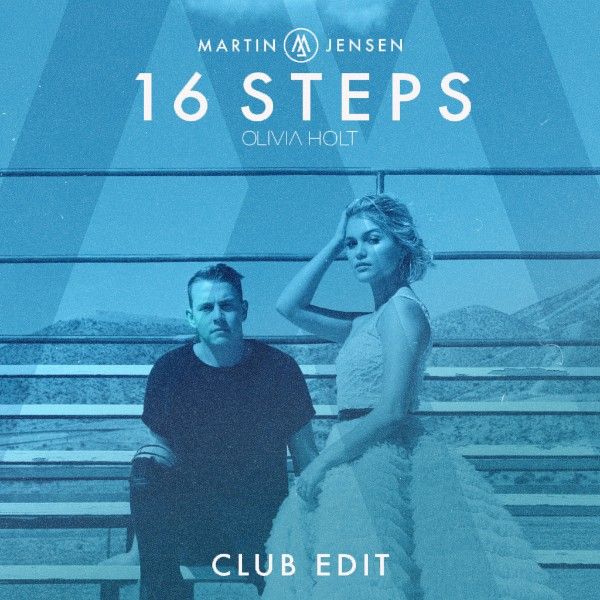 Martin Jensen, Olivia Holt - Martin Jensen, Olivia Holt – 16 Steps (Martin Jensen Club Edit)
With close to 900 million Spotify streams under his belt, it's safe to say Martin Jensenknows how to create a playlist heavyweight hit. The Danish superstar shows he can match that ability on the dance floor, dropping a massive reworking of his Olivia Holt collaboration '16 Steps'.
While the original single was firmly aimed at radio and streaming platforms with its light, airy and chilled production, Jensen injects a roar of energy into his club edit. Capitalising on the bouncing rhythms and Holt's tripping topline to lull the listener in, it's not long before the Dane begins to build the pace, using clapping synths and stuttering basslines and percussion to ramp up the track's tempo
One of the most popular DJs in the world right now, Jensen has proven himself out on the road as much as he has in the studio. Touring constantly, only recently he caused a nationwide wave of media coverage in Taiwan when he appeared on stage with popularTaipei mayor Ke P during the country's Unite with Tomorrowland event. Remixing the likes of Ed Sheeran and Katy Perry, and of course the musical brain behind hits like 'Si', 'Wait' and the global smash hit 'Solo Dance', it came as no surprise when he debuted in the 2016's DJ Mag Top 100, then climbed higher in the 2017 edition.
As Martin's star is rising, so is that of US singer/actress Holt. Sharing the lead in Marvel TV's latest critically acclaimed show 'Cloak & Dagger', Holt first came to prominence in Disney's 'Kickin' It' before bagging the 'Cloak & Dagger' part and has clocked up over 200 million streams on her own music releases including the Martin Jensen remix of her single 'Generous'.
Reunited in the studio and now perfectly reinvigorated for the dance floor, Martin Jensen ft. Olivia Holt '16 Steps' (Club Edit) is available to stream and download worldwide now.
MARTIN JENSEN // CONNECT:
www.djmartinjensen.com
www.facebook.com/djmartinjensen
www.youtube.com/djmartinjensen
www.instagram.com/djmartinjensen
www.twitter.com/djmartinjensen
MARTIN JENSEN // TOUR:
August 24 – Bakgården, Bodo NORWAY
August 25 – New Horizons, Nurburg GERMANY
August 31 – Erra Club, Shanghai CHINA
September 02 – Music Circus, Osaka JAPAN
September 08 – Elektric Park, Paris FRANCE
September 15 – World Club Dome, Seoul SOUTH KOREA
September 23 – Corona Sunset Festival, Xiamen CHINA
September 29 – Tempel, Karlstad SWEDEN
October 5 – Sorring (HOME TOWN PARTY) DENMARK
October 6 – Sorring (HOME TOWN PARTY) DENMARK