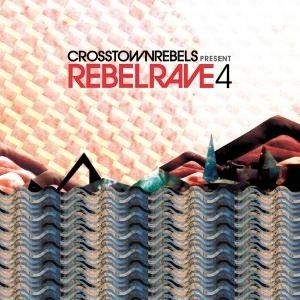 Matthew Styles – Rebel Rave 4
Rebel Rave 4 is a scrupulous odyssey across three discs swarming with rare remixes and special cuts from the long-standing label Crosstown Rebels. Highlighting material from former Bloc Party performer turned solo star Kele Okereke, standoffs between Totally Enormous Extinct Dinosaurs & Eats Everything and Jamie Jones & Luca C and interpretions from dance music greats Cassius, Dixon, Adam Beyer, Tale Of Us, Maceo Plex, Herbert & more, these are future classics to shift your senses.
Those that are familiar with Berlin-based Matthew Styles know that he stands for timeless curation and is armed with a meticulous musical style. The DJ's favourite DJ steps up to curate the third disc of Crosstown Rebels' Rebel Rave series. As former label manager, Matthew Styles shaped and sculpted the first five years of the label's existence, giving him an unrivalled insight into its foundations. His selection and integration attests to this with well-concealed gems from the likes of Seth Troxler's The Royal We, Radio Slave (Canvas), Josh Wink, Mr G, Matthew Jonson, Freaks and Rob Mello.
"Putting together the track list for this mix, and listening to songs that spanned 12 years. I am still surprised by many of the records we worked all those years ago and how well many of those classics have stood the test of time. There is so much variety and it´s hard to pigeonhole, but I hope to have put some of my perspective on Crosstown Rebels." Matthew Styles on Rebel Rave 4
Englishman Matthew Styles is a special one. Firmly schooled in the history of dance music as a DJ, his father was a disc jockey by trade and long time member of DJ culture pioneers DMC, instilling in him the age-old tradition of moving a crowd with music. From a recording career on esteemed imprints such as Running Back and Classic Records and regular appearances at clubs such as fabric, Watergate, T Bar, Harry Klein and the aforementioned Panorama Bar, Matthew's priority has been intrinsically placed with servicing the needs of a dance floor.
Crosstown Rebels started their mission in 2003 powered by a modern electronic canon spearheaded by Damian Lazarus. The label has inspired countless unforgettable dance floor moments and nurtured many universally adored music makers. Soon to be entering its twelfth year at the forefront of future-moving dance music, Crosstown Rebels remains the electronic pioneering force of the past decade.
Catch Matthew Styles on 24th April at Rebel Rave, London