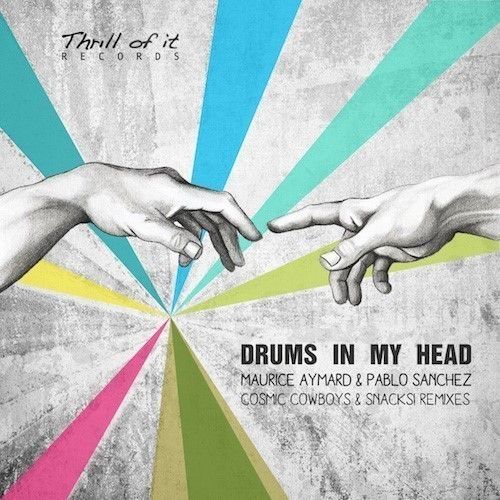 Maurice Aymard & Pablo Sanchez – Drums In My Head (Cosmic Cowboys & Snacks remixes)
Thrill of It label is always one worth checking for fans of lush house and tech music and for their next trick – following a fine EP from Acumen – they turn to Maurice Aymard & Pablo Sanchez for a hot new single that comes with fine remixes from Cosmic Cowboys and Snacks.
The Venezuelan duo based in Barcelona of Maurice Aymard & Pablo Sanchez have long been coming up with the goods together on labels like Apersonal Music, whilst Maurice runs his own much loved Galaktika label releasing the likes of Gui Boratto.
Their original 'Drums In My Head' sure is a deep and romantic bit of organic late night house. Nice warm drums and textured percussion set a nice groove, but then it's the sombre piano notes, linger pads and lush chords that make this into such a lovely, jazz tinged delight. Spoken word snippets add to the atmosphere and overall it's a most classy house affair.
First to remix are German duo Snacks, and they flip the track into a more up-tempo but equally warm and jazzy affair with streaming pads, squirrelling synth lines and lots of late night, feel good colour that really makes it was into your heart. Lastly, Italian pair Cosmic Cowboys remix and flip the track into a bubbly, rubbery basslined thing with sad synths and infectious percussion.
This is proper, well-constructed house music with a real heart and soul, as ever from the excellent Thrill of It label.