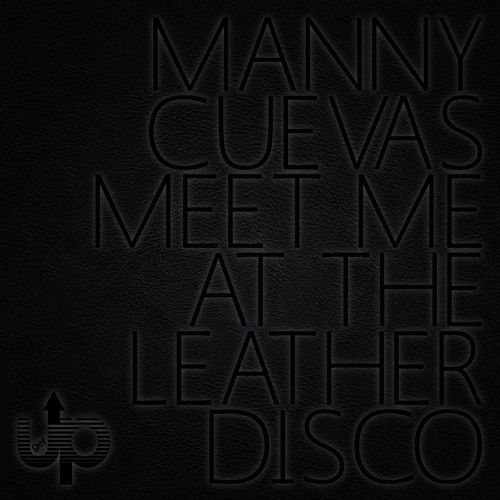 Manny Cuevas - Meet Me At the Leather Disco EP
Kicking off the releases for Get Up Recordings in 2017 is the Meet Me At the Leather Disco EP, coming from Florida's own techno and house music pioneer Manny Cuevas (aka, DJ M-TRAXXX). The EP contains three originals and two remixes of the title track from NYC's Rhenalt and Toronto's Carlos Fuerte.
No stranger to the Get Up Recordings family, Manny Cuevas has worked with label owners W. Jeremy & Christy Love since 2009 when he was the A&R person for acid house creator DJ Pierre's label, Afro Acid Digital. Originally from South Lorain, Ohio, a suburb of Cleveland, Manny settled into the unsuspecting City Beautiful (Orlando) in 1985. He quickly became a force for pushing the sound of Chicago house and Detroit techno on Rollins College's local station, WPRK 91.5FM, broadcasting his show from 1989 until 1997. Expanding beyond showcasing himself, he'd host many world-renowned DJs and producers, including Carl Craig, Roy Davis, Jr., Armand Van Helden, DJ Sneak, DJ Duke, and frequent mixes from DJ Pierre. As DJ M-TRAXXX, Manny has the toured the US as well as the UK, Central and South America, Germany, Amsterdam, and Edinburgh. On the production side in 2009 he was remixing Louie Vega, DJ Pierre and his mentor, Junior Vasquez. Manny would also earn his way onto Vasquez's Generation Next compilation on Tommy Boy's Silver Label. Two years later his original production "House Thunda" was included in Snuff Crew's benefit compilation for Japan. The title track, "Meet Me At The Leather Disco", is a deep, dark, whistle-blowing, late night jam. Pumping alongside of that is the "Jackin' Tha 707" beats track. Rounding out the EP is "M-TRAXXX Anthem–3 (featuring PlusDeep)", which takes a beautifully different direction with its old school house melody and atmospheric feel.
First up on remixes is Rhenalt, head honcho of Rebel Eye Records. He is a world-traveled DJ, playing in Europe, Latin America, and Asia, as well as every major venue in NYC. Rhenalt has released tracks on DJ Pierre's Afro Acid Digital, Todd Terry's In-House, Nervous, as well as Get Up. Rhenalt's remix puts a dark acid twist on the title track, lending itself to be a late night floor-filler.
Next up on remix duties is Carlos Fuerte. As a fixture in the Toronto house and techno scene, he stepped away from the industry and has recently had a resurgence. The remix he delivered here is amazing. He takes the dark elements from the song and spins them into something beautifully positive.
Label and Artist Links:
www.getuprecordings.com
www.soundcloud.com/djmtraxxx