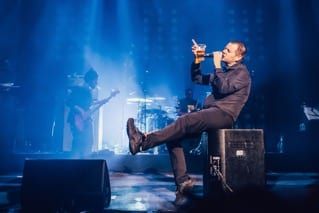 MelodyVR release a group of new shows, including The Streets' riotous Brixton Academy comeback
MelodyVR are adding five new incredible gigs to their VR collection: users of the platform will be able to immerse themselves in outstanding performances by The Streets, Thomas Rhett, Rudimental, Calum Scott and The Horrors.

The grandmaster of garage Mike Skinner makes his hallowed return with The Streets to the O2 Brixton Academy, for a party-heavy performance complete with crowd surfing, special guest appearances and double pints galore. Skinner said: 'We filmed one of our recent gigs at Brixton in VR and it's an absolute mazza. You can even follow me jumping into the crowd and see the panic on my tour manager's face. THIS IS FOR YOUR KIDS! IN 20 YEARS TIME THERE'LL BE NO EXCUSES! See it now on MelodyVR.'

Fans of the chart-topping country singer Thomas Rhett will be able to experience his performance at the Honda Centre in Anaheim, CA from his very own point of view – MelodyVR are offering a special five-track premiere of the singer-songwriter's VR debut. He said: 'I'm really excited to be able to share this with everyone who couldn't make it to a stop on the Life Changes Tour, and also offer those who could a chance to relive it with me … from right where I was standing! It's amazing being able to experience the show from this perspective and I can't wait for everyone to see it.'

Join drum & bass hitmakers Rudimental for a huge production at the majestic Alexandra Palace, complete with a star-studded line-up of guests including John Newman, Tom Walker, Jess Glynne and Anne Marie. Rudimental said: 'There are a lot of things that excite us about VR. If you are just standing in the crowd you might miss things, but if you are watching in VR you get to see so much more. If there's someone sitting in their bedroom, unable to come and see us, then they can watch it through their headset on MelodyVR!'

British singer-songwriter and Britain's Got Talent star Calum Scott's moving hometown performance at Hull City Hall, complete with his stunning cover of 'Dancing On My Own', will also be available on MelodyVR. He said: 'Going into the MelodyVR offices and seeing MY OWN SHOW was bloody surreal! My collaboration with MelodyVR will hopefully give the opportunity to fans all over the world to experience a Calum Scott show and that means a lot to me. I am so grateful to have worked with MelodyVR and am excited to see where they go next … the possibilities are endless!'

Calum Scott watching his own performance on MelodyVR HERE

Mercury Prize-nominated indie outfit The Horrors have been on the scene for over a decade, and their recent show at London's KOKO was hugely anticipated. Packed with crowd favourites and culminating with an incredible light show during 'Something To Remember Me By', the gig will be all the more powerful in VR.

The Horrors said: 'With the help of MelodyVR we've just stood next to ourselves onstage, jumped into the crowd and experienced our London KOKO show as our audience – it was insane! We can't wait for all of our fans to experience us in virtual reality – it's an experience like no other.'

As the only licensed VR music platform, MelodyVR has partnerships across the industry, including major and independent labels, publishers and venues, and has teamed up with a huge array of international artists to build the world's largest library of immersive and interactive virtual reality music experiences.
The MelodyVR app is available on Oculus Go and GearVR devices, offering more music fans than ever the chance to be transported all over the world to sold-out shows, far-flung festivals and exclusive VIP sessions, and experience the music they love in new ways.