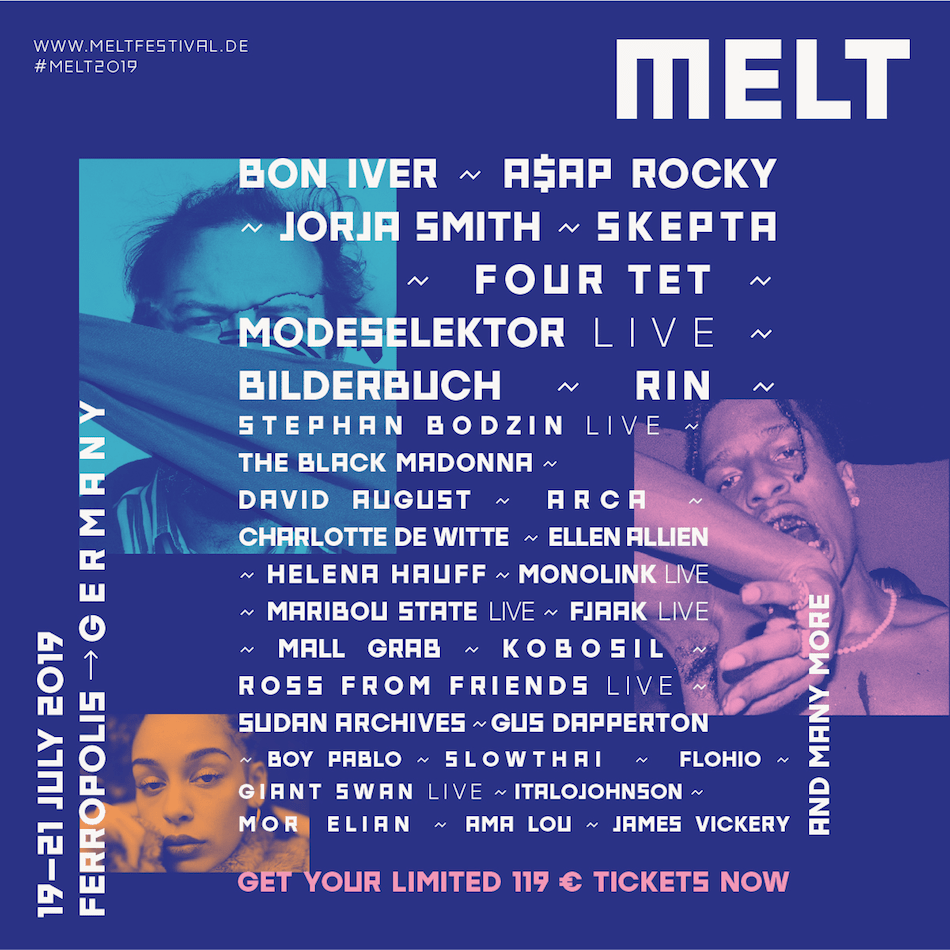 Melt Festival 2019 – Bon Iver, A$AP Rocky, Skepta, Four Tet, Arca & more announced
Melt, the Mad Max inspired post-industrial festival mecca, returns once again toFerropolis, Germany from 19 – 21 July 2019 with another multifaceted lineup, pulling together some of the biggest names from across the musical spectrum.
Headlining this year will be Bon Iver. The nom de band of Justin Vernon, Bon Iver became the poster child for the late-2000s indie folk sound following the 2007 release ofFor Emma, Forever Ago – a confessional album written primarily in isolation in a cabin in northern Wisconsin that was as enchanting as it was heart wrenching. In the decade that ensued, Vernon amassed multiple Grammy Awards, millions of fans – Kanye West being one of them – and evolved the Bon Iver sound, shifting to an altogether more electronic output on 2016's 22, A Million.
Repping the U.S. contingent will be Harlem-born hip hop sensation A$AP Rocky, while flying the flag for U.K. music this year will be grime veteran, Mercury Prize winner and all round national treasure Skepta; soulful, jazz-tinged R&B singer/songwriter Jorja Smithand prolific electronic innovator Four Tet.
Originating as a festival for techno purists, today Melt continues its reign as a bastion of electronic music in all its forms. Confirmed to play in the City of Iron in 2019 are old favourites and new faces alike, including: Stephan Bodzin, The Black Madonna, Arca, Ellen Allien, Charlotte De Witte, Fjaak, Mall Grab, Ross From Friends and more. Undisputed Kings of Melt, Modeselektor, will of course be returning for a live set.
Melt Festival is based in Ferropolis, an hour south of Berlin. Famously referred to as 'The City of Iron', Melt often ranks highly on lists of the world's most unusual and striking festival sites. A former coal mine that is home to a number of enormous cranes and towering diggers, the machines create a truly spectacular backdrop for post-industrial raving – a German speciality.
Confirmed acts so far:
Bon Iver, A$AP Rocky, Jorja Smith, Skepta, Four Tet, Modeselektor LIVE, Bilderbuch, Rin, Stephan Bodzin LIVE, The Black Madonna, David August LIVE, Arca, Ellen Allien, Charlotte De Witte, Helena Hauff, Monolink LIVE, Maribou State LIVE, Fjaak LIVE, Mall Grab, Kobosil, Ross From Friends LIVE, Sudan Archives, Gus Dapperton, Boy Pablo, Slowthai, Flohio, Giant Swan LIVE, ItaloJohnson, Mor Elian, Ama Lou, James Vickery
Ticket info:
Early bird – €119 (approximately £105)
General release – €129 (approximately £114)
Second release – €139 (approximately £123)
Limited VIP-tickets incl. VIP-camping and access to the VIP area on site are on sale for €239,00. All tickets can be bought via www.meltfestival.de