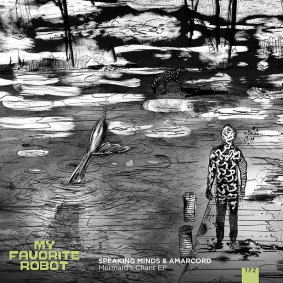 Speaking Minds & Amarcord - Mermaid's Chant
Leading Canadian imprint My Favorite Robot welcome Speaking Minds back to the family for a third time, two years after the Italian's previous EP on the label. Here he links with Amarcord, while Man Power and Boot & Tax step up with remixes.
Speaking Minds has a slick tech, funk and dub heavy house sound that has seen his music get plays from big names like Dixon and Mano Le Tough. He has released on the likes of AEON and Music Autonomica and is now part of the global DJ circuit, playing all the key clubs and festivals.
'Mermaid's Chant' is the fine first offering here. It's a tense track with lots of great synths stepping up and down the scales. Sci-fi chords and slapping hits bring more energy and the whole thing will get the club in raptures with its real sense of dynamism. The excellent 'Circe' is another intense and fulsome track with bright, reflective and arresting synths filling the airwaves as forceful techno drums pound away below. It's a peak time tune that really explodes with emotion and colour. A brilliantly trippy and transcendental Rave Mix of 'Mermaid's Chant' is also included. It's more stripped back, with rolling snares bringing tension and celestial voices floating way up to the skies to make for some serious spine tingling next to the wonky acid line.
First to remix is current hot property Man Power. The Me Me Me label boss comes off the back of a huge charity compilation 'We We We' and is known for his expressive and twisted sounds on labels like ESP Institute, Futureboogie and Correspondant. His version of 'Mermaid's Chant' has a heavy bassline bringing brooding vibes, while pixelated keys twinkle up top to cosmic effect. Last but not least, Italian pair and Optimo Trax associates Boot & Tax bring their rugged disco grooves to another innovative remix. Corrugated bass, kaleidoscopic keys and a sense of building tension all make it a standout version.
This is another artful and thoughtful package of original club sounds from the My Favorite Robot label.
Tracklist:
1 – Mermaid's Chant
2 – Circe
3 – Mermaid's Chant (Rave Mix)
4 – Mermaid's Chant (Man Power Remix)
5 – Mermaid's Chant (Boot & Tax Remix)