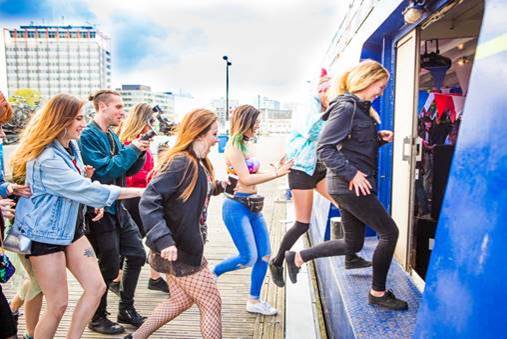 Metro-festival 'Spring Break Amsterdam 2018' reveals third wave of names
Essential three-day metro-festival Spring Break Amsterdam has announced its third wave of names for the 2018 edition, which takes place from Sunday 8th April to Tuesday 10th April 2018. The acts include house and garage stars Sam Divine, DJ Luck & MC Neat, Jaguar Skills, The Heatwave, and The Artful Dodger and they join previously announced headliners such as Chase & Status (DJ Set), Wiley, Big Narstie, Shy FX, CamelPhat and many more. In all, 50 acts will play across four of Amsterdam's leading venues—Melkweg, Air, Escape and Club NYX. All this makes the festival a first-class musical experience as well as a great opportunity to explore the wider cultural offerings of Amsterdam alongside likeminded people, and all from only £99.
Spring Break Amsterdam has grown exponentially since it launched in 2015, from taking 400 festival goers from the UK to The Netherlands, to now hosting around 7,000 of them and still growing. The metro-festival attracts a diverse audience from students to professionals, each looking for escapism and discovery. Unlike other inner-city festivals, the Spring Break Amsterdam programme occurs at nighttime only, leaving guests to explore the popular capital city during the day their own pace. It's the perfect combination of overseas festival meets city break with Amsterdam as the festival's playground!
Leading this third wave of names is Sam Divine, a DJ who knows what to play and when to play it, to make the biggest impact. From headlining in Ibiza to playing festivals like Creamfields, she is a real house star who has put out huge tunes on Defected and counts the likes of Pete Tong as fans.
Fans of old school garage will be delighted to see the legendary DJ Luck & MC Neat join the line-up, while Jaguar Skills is a hugely respected producer and multi-genre DJ whose dexterity in the booth puts him in a class of one. He will cut up and chop tunes with logic defying skill and bring real energy to the club, while The Heatwave is a dancehall sound system from London that will layer up bass pressure until you feel it in your chest.
Last but not least is Artful Dodger – pioneers of the 2-step sound who very much still define the scene, with a show that mixes the old and new, and is always utterly thrilling. As well as all the huge names already announced, dozens of esteemed local resident DJs and hot Dutch talents have been handpicked by the Spring Break Amsterdam team and will play at each of the many different parties.
There is no better way to explore Amsterdam than at Spring Break. It is a place to meet fellow music lovers to experience this beautiful yet bristling European city; to embark on new adventures by day, while getting down to world class sounds at night.
Before and after the partying is done, Amsterdam offers lots to explore from the Anne Frank House to the Red Light District, the Van Gogh Museum to the famous canal boat tours. Guests can also boost the experience by adding in extras such as a four-hour boat party with big name DJs (£29); a guided pub crawl with free shots (£15); the official Spring Break Amsterdam t-shirt (£15) and even a VIP upgrade with exclusive VIP areas in each venue, per night, for just £39.
Tickets for Spring Break Amsterdam 2018 come in a variety of packages to suit varying budgets and requirements. The festival only ticket costs £99 which grants entry to each club event over the three days. A festival ticket + basic accommodation (hostel) costs £188 or for £209 you can stay in a more premium level of accommodation. All that's required to reserve a space is £50 deposit and you're all set. To sign up visit www.springbreakamsterdam.co.uk
For travel options, add £65 to jump on an overnight 12-hour coach with fellow Spring Breakers departing from London, Manchester, Birmingham, Bristol, Bournemouth or Plymouth.
Spring Break Amsterdam's metro festival is the ultimate way to discover a new city.
Links:
www.springbreakamsterdam.co.uk
www.facebook.com/springbreakamsterdam
www.instagram.com/springbreakamsterdamfestival