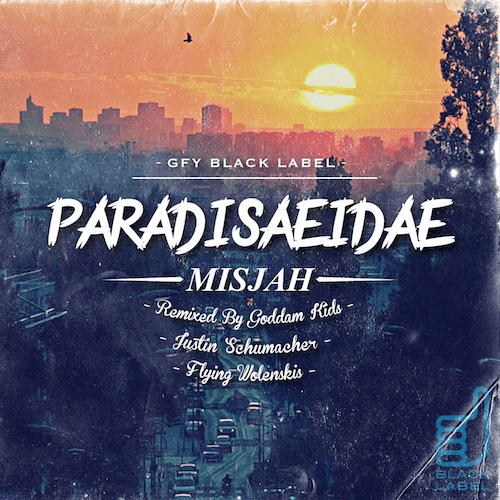 Misjah – Paradisaeidae
Good For You Records label boss Kenny Summit, launches his new sub imprint, GFY Black Label. For the first release he's talked Techno Legend, Misjah, out of retirement to make a brand new track, unleashing the mighty 'Paradisaeidae', ripe with glitchy tech beats and lush, melancholic synth-scapes. Also on the package are remixes from Goddam Kids (aka Kenny Summit & Justin Schumacher), delivering a warm deep house jaunt, Justin Schumacher brings a powerful dark and techy atmosphere to the release, and Flying Wolenski (aka Kenny Summit & Scott Wozniak) deliver a Nineties driven power house groove, rounding off this fantastic debut release for GFK Black Label! forthcoming releases on GFY Black Label include Angel Moraes, J Paul Getto, Terrence Parker, Eddie Amador, Tedd Patterson, JR From Dallas, Lenny Rx and Kenny Summit – stay tuned!..
"GFY Black Label is the first sub label of Good For You Records. When I started GFY in 2012 it immediately dawned on me that I would soon have to start a sister label to not only help balance out our release schedule, but also shed light on some of the producers who have influenced me over the years as well as open the public's eyes to some emerging artists in the dance music community. The underground scene is thriving and we think it's time to unleash GFY Black Label on the world, and what a huge honor to launch with an original by such a pioneering producer such as Misjah!" – Kenny Summit
The name Misjah has been synonymous with quality dance floor productions for over 18 years. An innovator, an inspiration and living legend to many. It began in the early Nineties with releases under his Dyewitness guise with the now classics 'Observing The Earth', 'The Future' and 'The Masterplan'. Shortly after he launched the X-Trax label, producing tracks with DJ Tim and Jeroen (Groovehead) Artists such as Ferry Corsten, Umek and Piet Bervoets (Rank1) among others, and the X-Trax Classics label which spawned the hit 'Access' in 1995. He was soon sought after by artists like Josh Wink, Jam and Spoon, Finitribe, Denki Groove, etc to produce remixes. In 1999 he started a project under the name Ambassador and remixed the huge hit from Blaze 'My Beat'. During his carer he also set up ReRun and ReRun Booking's DJ Agency. Misjah has released on numerous labels including: Craft Music, Automat, Wetmusik, Mankind, Jericho, etc. Just to name a few. His tracks are played by high profile djs such as: Adam Beyer, Sven Vath, Carl Cox, and Judge Jules. As a DJ, Misjah has his own funky style encompassing all styles from house, techno, minimal, electro and everything in between.
Goddam Kids are GFY Records label boss Kenny Summit and Brooklyn based Techno Maestro Justin Schumacher. Friends for over a decade and both heavily emerged in New York's underground dance music scene for twice as long, the Goddam Kids project highlights their love for the more funky / disco side of house music. Their 1st single 'Departed' made the Top 10 charts of legendary DJs like Frankie Knuckles and Tony Humphries. You will no doubt hear a lot more from these, no doubt! One of the most promising up and comers in the burgeoning NYC techno/club scene, Justin Schumacher is managing to break through swiftly as his barrage of recent releases get more and more support around the elite techno circles. Most recently his forthcoming EP on Frakture Audio received support from UK techno legend Dave Clarke on his White Noise Podcast. Label credits include Good For You, 069 Techno, Ohn.cet, Frakture Audio, Teggno, De-Konstrukt, and many more. Another collaborative effort by Kenny sees him enlist the help of seminal house music producer, famed remixer / DJ Scott Wozniak. The two have teamed up to form the Flying Wolenskis and produce everything from classic house to deep and funky techno. Says Kenny about the duo project, "This is an experiment in sonic quality. Scott is a one of a kind musical talent who takes his productions very seriously, while I help balance the scales with my raw, unchained beats. We go together like peanut butter and jelly."
Track listing
1 Paradisaeidea (Original)
2 Paradisaeidea (Goddam Kids Remix)
3 Paradisaeidea (Justin Schumacher Remix)
4 Paradisaeidea (Flying Wolenskis' Remix)