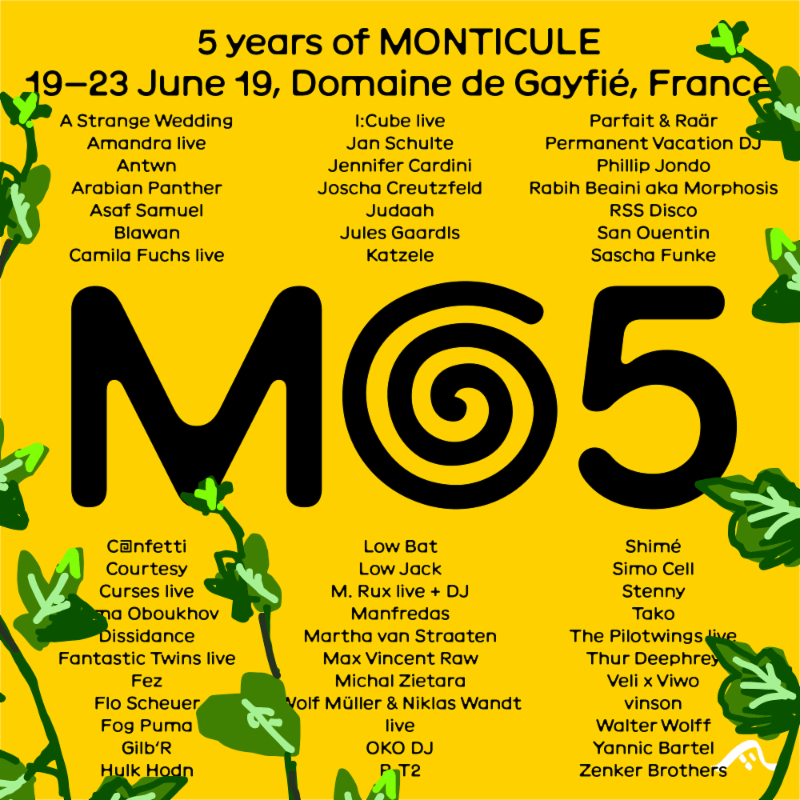 Monticule Festival announce full 2019 lineup
French festival Monticule completes the lineup for its 2019 edition. Over 50 artists will make the trip to the Domaine de Gayfié from June 19th – 23rd to celebrate the 5 years of a festival that is steadily leaving its imprint on the European stage, by escaping well-worn festival tropes and the race for the same big names, focusing instead on a more intimate, holiday-like experience where adventurous music, community and well-being take center stage.
The first wave of announced artists included the likes of Munich techno heroes Zenker Brothers, Ombra International boss Curses, Optimo approved Fantastic Twins, BFDM head honcho Judaah, L.I.E.S. regular Low Jack, Vilnius' best export Manfredas, Malka Tuti founders Asaf Samuel & Katzele, Berlin techno legend Sascha Funke and rising French talents Simo Cell, The Pilotwings and Oko DJ, setting the tone for 5 days of slow-mo wave, intrepid bass explorations and rowdy techno.
New additions include techno heavy hitters Blawan, Courtesy and Illian Tape regular Stennywho will all be making their Monticule debut. Versatile Records boss Gilb'R will return to the festival for the fourth year running. Another French favorite, Correspondant boss Jennifer Cardini will be making her debut at the festival, as will Permanent Vacation DJ, Morphine Records boss Rabih Beaini and Red Light Radio's Tako, guaranteeing that dancers will stay nicely stocked up on wigged out obscurities.
Joining Curses, Fantastic Twins and The Pilotwings in the live contingency are Versatile Records mainstay and all round French legend I:Cube as well as Salon des Amateurs approved Düsseldorf-Berlin twosome, Wolf Müller & Niklas Wandt.
On the French side, Antwn and A Strange Wedding will represent Saint-Etienne's equally open-minded Positive Education team. Arabian Panther will fly the banner for France's unstoppable crew La Chinerie. Paris will be represented by rising techno duo Parfait & Raär and professional party starting crew La Berlinoise who sends envoys in the form of Cønfetti and Jules Gaardls.
Lisbon's Camilla Fuchs, Cologne's Dissidance, Renate resident Michal Zietara and Pappendisko's Thur Deephrey will also be showcasing their skills on the decks across the festival.
Monticule is set in a beautiful private domaine atop a hill with panoramic views of the Lot region countryside, just 1h30 drive from the closest airport of Toulouse. The music is spread out across a rave barn, an ambient dome, an open-air main stage in the forest and a dancer-rejuvenating slide-clad pool.
Festival guests have plenty of extra-curricular activity choices, with offers including painting lessons with Munich's Academy Of Fine Arts artist Alexander Scharf, donkey-rides, cave tours, a skateboarding miniramp with Maastricht's foundation Stadsnomade, massages, yoga with Jenny Hirtz from Yoflaminga Berlin and Portugal Spirits' Filipa Veiga and astronomy lessons. The Domaine de Gayfié lies in the Parc naturel régional de Causses du Quercy, which means that there is plenty to explore outside of the festival grounds. By following the small paths that snake down the hill, you pass through the Gouffre de Lantouy, a turquoise 80-meters deep natural spring and the ruins of an ancient monastery. Passing the Lot via a beautifully preserved suspension bridge you reach Cajarc, a truly stunning village which dates back to the middle-ages. The authentic market, shops and restaurants are well worth your time.
And don't forget to look out for the hidden champagne bar with panoramic views of the region to make those sunsets extra special.

5 day tickets for Monticule Festival start from 130€ + booking fee. 3 days weekend ticket and group tickets are also available.

LINEUP

Amandra live (Arphe Records / Paris)
Antwn (Positive Education / St. Etienne)
Arabian Panther (La Chinerie / Toulouse)
Asaf Samuel(Malka Tuti / Tel Aviv)
A Strange Wedding (Positive Education / St. Etienne)
Blawan (Ternesc / London)
Camila Fuchs live (ATP Recordings / Lisbon)
Cønfetti (La Berlinoise / Toulouse)
Courtesy (Kulør / Copenhagen)
Curses live (dischi autunno / Berlin)
Dima Oboukhov (Acephale / Cologne)
Dissidance (Dissidance / Cologne)
Fantastic Twins live (Optimo Music / Berlin)
Fez (Monticule Racing Team / Munich)
Flo Scheuer (Monticule Racing Team / Munich)
Gilb'R (Versatile Records / Cologne)
Fog Puma (Mystic Moods / Berlin)
Hulk Hodn (ENTBS / Cologne)
I:Cube live (Versatile Records / Paris)
Jan Schulte (Salon des Amateurs / Düsseldorf)
Jennifer Cardini (Correspondant / Berlin)
Joscha Creutzfeld (Dublab / Cologne)
Judaah (BFDM / Marseille)
Jules Gaardls (La Berlinoise / Paris)
Katzele (Malka Tuti / Berlin)
Low Bat (BFDM / Berlin)
Low Jack (BFDM / Paris)
M. Rux live + DJ (Tal der Verwirrung / Berlin)
Manfredas (Les Disques de La Mort / Vilnius)
Martha van Straaten (Laut & Luise / Berlin)
Max Vincent Raw (Monticule Racing Team / Munich)
Michal Zietara (Wilde Renate / Berlin)
Wolf Müller & Niklas Wandt live (Growing Bin / Düsseldorf)
OKO DJ (BFDM / Paris)
P-T2 (Monticule Racing Team / Munich)
Parfait & Raär (Possession / Paris)
Permanent Vacation DJ (Permanent Vacation / Munich)
Phillip Jondo (Salon des Amateurs / Cologne)
Rabih Beaini aka Morphosis (Morphine Records / Berlin)
RSS Disco (Mireia Records / Hamburg)
San Quentin (Pappendisko / Munich)
Sascha Funke (Multi Culti / Berlin)
Shimé (Naiv Studios / Munich)
Simo Cell (BFDM / Lyon)
Steno (Ilian Tape / Munich)
Tako (Red Light Radio / Amsterdam)
The Pilotwings live (BFDM / Lyon)
Thur Deephrey (Pappendisko / Munich)
Veli x Viwo (MRT / Munich)
Vinson (Naiv Studios / Munich)
Walter Wolff (Pappendisko / Munich)
Yannic Bartel (Monticule Racing Team / Munich)
Zenker Brothers (Ilian Tape / Munich)
www.monticulefestival.com