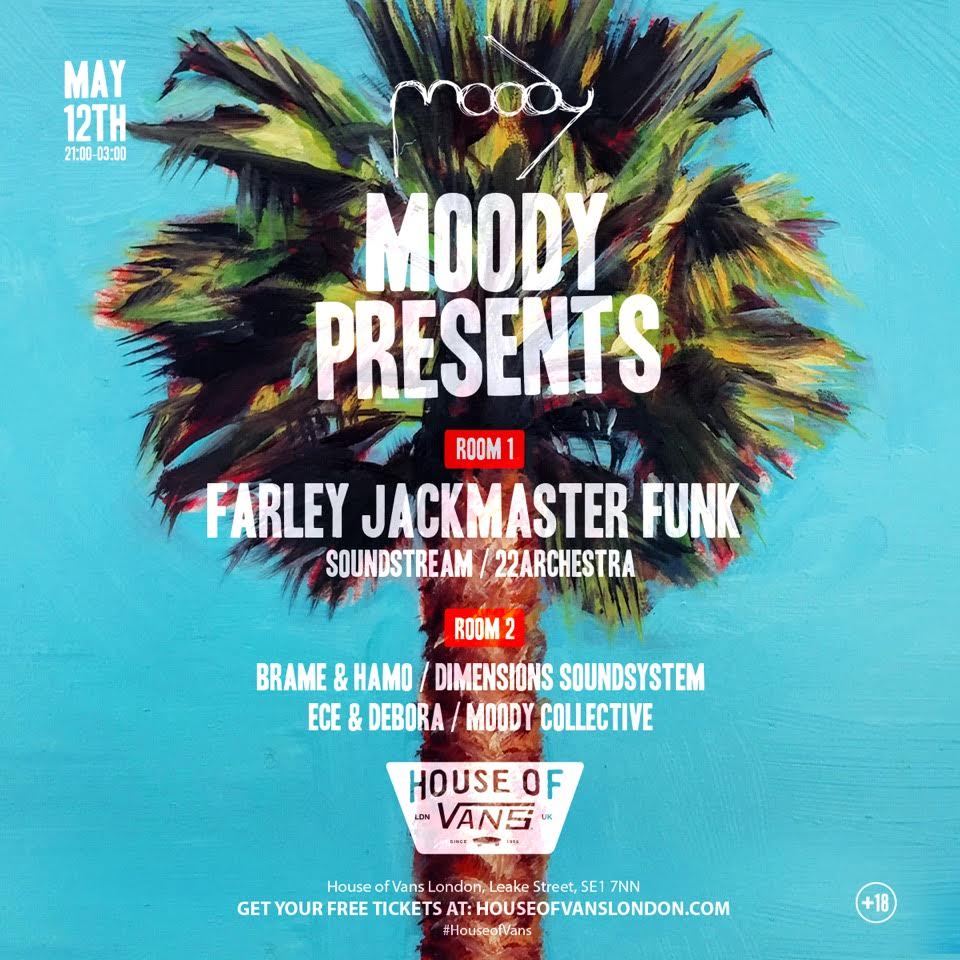 Moody Present: Farley Jackmaster Funk, Soundstream & Friends
On Friday May 12th, Moody –acclaimed promoters, record label and the team behind Uva: Festival of Music and Visual Arts– take over the cult London venue that is House of Vans with a vital and varied line-up of stars from across the house spectrum including Farley Jackmaster Funk and Soundstream. Importantly, this line-up is culturally and geographically diverse, as per the richly eclectic hub that is House of Vans, and is all available to you, for free, with pairs of tickets available via www.houseofvanslondon.com
The venue is a fascinating underground space on many different levels, with brick lined walls and corridors all beautifully lit and leading to some unique party spaces. Currently undergoing a big renovation and open early May, it is raw and atmospheric and will be decked out specially for this party with palm trees and projections for an extra sensory experience.
Musically many bases are covered, with Chicago house legend and star vocalist Farley Jackmaster Funk the main headliner. He will be joined by the cult Soundstream, whose rough and authentic MPC made house and disco is filled with heartwarming vibes and sensual grooves on his own self titled label. As well as that, Tenderlonius's London based 22a Orchestra will also be on hand to offer some serious playing chops and contemporary jazz vibes, broken beats and space age sounds. The always on point Moody Collective will play across both rooms to round off a fine line-up.
The rest of those playing room two include Irish duo Brame & Hamo—famed for their warm vibes on labels like Heist and Dirt Crew—plus the deep diggers and eclectic selectors that are the Dimensions Soundsystem, with Ece & Debora closing things out.
Once again then, between the hours of 9pm and 3am, this promises to be a perfectly widescreen yet coherent party in a most unusual and excellent venue.