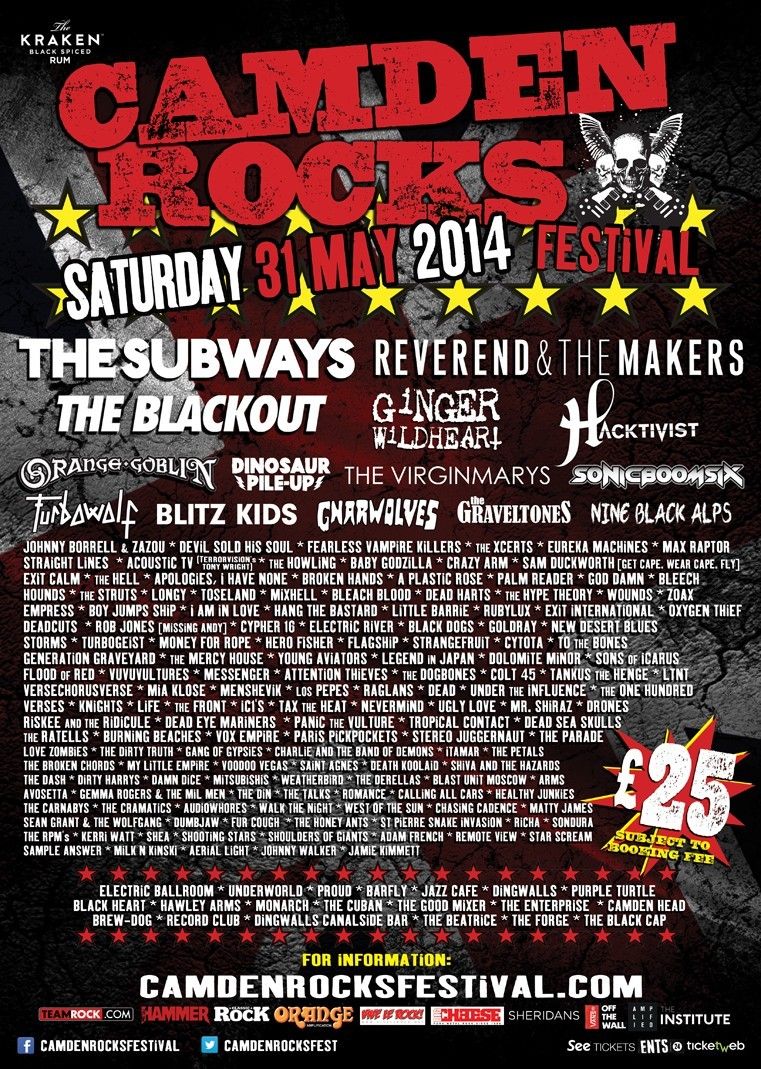 More acts announced for Camden Rocks Festival…
On the 31st of May the Camden Rocks Festival will see over two-hundred high-energy bands perform across Camden Town. It's a one-mile run of thrilling music, exploding across twenty different venues on London's most hallowed rock n' roll streets.

The festival is proud to be able to mix established acts from the world of rock and indie alongside a wealth of new talent from the UK, aiming to give much needed exposure to the incredible new music pouring out of the UK right now. Britain's got talent, but it isn't being televised alongside the karaoke singers and performing animals for Simon Cowell. In light of this, Camden Rocks Festival is announcing a competition that gives more bands a chance to perform on the day. Check http://camdenrocksfestival.com/ for details on how to enter.

The more times a bands name is submitted, the bigger chance it has of going into the votes that kick off THIS SUNDAY! So bands & fans, GET SHARING & SUBMITTING!
Further acts are confirmed this week as Johnny Borrell and Zazou, Fearless Vampire Killers, Devil Sold His Soul and Mixhell (featuring legendary Sepultura drummer Igor Cavalera) join Toseland, A Plastic Rose, Zoax, Little Barrie, Rubylux, Empress, Longy, Money For Rope, Vuvuvultures, Under The Influence, Flagship, The Carnabys, Tax The Heat, The Ratells, The RPM's, Audio Whores, Adam French, Shooting Suns and Remote View who are also added to the bill this week.

"We're super excited about coming back to Camden rocks this year," exclaims Fearless Vampire Killers frontman Keir Kemp. "It's a real family vibe. Best acts from across all genres coming together with the mutual intension of melting faces… amen!"

These artists join already announced acts such as The Subways, Reverend & The Makers, Gnarwolves, Blitz Kids, Nine Black Alps, Turbowolf, The Blackout, Orange Goblin, Ginger Wildheart, Hacktivist, The Xcerts and The Virginmarys plus a host of others, see flyer for full details.

Organiser Chris McCormack says "I'm really excited to showcase some of these great new bands I've been working with this year. We're going to set Camden alight (not literally) with the best new music in the UK."
Camden Rocks Festival is going to be the rock n' roll street party of the year. Over two hundred of the best new and established guitar bands performing across twenty venues in Camden Town, celebrating everything that is vital, exciting and life-affirming about rock music right now in 2014.

Last year's event was a sell-out success with over 150 bands taking over Camden. Bands such as Therapy? The Rifles, Hawk Eyes, Rise To Remain, Turbowolf, Fearless Vampire Killers, The Computers, Lost Alone and many more joined forces with legends such as the Sex Pistols guitarist Glenn Matlock, Carl Barat from The Libertines for a day of essential rock n'roll fun and action.

£25 tickets are now available from the link below subject to booking / transaction fees
www.camdenrocksfestival.com
Over 200 bands for £25 playing in twenty different venues, that's roughly 10p per band!

Venues include:

ELECTRIC BALLROOM *UNDERWORLD * PROUD * BARFLY * JAZZ CAFE * DINGWALLS * PURPLE TURTLE * BLACK HEART * HAWLEY ARMS * MONARCH * THE GOOD MIXER * THE ENTERPRISE * CAMDEN HEAD * THE CUBAN * BREW-DOG * THE RECORD CLUB * DINGWALLS CANALSIDE BAR * THE BEATRICE * THE FORGE *

More information on the links below.
http://www.camdenrocksfestival.com
http://www.facebook.com/CamdenRocksFestival
https://twitter.com/CamdenRocksFest
#CamdenRocks