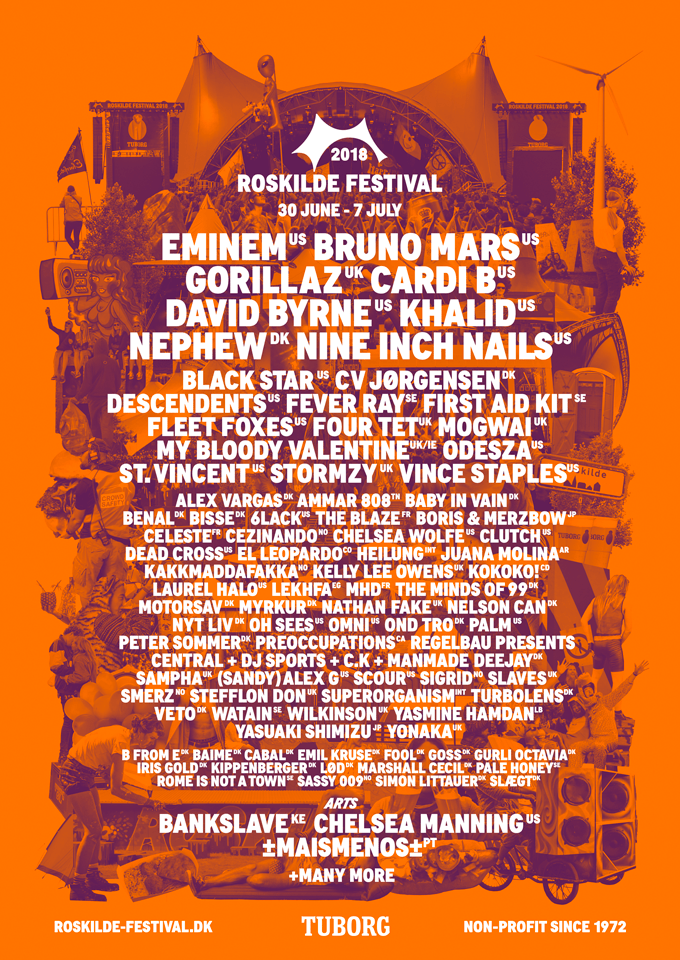 More acts announced for Roskilde 2018
Nine Inch Nails, Fever Ray, My Bloody Valentine, Black Star and Four Tet are among the new acts announced for Roskilde Festival 2018. A total of 26 new additions to the Danish festival have been revealed.
Acts such as Eminem, Gorillaz, Stormzy, Cardi B, Bruno Mars and David Byrne have already been announced for Roskilde Festival in Denmark. A total of 26 new acts have been added to the non-profit festival's line-up: From legendary rock and hip-hop acts to the stars of tomorrow, these new acts reflect the diversity the festival is known for.

American and Swedish intensity
Spearheaded by Trent Reznor, Nine Inch Nails is by far the most important industrial rock band. With intensity and gloom, albums such as The Downward Spiral (1994) and The Fragile (1999) are considered modern classics, inspiring waves of new acts over the past 25 years.

With the last part of their new EP trilogy expected to be released this year, fans can expect new material along with hits such as Closer, Head Like a Hole and Hurt.

Swedish artist Fever Ray, equally, explores the darker sides of humanity, albeit in a different genre. With her brother Olof in The Knife, Karin Dreijer spent 15 years redefining electronic music. As a leading figure in experimental pop, she is known for her overwhelming and provocative performances. Fever Ray returns to Roskilde Festival after a successful 2017 that saw the release of her lauded self-titled album.

Legends in different genres
Shoegaze and noise-pop legends My Bloody Valentine are also back at Roskilde, almost 30 years after their first performance at the Danish festival. With a new album underway, fans can expect both new material and the uncompromising classics.

The 1998 album Mos Def & Talib Kweli Are Black Star is one of modern hip-hop's classics. Mos Def has since changed his name to Yasiin Bey, and along with Talib Kweli he is one of the rap heavyweights. They have announced a new album under their Black Star moniker for their first ever Roskilde performance.

Fans of electronic music will have plenty of reason to get excited as both Four Tet and Laurel Halo have been added to the line-up. They will be joined by purveyors of alternative pop Sampha and Superorganism.

Head of Programme Anders Wahrén says:

"From the dark intensity of Nine Inch Nails and Fever Ray to My Bloody Valentine's wall of sound, these are extraordinary live artists who have proven that large audiences are still craving challenging experiences. This sense of being in the moment is equally present in the alternative pop of Sampha and electronic exploits of Four Tet. All these artists share the quality of overwhelming audiences wherever they go, and we can't wait to see them at Roskilde Festival."

These 26 acts have been announced for Roskilde Festival 2018 today:

Nine Inch Nails (US) – Wednesday 4 July
Black Star (US) – Thursday 5 July
Fever Ray (SE) – Friday 6 July
My Bloody Valentine (UK/IE) Thursday 5 July
Peter Sommer (DK)
Celeste (FR) – Friday 6 July
6LACK (US) – Thursday 5 July
AMMAR 808 (TN) – Friday 6 July
Dead Cross (US) – Friday 6 July
El Leopardo (CO)
Four Tet (UK) – Friday 6 July
Laurel Halo (US) – Friday 6 July
MHD (FR) – Saturday 7 July
Sampha (UK) – Friday 6 July
Superorganism (INT) – Thursday 5 July
Turbolens (DK) – Thursday 5 July
Yasmine Hamdan (LB) – Thursday 5 July

B From E (DK)
Emil Kruse (DK)
Fool (DK)
Gurli Octavia (DK)
Marshall Cecil (DK)
Pale Honey (SE)
SASSY 009 (NO)
Simon Littauer (DK)
Slægt (DK)

The dates above indicate the schedules shows.

175 acts in total
86 acts have now been announced for Roskilde Festival 2018, and many more will be revealed soon.

Acts such as Eminem, Gorillaz, Bruno Mars, David Byrne, Cardi B, Stormzy, First Aid Kit and Mogwai have already been announced. A total of 175 acts will be playing the eight different stages.
About 175 acts will play Roskilde Festival 2018.
Roskilde Festival 2018 lasts a full 8 days and takes place from Saturday 30 June to Saturday 7 July.
Tickets are on sale on roskilde-festival.dk.
One-day tickets for Wednesday are sold out, other dates are selling fast.