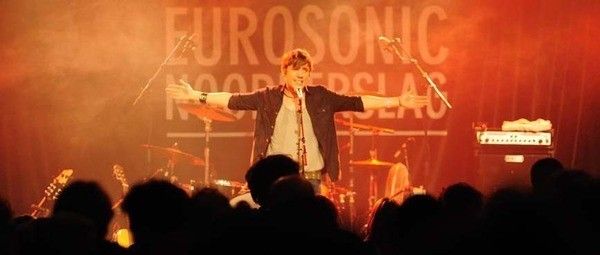 More acts Eurosonic Noorderslag
Eurosonic Noorderslag has a proven track record for helping new bands break into the International music scene and many bands who showcase at the event go on to play numerous festival shows in Europe and have successful careers.
Presenting a broad variety of the best European talent throughout the city of Groningen Eurosonic Noorderslag is an important platform for new European talent. With the European Broadcasting Union (EBU), Yourope and Network Europe giving additional exposure to the performing artists, Eurosonic Noorderslag plays a vital role in the development and circulation of talent in Europe and beyond. Instrumental in this circulation is our own ETEP (European Talent Exchange Programme). Since the start of the ETEP program in 2003 a total of 605 artists have played 1646 shows at 80 festivals in 26 countries. (2003 – 2012) www.etep.nl
All Acts So Far
Andre Bratten (no), Anna and the Barbies (hu), Aufgang (fr), Benjamin Clementine (fr), Black Bottle Riot (nl), Bondax (uk), Christine and the Queens (fr), Cid Rim (at), Claire (de), Coely (be), D E N A (de), Deaths (cz), Desto (fi), Djaikovski (mk), Embers (uk), Emilie Nicolas (no), Exclusive (de), Fauve (fr), Femme en Fourrure (fi), Float Fall (be), Fuckhead (at), George Ezra (uk), Ghost Capsules (at), Ja, Panik (at), Jenny Wilson (se), Kadebostany (ch), KAMP! (pl), Kate Boy (se), Kensington (nl), Klangkarussel (at), Koenigleopold (at), Kostrok (es), La Femme (fr), Linkoban (dk), Luca Sapio (it), Mahagon (md), Melanie de Biasio (be), Michael Prins NS, Milky Chance (de), Mister and Mississippi, Noah Kin (fi), Postiljonen (se), Prāta Vētra (lv), Richie Campbell (pt), Russkaja (at), Say Yes Dog (lu), Sex Jams (at), Shiny Darkly (de), Siluet (bg), Sísý Ey (is), Suit and Tie Johns, Sumie (se), Sweet Sweet Moon (at), T-Shit (at), Taymir (nl), The Afterpartees (nl), The Animen (ch), The Strypes (ie), The Vegetable Orchestra, The Vintage Caravan, The Weatherman (pt), Thomas Azier (nl), Tirana (at), Truckfighters (se), Vismets (be), Winny Puhh (es)
About Eurosonic Noorderslag
Eurosonic Noorderslag is the key exchange and networking platform for European music, with a proven track record for helping new bands break into the International music scene. Selling out each year Eurosonic Noorderslag attracts over 3200 delegates, with showcases by more than 300 artists and a conference program featuring 150 panels, keynote speakers, interviews, workshops, dinners, parties and meetings and the latest developments in the interactive media sector.
The 28 edition of Eurosonic Noorderslag will take place from Wednesday the 15th to Saturday the 18th of January 2014 in Groningen, the Netherlands. On Wednesday January 15, 2014 Eurosonic Noorderslag kicks off with the European Music Awards programme (European Border Breakers Awards and European Festival Awards) and the Eurosonic festival. The event completes on Saturday with the Noorderslag festival during the evening. More information can be found at www.eurosonic-noorderslag.nl
Conference registrations can be purchased at www.eurosonic-noorderslag.nl and the launch date of the presale tickets will be announced soon.
More acts for Eurosonic, the stepping stone for European talent:
Klangarussell (AT)
Cid Rim (AT)
Fuckhead (AT)
T-Shit (AT)
Float Fall (BE)
Melanie De Biasio (BE)
Milky Chance (DE)
D E N A (DE)
Linkoban (DK)
Femme en Fourrure (FI)
Desto (FI)
La Femme (FR)
Benjamin Clementine (FR)
Aufgang (FR)
Christine and the Queens (FR)
Sisy Ey (IS)
Prata Vetra (LV)
Djaikovski (MK)
Andre Bratten (NO)
The Weatherman (PT)
Truckfighters (SE)
Postilijonen (SE)
Sumie (SE)
George Ezra (UK)
Embers (UK)