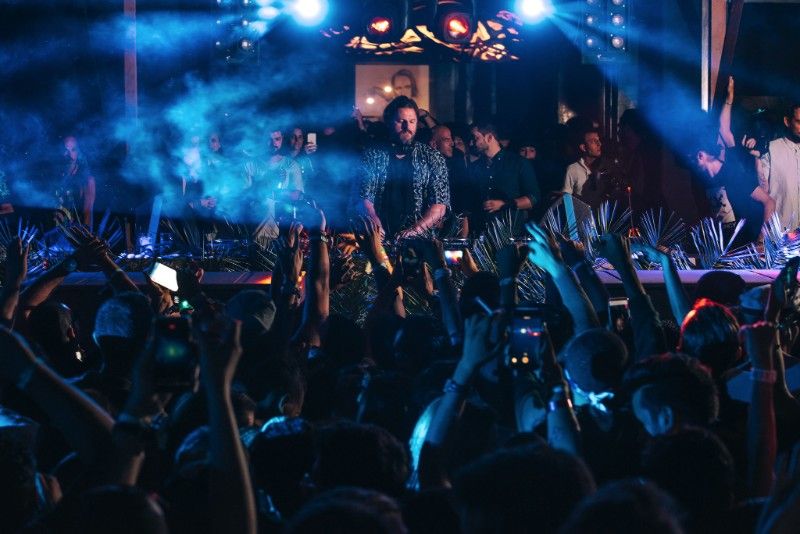 Morocco's Oasis Festival opens in style with Solomun 8-hour set
Morocco's Oasis Festival opened in style on Thursday 14th September, with Diynamic founder and Ibiza kingpin Solomun making his Moroccan debut at the festival's official opening party. The house maestro's first ever performance in Morocco showed exactly why he's one of the most in-demand DJs on the scene, bringing a powerhouse 8-hour set that exceeded the captivated crowd's wildest expectations and kept them dancing until dawn. Earlier in the day, Morocco's very own Amine K opened up proceedings on the main stage, followed by My Favourite Robot B2B Kenny Glasgow and a set from Solomun's label mateKarmon.
Founded in 2015, Oasis has put North Africa firmly on the map as the must-visit festival destination of the moment. Nestled on the outskirts of the bustling city of Marrakech, the festival continues to showcase the finest international talent, as well as shining the spotlight on the flourishing Moroccan electronic music scene.
Oasis continues today, Friday 15th September, with headline shows from two of techno's biggest players, pioneering electronic artist and technological innovator Richie Hawtin and Berghain resident Marcel Dettmann. Hardware maestros KiNK, Karenn and Harvey Sutherland will all perform live, plus there's music from Willow, Young Marco, Kornel Kovacs, Mike Servito, Jaza, HAAi and more.
Day 2 will see German electronic duo Modeselektor and Ellum label founder Maceo Plex headlining the main stage, along with performances from Charlotte de Witte, Daniel Avery, Agents Of Time (live) andAlex Niggemann B2B Amine K. Over at the Arena, stage hosts Resident Advisor will live stream performances from Call Super, Chloe b2b Ivan Smagghe, DJ Stingray, Dr Rubinstein, Pantha du Prince (live), Shed (DJ) and Moroccan DJs Fassi and Driss Skali. Tune in to the live stream from 4pm GMT on Saturday 16th September at ra.co/live.
The final day, Sunday 17th September, sees Chilean-American musician Nicolas Jaar bring his captivating live show to Oasis, plus Glasgow and Stockholm's finest unite as Jackmaster and Axel Boman join forces for a back-to-back special. Henrik Schwarz & Jesse Rose present their emotive collaborative project Black Rose, Italian multi-instrumentalist Giorgia Angiuli will perform live, plus there's music from the Moroccan dance scene's founding father Unes, Marcellus Pittman, Tijana T, Auntie Flo, Anja Schneider, Patrice Bäumel, Polyswitch and much, much more.
Oasis Festival Marrakech. Where the desert meets the dancefloor. Find out more at theoasisfest.com.
OASIS FESTIVAL 2017
14-17 September
The Source, Marrakech, Morocco
Theoasisfest.com
ALL ACTS A-Z
Agents Of Time (live) | Alex Niggemann b2b Amine K | Amine K | Anja Schneider | Artunique | Auntie Flo | Call Super | Charlotte de Witte | Chloé B2B Ivan Smagghe | Daniel Avery | DJ Stingray | Driss Skali | Dr. Rubinstein | Fassi | Giorgia Angiuli (live) | Glenn Underground | HAAi | Harvey Sutherland (live) | Henrik Schwarz & Jesse Rose present Black Rose | Jackmaster B2B Axel Boman | Jaza | Jeremy Underground | Kornél Kovács | Karenn (live) | Karmon | Kenny Glasgow B2B My Favorite Robot | KiNK (live) | Maceo Plex | Mar1 | Marcel Dettmann | Marcellus Pittman | Matt Medved | Matthias Meyer B2B Patlac | Mike Servito | Modeselektor (DJ Set) | Move D b2b Dolan Bergin | Nicolas Jaar (live) | Pantha du Prince (live) | Patrice Bäumel | Polyswitch | Richie Hawtin | Shed | Solomun | Thris Tian | Tijana T | Unes | Willow | Young Marco
CONNECT
Website http://theoasisfest.com
Facebook http://facebook.com/theoasisfest
Twitter https://twitter.com/theoasisfest
YouTube https://www.youtube.com/theoasisfest
Soundcloud https://soundcloud.com/theoasisfest
Instagram http://instagram.com/theoasisfest