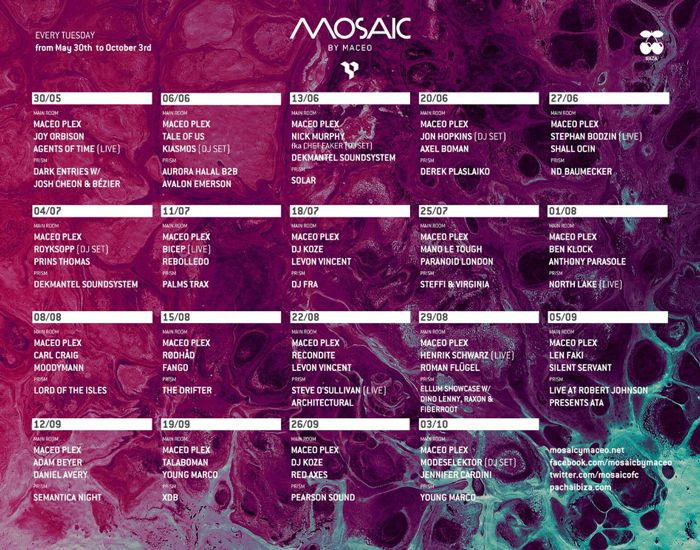 MOSAIC PACHA 2017 Full Dates Announced…
Season Breakdown for Ibiza's Boundary-Breaking
Series by Maceo Plex Announced
Opening Party 30th May featuring…
MACEO PLEX // JOY ORBISON
AGENTS OF TIME (LIVE)
DARK ENTRIES w/ JOSH CHEON & BÉZIER
Every Tuesday
30th May – 3rd October
Pacha Ibiza
Tickets available:
http://bit.ly/MaceoPlex2017

Retaking up the mantle for pushing Ibiza's borders beyond genre convention and constraint, Mosaic today announce the dates for Maceo Plex's Tuesday residency at Pacha. Opening doors and minds on May 30th, the series has selected a bounty of boundless talent, from Nick Murphy aka Chet Faker to Royksopp, Jon Hopkins to Modeselektor, live showcases the likes of Henrik Schwartz and Stephan Bodzin; not to mention the most definitively modern DJs, amongst a defiantly avant-garde lineup.

With an opening party set to welcome an exceptional ensemble of acts – truly an exception to anything else to be found on island – it serves well to express the following weeks. Joy Orbison joins Maceo Plex in the booth, banishing any expectations of business as usual as Agents of Time perform live; this while Mosaic's signature second room provides an intimate excursion from the norm with Dark Entries, Josh Cheon and Bézier.
In a seminal and kaleidoscopic schedule, Mosaic sets out in this second year to embolden, enlighten and evoke, promising companions to Maceo in Tale of Us, Bicep, RØDHÅD, Daniel Avery, Talaboman, et al. With room 2 offering exquisite and exotic sounds from far-reaches as yet unfamiliar to Ibiza, Maceo's own Ellum Audio crew including Dino Lenny, North Lake and Architectural will help to warp the White Isle alongside Aurora Halal, Avalon Emerson, Pearson Sound, Young Marco and more.
Unveiled in expansive style, courtesy of Michael Cina in an exclusively commissioned painting, the accompanying artwork is one aesthetically contemporary to Mosaic's musicality. Later to be sectioned into panels, each portraying one event of the series across a collage of posters, Cina's award-winning craftsmanship (see album artwork for Ghostly International) creates an organic yet surreal, multi-layered and sonically-charged surface for Mosaic, in situ at Pacha Ibiza.
About Pacha Ibiza: 50 year ago, founded in July '67, Pacha Sitges was born. The first of a group envisaged as more than a simple nightclub, or a room for a party, Ricardo Urgell created it as a meeting place; A place in which to transmit often peculiar visions and facilitate the enjoyment of life.
On 1973, during hippy movement, Ricardo opened Pacha Ibiza. A world-class venue, it was from its inauguration one of Ibiza's most respected clubbing institutions. Since then the brand has been constantly developing together with the culture, its fashion and trends, bringing new ideas and improvements with myriad extravagances to the night scene; although always maintaining its singularity — Pacha's proudly particular style and spirit. The 3,000-capacity venue features five different rooms interlaced by stairs, doors and secret corridors, a fitting spot to showcase some of the best and boldest parties the island has to offer.
FULL SEASON CALENDAR
30-may
MACEO PLEX
JOY ORBISON
AGENTS OF TIME LIVE
DARK ENTRIES W/ JOSH CHEON & BÉZIER
06-jun
MACEO PLEX
TALE OF US
KIASMOS DJ SET
AURORA HALAL B2B AVALON EMERSON
13-jun
MACEO PLEX
NICK MURPHY (CHET FAKER) DJ SET
DEKMANTEL SOUNDSYSTEM
SOLAR
20-jun
MACEO PLEX
JON HOPKINS (DJ SET)
AXEL BOMAN
DEREK PLASLAIKO
27-jun
MACEO PLEX
STEPHAN BODZIN LIVE
SHALL OCIN
ND_BAUMECKER
04-jul
MACEO PLEX
ROYKSOPP (DJ SET)
PRINS THOMAS
DEKMANTEL SOUNDSYSTEM
11-jul
MACEO PLEX
BICEP (LIVE)
REBOLLEDO
PALMS TRAX
18-jul
MACEO PLEX
DJ KOZE
LEVON VINCENT
25-jul
MACEO PLEX
MANO LE TOUGH
PARANOID LONDON
STEFFI & VIRGINIA
01-aug
MACEO PLEX
BEN KLOCK
ANTHONY PARASOLE
NORTH LAKE LIVE
08-aug
MACEO PLEX
CARL CRAIG
MOODYMANN
LORD OF THE ISLES
15-aug
MACEO PLEX
Rødhåd
FANGO
THE DRIFTER
22-aug
MACEO PLEX
RECONDITE
LEVON VINCENT
STEVE O'SULLIVAN LIVE + ARCHITECTURAL
29-aug
MACEO PLEX
HENRIK SCHWARTZ LIVE
ROMAN FLUGEL
DINO LENNY / RAXON / FIBERROOT
05-sep
MACEO PLEX
LEN FAKI
SILENT SERVANT
LIVE AT ROBERT JOHNSON PRESENTS ATA
12-sep
MACEO PLEX
ADAM BEYER
DANIEL AVERY
DJ FRA
19-sep
MACEO PLEX
TALABOMAN
YOUNG MARCO
XDB
26-sep
MACEO PLEX
DJ KOZE
RED AXES
PEARSON SOUND
03-oct
MACEO PLEX
MODESELEKTOR (DJ SET)
JENNIFER CARDINI
YOUNG MARCO