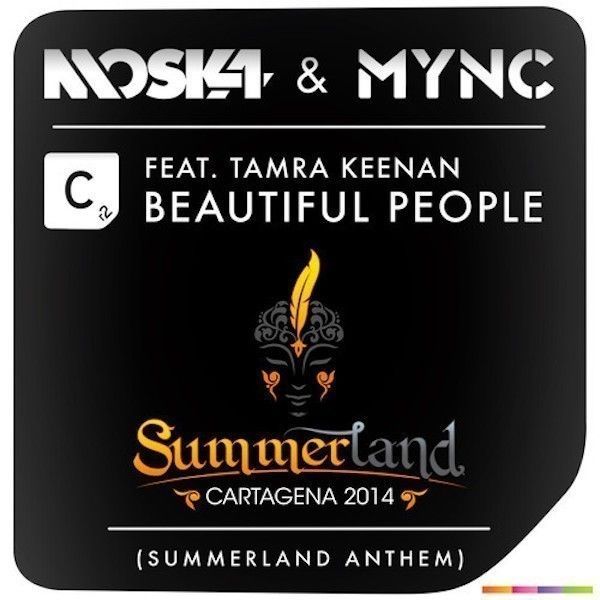 Moska & MYNC – Beautiful People
Talented producer Moska returns alongside the UK DJ and label owner MYNC and Tamra Keenan to release Beautiful People, the official anthem for Summerland held in Cartagena, Columbia during January 3rd-5th 2014.
Summerland continues its reputation this year as being one of the biggest and most exciting dance festivals in South America. The track will be released January 20th on MYNC's own label Cr2 which will turn 10 this year.
This progressive house tracks perpetual build up results in uplifting memorable beats which blends with Tamra's expressively soulful vocals perfectly. The unforgettably crafted breakdown culminates the perfect anthem that will surely triumph in 2014.
Moska is notorious for producing an incredible bootleg of Calvin Harris ft. Rihanna ́s "We Found Love", which grabbed the support from renowned Dutch DJ Tiesto. Moska was also invited to play by Diplo on the BBC Radio 1 show "Diplo & Friends".
MYNC received worldwide acclaim for his official remixes for both Avicii and Azari & III. Some of the biggest names in dance music has been featured on MYNC's label Cr2, such as David Guetta, Deadmau5 and Nicky Romero to name a few.
# # #
For more information on Moska please see below:
https://www.facebook.com/moskahouse
https://soundcloud.com/moskahouse
https://twitter.com/MoskaHouse
For more information on MYNC please see below:
https://www.facebook.com/myncdj
https://soundcloud.com/myncdj
https://twitter.com/MYNCDJ
For more information on Cr2 please see below:
http://www.cr2records.com/
https://www.facebook.com/cr2records
https://soundcloud.com/cr2records