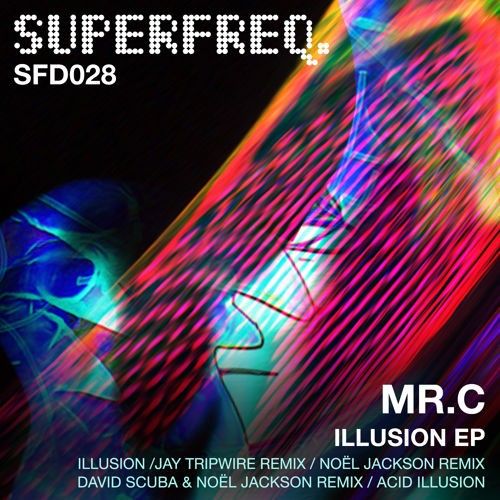 Mr.C – Illusion EP
Next up on his own Superfreq label is the inimitable force for good that is Mr.C with two new cuts that get remixed to perfection by Jay Tripwire, Noel Jackson and David Scuba. As ever, the creative talent's excellent and otherworldly music comes with a message and finds the L.A based DJ and producer wanting to share his own positive illusion on how life and the universe works.
A true pioneering spirit who has been there, seen it & done that, Mr.C is still right at the forefront of the scene in terms of the music he makes, A&R, releases, the sets he lays down and the parties he curates all over the world. This magical new release proves that once more.
The release title asks people to challenge what they think is real. In Mr.C's own words…
"Money is an illusion, the things we fear and worry about are an illusion, in fact everything that we see in our waking lives are no more real than the illusions we have when we sleep, which we call dreams. Quantum Mechanics tell us that that it's our own perception that creates our own illusion or what we believe is real. If this is the case, then it's our own responsibility to make sure that our own attitude, visions and dreams, are positive and loving, so that the perception that we have about what we're seeing and why we're here are enjoyable and that we can create our own happiness by working on it."
The release opens with the original version of 'Illusion', delivering a fully formed Universe of sound with effects and subtle details, sci-fi signifiers and lush cosmic pads all floating about a well constructed tech house groove. Magical and immersive, thought provoking and original, it is a fine bit of work from Mr.C.
His other original is 'Acid Illusion' with darker beats powering us through the cosmos. Gurgling basslines, prickly 303 lines and nervy pads all make for an engaging listen that oozes real soul and atmosphere.
As for the remixes, frequent Mr.C collaborator Jay Tripwire flips 'Illusion' into a wonky track with untamed synth lines that spray about wildly, label associate Noël Jackson opts for a slithering, subliminal and heady bit of techno and then teams up with label co-boss David Scuba to remix again, this time opting for a gurgling, gliding acid remix that really gets under your skin.
No one does tripped out tech like Mr.C, and this latest offering is yet another perfect example of that.