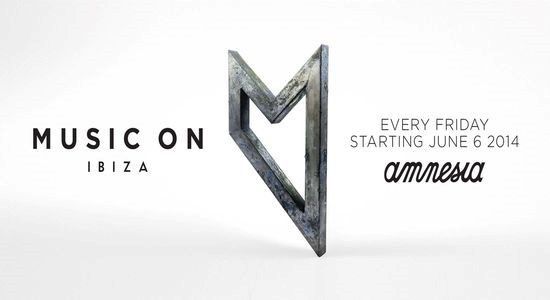 Music On Ibiza 2014
Marco Carola's Music On is on home ground, with its unique focus on art and the environment, technology and, of course, the music.

Named after Marco Carola's taste-making electronic house & techno label, Music On will continue in the tradition of previous years by playing out in both rooms of the world-famous club Amnesia Ibiza.

Opening on June 6th and running every Friday until closing on September 26th, musically the party will explore house and techno with guest appearances by the finest names in the game; including Shaun Reeves and Ryan Crosson, Radioslave, Jamie Jones, global icon Carl Cox, Oxia, Chris Liebing, Joseph Capriati, Leon, Hector and many more.

Each and every event will feature an art installation that explores our relationship with the past and the present, nature and technology, the organic with the synthetic and natural with mechanical forms.

These sculptures – the basis of which is the Music On logo – have been made from a range of different recycled materials. A collection that unites us in a positive view of the future; somewhat exploring the relationship between the past, the present and the future, that is key in everyday life, and going against the dystopian norm by playing with materials through music and rhythm.

Having established itself across the course of two memorable seasons in 2012 and 2013, Music On is sure to be one of the most talked-about nights in
2014 given its thought-provoking concepts, exceptional sense of design and production and, of course, its wholly on-point musical programme. 2014 is all about the musicŠ

You'll also be able to catch Music On live weekly on Ibiza Global Radio, live from Cafè del Mar every Friday on 100.8 FM from 8PM GMT.
LINE UP:
Friday. 06 June 2014
Music On Ibiza Opening Party 2014

TERRACE:
Marco Carola
Shaun Reeves
Ryan Crosson

CLUB ROOM:
Joseph Capriati
Neverdogs



Friday. 13 June 2014
TERRACE:
Marco Carola
Leon B2B Radioslave
CLUB ROOM:
Pan-Pot
Nicole Moudaber
Friday. 20 June 2014
TERRACE:
Marco Carola
Marc Antona LIVE
CLUB ROOM:
Chris Liebing
Stacey Pullen
Friday. 27 June 2014
TERRACE:
Marco Carola
tINI B2B Bill Patrick
CLUB ROOM:
Miss Kittin
Joseph Capriati
Friday. 04 July 2014
TERRACE:
Marco Carola
Hector
CLUB ROOM:
Pan-Pot
Anja Schneider
Friday. 11 July 2014
TERRACE:
Marco Carola
Jamie Jones
Bill Patrick
CLUB ROOM:
Joseph Capriati
Oxia


Friday. 18 July 2014
TERRACE:
Marco Carola
Guti LIVE
Silvie Loto
CLUB ROOM:
Nicole Moudaber
Mar-T
Friday. 25 July 2014
Music On Ibiza – Hosted by BPM
TERRACE:
Marco Carola
Marc Antona LIVE
Leon
CLUB ROOM:
Joseph Capriati
Stacey Pullen
Friday. 01 August 2014
TERRACE:
Marco Carola
Jamie Jones
Re-UP
CLUB ROOM:
Joseph Capriati
Leon
Nathan Barato
Friday. 08 August 2014
TERRACE:
Marco Carola
All Night Long
CLUB ROOM:
Monika Kruse
Mar-T
Friday. 15 August 2014
TERRACE:
Marco Carola
Pan-Pot
CLUB ROOM:
Chris Liebing
Joseph Capriati
Friday. 22 August 2014
TERRACE:
Carl Cox
Marco Carola
Leon
CLUB ROOM:
Miss Kittin
Elio Riso
Friday. 29 August 2014
TERRACE:
Marco Carola
Ryan Crosson
CLUB ROOM:
Pan-Pot
Nastia
Friday. 05 September 2014
TERRACE:
Marco Carola
CLUB ROOM:
Joseph Capriati
Nathan Barato



Friday. 12 September 2014
TERRACE:
Marco Carola
Shaun Reeves
Ryan Crosson
CLUB ROOM:
Monika Kruse
Carlo Lio
Neverdogs
Friday. 19 September 2014
TERRACE:
Marco Carola
Bill Patrick
CLUB ROOM:
Oxia
Richy Ahmed
Friday. 26 September 2014
Closing Party

TERRACE:
Marco Carola
Leon
Re-UP


CLUB ROOM:
Joseph Capriati
Stacey Pullen
Neverdogs