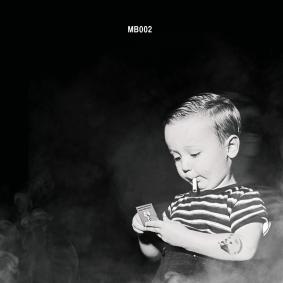 Various Artists - My Baby 002 EP
Detroit label My Baby focusses on letting underground local talent shine, and that is the case with the second EP, a various artists affair featuring label boss Mister Joshooa, plus Remote Viewing Party and Tammy Pickle with a remix from My Baby.
The acts featured on this release are all residents of the famous TV Lounge/TV Bar venue in Detroit. The 12" includes Eddie C along with My Baby boss and TV Bar booker Mister Joshooa—who work together here as Tammy Pickle—plus Rickers, who is one half of ATAXIA, and How to Kill Detroit co-founders Remote Viewing Party, while Rickers and Joshooa also link as My Baby to remix one of the tracks.
First up are Remote Viewing Party with the superb '410'. It's five bumping minutes of silvery tech with whirring machines and gurgling synths all weaving around well programmed and punchy drums. Sure to infect real energy and freakiness into any club set.
Mister Joshooa makes his first appearance with the alluring 'Alright Fine', a slow and absorbing track of gloopy bass, percolating drums and unsettling vocals. Subtle acid lines and prickly hi hats all make this one really jump out of the speakers.
Next up, Mister Joshooa links with Rickers for a standout remix of '410' that is even more physical and driving. The metallic groove is run through with alien sounds, shooting synths and ghoulish voices that are filled with paranoia and will make a great atmosphere in the club.
Joshooa and downtempo disco don Eddie C then collaborate as Tammy Pickle for 'Indifference,' which is a perfectly slow and sensuous number with elastic synths and bass. Crisp hits drive it along and encourage you to sink deep into the groove.
This record is jam packed with talent and original ideas, and one that marks out this label as one to watch.
Tracklist:
1. Remote Viewing Party – 410
2. Mister Joshooa – Alright Fine
3. Remote Viewing Party – 410 (My Baby Remix)
4. Tammy Pickle – Indifference