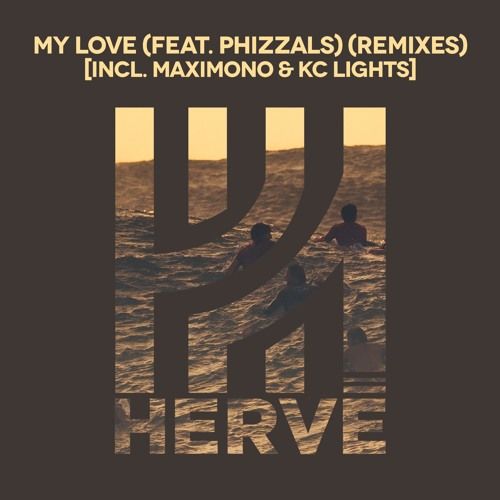 Hervé - My Love
Hervé, the maestro of bass house, returns with 'My Love' from his acclaimed 'Hallucinated Surf' double LP. Released on Skint Records on 9 December, 'My Love' is backed by strong remixes from KC Lights, Maximono and Ryuken.
Featuring Baltimore rapper Phizzals on vocals, 'My Love' is one of many peak time club highlights on 'Hallucinated Surf''s first disc, that contrasts with the experimental, emotional and downtempo sounds of disc 2.
Fusing bass-heavy house with early 90s acid house and rap, 'My Love' further emphasises Hervé's diverse production styles.
All three remixes enhance the bass sound of 'My Love' perfectly, thanks to Hervé enlisting three of the hottest producers around. Glaswegian deep house producer KC Lights's glitchy, big room reworking of 'My Love' demonstrates why he is such an exciting talent. Next, drum & bass duo Maximono take the original into deeper territory, before building to a bass heavy drop. Finally, London-based duo and Cheap Thrills stalwarts Ryuken's round things off perfectly with their twisted garage remix.
DJ and producer Hervé has been a prominent figure on the dance music scene for over 10 years. With an impressive CV that has seen him work with some of the biggest names in music, Hervé also runs the Cheap Thrills label that has enjoyed releases by Fake Blood, Jack Beats, Lone, and Project Bassline.
A man of many guises, Hervé has released under the aliases The Count, Speaker Junk, Voodoo Chilli, Action Man, Klint, Speaker Punks, Dead Soul Brothers, Young Lovers, and the Machines Don't Care collaborative group.
Hervé's collaboration with Sinden as The Count & Sinden produced the club and radio hits 'Beeper', 'Mega' and 'After Dark' featuring appearances from the likes of Katy B and the Mystery Jets – forming a genre busting snapshot of club
culture that saw the pair distil electronic music and new sounds from all around the world into something completely fresh.
Hervé's earlier releases include the huge club record, 'Together'. Over the years, he has remixed tracks from the likes of Kidda ('Under the Sun'), Usher ('Climax'), and Beyonce ('Countdown'), to the Chemical Brothers, Orbital, Faithless, Basement Jaxx, Prodigy, Calvin Harris, Bloc Party and many more. He has also collaborated with some of the biggest names in music, including with Fatboy Slim on 'Machines Can Do The Work' in 2010 and Armand van Helden on 'Power of Bass' in 2014.
He has released two hugely successful mix CDs – 'Ghetto Bass 1' in 2009 and 'Ghetto Bass 2' in 2010 – demonstrating his deep love for the genre.
Prior to the release of the critically acclaimed 'Hallucinated Surf', in 2013 Hervé released his first album 'The Art of Disappearing'. Disc 2 of Hallucinated Surf is a continuation and development of that album's sound.
Social Media links
Hervé:
www.hervespace.com
www.facebook.com/hervespace
www.twitter.com/hervespace
www.instagram.com/hervespace
www.soundcloud.com/hervespace
Skint Records:
www.skintentertainment.com
www.facebook.com/skintrecords
www.twitter.com/skintrecords
www.soundcloud.com/skintrecords
www.youtube.com/user/SkintRecords