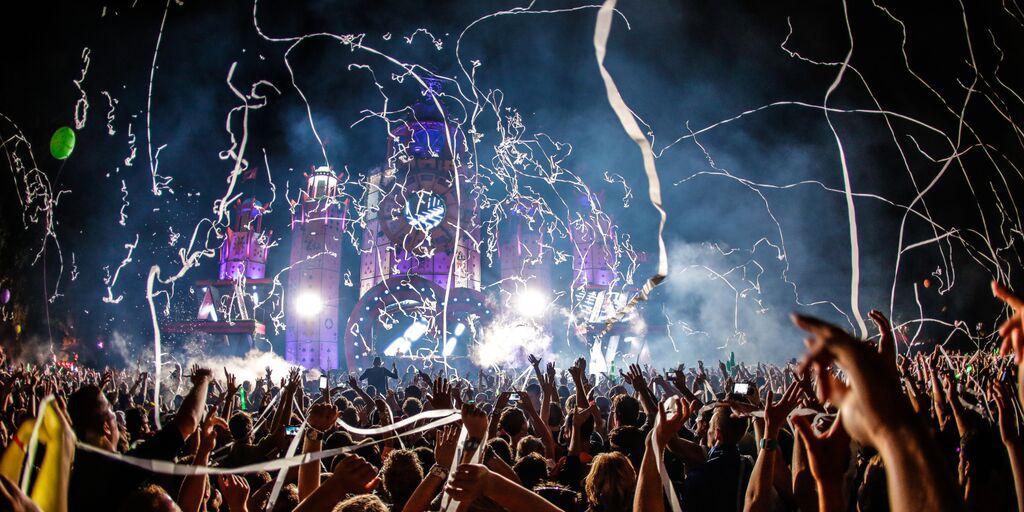 MYSTERYLAND 2015 – FINAL ACTS REVEALED
With just one month to go before Mysteryland descends on Haarlemmermeer in the Netherlands, the festival announces the final acts for the line-up along with some of the must-see festival highlights. This year, Mysteryland, the world's longest running dance music festival, adds an extra day, taking place on both Saturday 29 and Sunday 30 August.
New acts revealed today include 2000 and one, Boehmer, Darius Syrossian, Deep Dish, De Jeugd van Tegenwoordig, Dimitri Vangelis and Wyman, DJ Maestro, Feestdjruud, Kraak & Smaak (DJ Set), Lil Silva, My Baby, Santé and Sidney Charles. These acts bolster an already enormous multi-genre line-up, featuring everything from dance to afrobeat, from techno to house and from hardstyle to disco.
The spectacular main stage will play host to big name acts like Alesso, De Jeugd van Tegenwoordig, Oliver Heldens, Jungle by Night, Nero, Martin Garrix, Knife Party and Netsky live – a blow-your-mind experience complete with fireworks, confetti and show-stopping lights and visuals. Techno fans should head to HYTE, CLR, Beatport, Joris Voorn Presents, Vinyl Only, Planet Delsin and Studio 80 where Agoria, A Made Up Sound, Art Department, Apollonia, Ben Sims, Chris Liebing, Dave Clarke, Dubfire, Interstellar Funk, Jeff Mills, Job Jobse, Joran van Pol , Joseph Capriati, Maya Jane Coles, Robert Hood, Sandrien, Smallpeople, Sterac, The Martinez Brothers and Tiga b2b DJ Hell are just some of the many acts set to perform.
Spinnin' Sessions take over The Big Top on Saturday with artists such as DVBBS, Vinai and Ummet Ozcan, followed by Size Matters on Sunday, with Steve Angello, Sunnery James and Ryan Marciano, Kryder, AN21 and much, much more. For those looking to discover new sounds there's The Bollywood Bar, with acts like Young Marco, San Proper, Volcov and Invisible City Sound System spinning everything from tropical calypso to afro disco and everything in between, as well as the Hague-Afreakan party Radio Noet Noet with Analog Africa, Casper Tielrooij, Auntie Flo and Mim Souleiman. With all of this and countless other stages and acts to explore and discover, this is set to be the biggest edition to date! The complete line-up can be found at www.mysteryland.nl.
Art and culture
Mysteryland isn't just been about the music. The extensive arts and cultural program has become just as important. This year, the "Art path", or Kunstpad will be created in cooperation with Cultuur & Ondernemen. Here, six promising artists will present their interactive installations based on the theme 'serenity'. There also promises to be plenty of light art, including an enormous light installation below the pyramid, made by WERC Collective, which includes two hundred moving elements, video mapping on the water, a lot of LEDs and 8 kilometres of cable. This year, Mysteryland will collaborate with the Tropenmuseum and there will be a giant pig, in which you can watch a show as though you were a piglet. Plus the Healing Garden will offer ample opportunity to indulge your spiritual side, experience inspiring talks from the likes of American life artist and producer Tommie and enjoy an exquisite dinner at Vork and Mes, crafted by top chef Jonathan Karpathios.
About Mysteryland
The first edition of Mysteryland took place in 1993, making it the longest running dance event in the world. The festival focuses on electronic music, art, culture, talent, and sustainability. Julie's Bicycle awarded Mysteryland with a '3 Stars Industry Green Certificate', the highest label for sustainability with the creative, art, music, and theatre industry. The festival has also been awarded with a three-star 'Greener Festival Award'. This year, Mysteryland will host its first multi-day edition at the former Floriade terrain in Haarlemmermeer. International editions of Mysteryland take place at the base of the Andes in Chile and on the legendary Woodstock '69 terrain in Bethel Woods New York, USA. Mysteryland is a concept by ID&T. For more information and tickets, please visit www.mysteryland.com.
MYSTERYLAND LINE-UP
AUGUST 29 + 30
SATURDAY
MAIN
Alesso | Nicky Romero | Oliver Heldens | Laidback Luke | R3hab | NERO dj set | Jungle by Night | East & Young | Ronde (Live with East & Young) | Special gest De Jeugd van Tegenwoordig | Lex Empress (MC) | More to be confirmed
THE BIG TOP HOSTED BY SPINNIN' SESSIONS
DVBBS | VINAI | Ummet Ozcan | Firebeatz | Julian Jordan | Mightyfools | DubVision | Mike Mago | Dirtcaps | Sam Feldt | AK | Ambush (MC)
BEATPORT
The Martinez Brothers | Art Department | 2000 and one | Olivier Weiter | Job Jobse | Elias Mazian | Very special guest: Maya Jane Coles | Justin Verkijk (MC)
HYTE X CLR
Chris Liebing | Dave Clarke | Robert Hood | Planetary Assault Systems live | Pfirter | ROD | Jean Pierre Enfant
THE AMAZING AGENCY
Jeff Solo | Disco Smack | RipTide | Lion Kojo | Hey Girl Hey | Yuki | Cleo | Valentijn | Performance by The Sweethearts
Q-DANCE
Frontliner | Noisecontrollers | B-front | Psyko Punkz | Atmozfears | Max Enforcer | Outbreak | Audiofreq | Festuca | Waverider | Mad Dog | Villain (MC)
SUPERTOYS
Tommie Sunshine | Doppelgang | Cookachoo | Fierce Ruling Diva | Gaff E | Bramsterdam & Big General | Disctwins | Fashionpack | Ted Langenbach | MC SaraLee
VIEZE POEZENDEK
Vic Crezée | Phalerieau ft. MC Alainde Lon | Covergirl Sunny | Mitchel Kelly | Fritz The Face | Aiscream | Christal Empire
HEINEKEN STARCLUB X KRIS KROSS
DJ Jazzy Jeff | TWRK | Kris Kross Amsterdam | Snelle Jelle | Mickeynice | Alamaison | Walter Looks | Sunny | Dennis Branco
VINYL ONLY: PLANET DELSIN
Ben Sims | STERAC | Delta Funktionen | Sandrien | A Made Up Sound | Mattikk
RADIO NOET NOET
Analog Africa | Casper Tielrooij | Mim Suleiman | Resistance Orchestra | Radio Noet Noet
KICKSTART: DISCO DOLLY
DJ Gele Jas | DJ Franklin Groene Jas | Khalil | Juri Miralles | Jules De La Courgette | Julien Simmons | Chamireaux MC
BOLLYWOOD BAR
Invisible City Sound System | Young Marco | Orpheu The Wizard | Jamie Tiller & Abel & Calypso Steve
CRAZYTOWN
Feestdjruud | Banganagangbangers| Boehmer | Girlslovedjs | David Ghetto | Rave van Fortuin | CMC$ | Flamboyant
KOJADE
Kareem Raïhani | Steefeest | Satori | Charels Davos | Krien Joseph | Forest Of Heroes | Nepco | Spinsekt | Kojade Bar Crew
HEALING GARDEN
Speakerslounge | The Incredible Stacks | Dj Iradi | Scents Of Music | Yoga Yurt | Shaman Trance | Mahamudra | Sacred Cinema: Holographic Universe | Klankschaalmeditatie | Hypnotrain
LEPELTJE LEPELTJE
De Gillende Keukenprins | Gekke Groente Museum | Pannenkoekenhuys Den Potsenmaeker | Alice & Kate's Steam Pop Machine | Faya Lobi | Koffie Leute | Kafe Brandpunt | Ofjespaanseworstlust | Zijpe Stijl | Hoogvuur
KUNSTPAD
Kunstknapen – Dwaallicht | Lisa Galesloot & Dennis Koek – Just The Messenger | Studio Id Eddy – Sleeping Beauties | Gijs Van Gemerden – Chairs Of Fu | Kiki Peeters – Little Chapel | Koen Steger – Cocoon | Robbert Van Der Horst – Stil
SUNDAY
MAIN
Martin Garrix | Knife Party | Dillon Francis | Netsky live | Porter Robinson live | Claptone | Thomas Jack | Lex Empress (MC) | Special guest Deep Dish
THE BIG TOP HOSTED BY SIZE MATTERS
Steve Angello | Sunnery James and Ryan Marciano | Kryder | AN21 | Tom Staar | Chocolate Puma | Sebjak | More to be confirmed
HYTE
Pan-Pot | Dubfire | Jeff Mills | Davide Squillace | Monoloc | Bram Fidder | Ici Sans Merci
JORIS VOORN PRESENTS
Joris Voorn | Joseph Capriati | Agoria | Darius Syrossian b2b Santé b2b Sidney Charles | Tiga b2b DJ Hell | Dominik | Eulberg & Gabriel Ananda | Joran van Pol | Anton Pieëte
THE AMAZING AGENCY
Alexis Knox | RipTide | T.N.O. Soundsystem | Hey Girl Hey | Cleo | Afrikaboomnada | The Sweetbeats | Performance by The Sweethearts
Q-DANCE
Wildstylez | Ran-D | Coone | Zatox | D-Block & S-TE-Fan | Evil Activities | Bass Modulators | Geck-O | Crystal Lake | Sound Rush | LNY TNZ | Villain (MC)
SUPERTOYS
Hercules & Love Affair | Joost van Bellen | Carlos Valdes | Doppelgang | The Million Plan | Wannabe A Star | Gaff E | Pop on Acid | Sofia Valentine | MC SaraLee
VIEZE POEZENDEK
FS Green & MC Fit | Mitchel Kelly | Covergirl Sunny | Rachel Green | Emanuelle Vos | Mairo Nawaz | Kleine Kim
HEINEKEN STARCLUB X YOURS TRULY
The Flexican & SEF | Low Steppa | Vic Crezée | Full Crate | Jaziah | SirOJ | Rancido | Rafique Le Freaq | More names to be confirmed
VINYL ONLY: STUDIO 80
Smallpeople | DJ Haus | Dollkraut | Interstellar Funk x Robert Bergman | Marcel Vogel | Max Abysmal
RADIO NOET NOET
Auntie Flo | Vintage Voudou | Rens Worbier | WOODY (Ohana Hana) | Radio Noet Noet X Paul Nas
SPEEDBAR
Tom de Kort | Jonathan Kraayeveld | M8riu5 | Levi Verspeek | Some Chemistry | Roman Geniuz | Arthur Groenendaal | Kiki Croese
BOLLYWOOD
Volcov | San Proper | Raphaël Top-Secret | Cher Monsieur & Enrique's Groove
KOJADE
Isis | Mimi Love | Miss Melera | Esta Polyesta | The Color Of Sin | Nepco | Spinsekt | Kojade Bar Crew
HEALING GARDEN
Speakerslounge | The Incredible Stacks | Dj Iradi | Scents Of Music | Yoga Yurt | Shaman Trance | Mahamudra | Sacred Cinema: Holographic Universe | Klankschaalmeditatie | Hypnotrain
LEPELTJE LEPELTJE
Kraak & Smaak (DJ Set) | Wicked Jazz Sounds | Leo Blokhuis (DJ Set) | De Gillende Keukenprins | Gekke Groente Museum | Pannenkoekenhuys Den Potsenmaeker | Alice & Kate's Steam Pop Machine | Faya Lobi | Koffie Leute | Kafe Brandpunt | Ofjespaanseworstlust | Zijpe Stijl | Hoogvuur
CRAZY TOWN
Feestdjruud | The Darkraver | Puinhoop Kollektiv | Cesqueaux | Hasse De Moor | Lucky Done Gone | Raynor Bruges & JPACKMC
KUNSTPAD
Kunstknapen – Dwaallicht | Lisa Galesloot & Dennis Koek – Just The Messenger | Studio Id Eddy – Sleeping Beauties | Gijs Van Gemerden – Chairs Of Fu | Kiki Peeters – Little Chapel | Koen Steger – Cocoon | Robbert Van Der Horst – Stil
CULTURE & ARTS
Angus Watt | Micha de Haan | WERC – Waterstraat | CinemAfricav | Sweatshop 'No Sweat' | Dirty Diamond-Casino | Hot-tub Heaven | Thuis bij de Familie | Decodel | Joskaasworst – Facelift | Hermanders | Pim Zwager – Dwaallicht | Dennis & Lisa – Just The Messenger | Eddy Kaijser – Sleeping Beauties | Gijs van Gemerden – CHAIRS of FU | Kiki Peeters – Little Chapel | Koen Steger – Cocoon | Robbert van der Horst – Stil | Het Blauwe Uur | Vitamine Blij | The Whalley Range All Stars – PIG | Tropenmuseum | Etikette | Salon De Danse | Ninjin | Bencha | Collectief Explosief | Marjolein de Man | The Amazing Agency | Monk Refunk | Morchha Cinema | De Gillende Keukenprins | Gekke Groente Museum | Kojade | The Healing Garden
FOOD
Woodmobile Pizza | Friethoes | Hotmamahot | Cantina Camille | Blusbus | Renzo's | BarMobile | Crepe Mobile | Vegetarische Slager | Coco Cocktail Club | Noet Noet's | Insecten Snackpaleis-Paradijs | Cameltoe Tea Tent | Bombascha | Vleesch noch Visch | Old Scuola | Firma Pickles | Traveling Nut by Bar&Zo | Beef Chief | Saté Man | Mr. Jerk | Best Coast Taqueria | Adams Appels | SHZZL | Pannenkoekenhuys den Potsenmaeker | Alice & Kate's Steam Pop Machine | Faya Lobi | Koffie Leute | Kafe Brandpunt | OfJeSpaanseWorstLust | Zijpe Stijl | HoogVuur