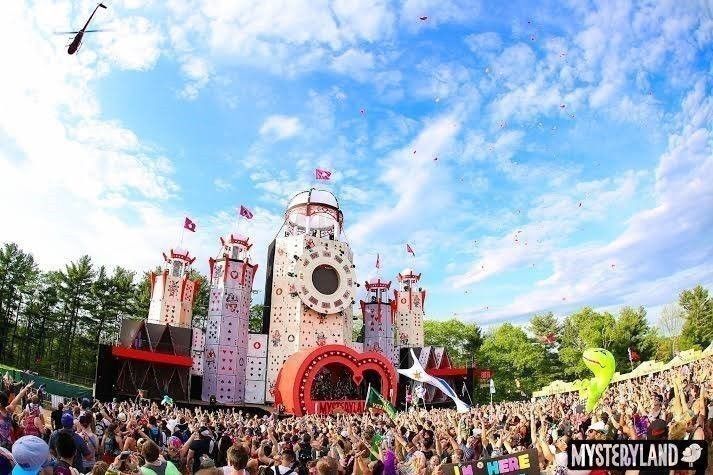 Mysteryland Announces 2015 Music, Culture & Art Curators
Mysteryland is proud to announce collaborations with cutting-edge curators, artists, and performers from New York City and beyond, who will bring their diverse expertise in music, culture and art to Mysteryland's second edition at Bethel Woods Center for the Arts over Memorial Day Weekend 2015. The first wave of curators includes Verboten, Webster Hall, Adam Beyer's Drumcode, Jamie Jones' Paradise, French Express, Q-Dance, BangOn! NYC, and many more, with the full music lineup to be released in the new year.

Music
Mysteryland pays an homage to the rich New York music scene, with distinct areas hosted by its forward-thinking nightclubs, party series and record labels. Verboten is a Brooklyn-based nightclub and leader in the New York underground dance music scene, also bringing its popular weekly Zeitgeist series showcasing indie dance and nu-disco music to the festival. Declared by Prince as "the best stage in NYC," Webster Hall has been, for over 128 years, a focal point of culture, celebration and freedom and will be inviting the most current names in dance music to Mysteryland.
A stage will also be hosted by Swedish techno titan, Adam Beyer, and his label, Drumcode, which cuts through the noise of the electronic music scene with each release — reaffirming the label's mission to deliver straightforward unpretentious dance music. One of techno's biggest stars, Jamie Jones will bring his globally recognized Paradise party, featuring his signature groove as well as a spectacular roster of guests. Meanwhile, the celebrated French Express record label has been pumping out rhythmic house tunes since 2010.
Returning is Q-dance, creating exceptional experiences for a dedicated community devoted to their passion of hard electronic dance music, and making the first stop of their 2015 North America tour. The overwhelmingly popular bass stage The Boat also returns to Mysteryland 2015 with a brand new design, always focusing on all types of bass music with a very special closing slot. And of course, Mysteryland unveils a brand new mainstage, featuring a lineup of the world's top headlining artists. The full line-up will be released in the new year.

Over at Holy Ground camping, Mysteryland introduces a new outdoor camping stage dubbed "Pineapple Paradise," embracing the "anything goes" ethos — you never know what to expect! Also new is The Breakfast Club: daily morning pre-parties in the Camping Circus held exclusively for Holy Ground campers, hosted by 'Saved By The 90's, a retro concept from the Bayside Tigers who will bring DJs, live music, and more to the grounds. Returning is the BangOn! NYC bus and of course, the Camping Circus.
Culture
Mysteryland continues its reputation as one of the world's most groundbreaking festivals, aiming to create a community that allows fans to come together to discover new boundaries and means of self-expression through diverse settings celebrating culture and art. New additions for 2015 include 'Owari No Nai', a mysterious concept by the Amsterdam creative collective which brought the popular Sin Salida experience last year, featuring a Japanese land filled with Geisha girls, sake and more. Verboten also brings its Culture series, which includes Deep House Yoga classes, trivia nights, burlesque shows, and art exhibitions from popular and upcoming artists.

Art
Mysteryland's 2015 arts program will be curated by Kevin Balktick, who will showcase the brightest imaginations in New York and beyond. Kevin Balktick is a Brooklyn-based creative director and event producer who has been organizing art and culture experiments for nearly ten years. Mysteryland is excited to engage with New York's artistic communities and give them a place to play and share their work.

Artists can learn more about how to participate in Mysteryland at Mysteryland.us
Tickets
Pre-sale tickets for Mysteryland USA 2015 go on sale December 4, 2014 at 10AM (EST)
Fans who are MasterCard cardholders can access the exclusive MasterCard Only Sale on December 3rd at 10AM (EST).
Both pre-sales offer ticket buyers the guaranteed lowest price tier on all available tickets.
Access the pre-sale registration via Mysteryland.us

General on-sale begins December 5, 2014 at 10AM (EST) at Mysteryland.us

Mysteryland has partnered with U.S. ticketing agency Flavorus for the pre- and general on-sale. Mysteryland is a 21+ festival.