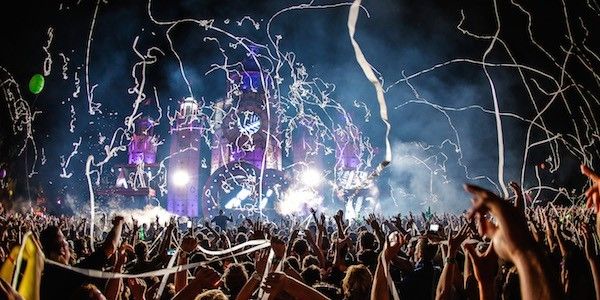 Mysteryland announces first acts for 2015
Mysteryland, the world's longest-running dance festival, today presents the first part of the 2015 line-up. On Saturday August 29 and Sunday August 30, festivalgoers will embark on a weekend-long adventure in a world filled with electronic music, art and culture. Just like every other year, the line-up will include a combination of world-famous names and upcoming talent. Crowd-pullers this year include Martin Garrix – whose only festival performance this summer is at Mysteryland – and global stars like Alesso, Apollonia, Art Department, Ben Sims, Chris Liebing, Dave Clarke, Dubfire, Hercules & Love Affair, Jeff Mills, Joris Voorn, Knife Party, Maya Jane Coles, Nicky Romero, Oliver Heldens, Pan-Pot, Porter Robinson, STERAC, Steve Angello, Ten Walls live, The Martinez Brothers, Tiga and Wildstylez. General tickets to Mysteryland, a festival that always sells out, go on sale on Saturday 7 March at 10:00 am CET.
The fans' wishes
'We are so happy that we can offer our visitors a two-day program. Not only can they party longer, but most of all, they have more time to explore the wide variety of music, arts and culture on offer. Besides, we are proud that we can give a platform to so many talents, artists and creatives', according to Duncan Stutterheim, founder of ID&T. The 'Kunstroute', an art path in collaboration with the government's culture program 'Cultuur & Ondernemen' and the exposition with the Tropenmuseum are the must-sees of the program, says Stutterheim. Mysteryland's full program will be announced by the end of March.
Global stars and new talent
For two whole days, festivalgoers will dance to performances by both local and international artists. The entire spectrum of electronic music will be on show. In addition to the acts listed above, acts including Frontliner, Noisecontrollers, Ummet Ozcan, Kris Kross, Dillon Francis, Dominik Eulberg & Gabriel Ananda, Firebeatz, Mightyfools, Vinai and ROD will also be taking to the stage. Festival partners such as CLR, Hyte, Beatport and Joris Voorn Presents will be responsible for techno, techhouse and deephouse, while Planet Delsin and Studio 80 will host the Vinyl Only areas, where this vintage music medium will be celebrated with all the honour it deserves. It goes without saying that Q-dance will be present on both days, with highlights including Wildstylez, Frontliner and Psyko Punkz. Kris Kross and Yours Truly will be responsible for the line up at the Heineken Starclub where turntable legend DJ Jazzy Jeff will perform amongst others. Open-minded Amsterdam festival 'Milkshake' will be claiming an island of its own with The Mini Madness Milkshake Island, where Hercules & Love Affair will be performing. Other live performances include Netsky, Planetary Assault Systems en Ten Walls.
A serious arts and culture program
Needless to say, all fans can get lost in the different worlds of bizarre acts, impressive art installations, interactive exhibitions and light art. Had enough of all those impulses? Become fully zen with a shamanic meditation in the Healing Garden, watch as a piglet a theatre show in the giant pig from the Whally Range All Starts or follow a class of Keith Harring aerobics with Total Art Workout.
Real restaurants, food trucks and a museum of crazy veggies
Enjoying haute cuisine from Vork & Mes or Etikette on a covered table at different spots on the festival fields? Or is perusing the food truck parade of Lepeltje Lepeltje more your thing? Of course there is a lot of attention to what will be served to the visitors. This goes further than offering ecological, local, fair trade, vegetarian, vegan and gluten-free food. On various places family share-size portions will be served to support meetings with unknown friends. Are you more in to admiring some crazy veggies like carrot twins, miniature beetroots or potatoes in love? Check out the Crazy Vegetable Museum of the anti-food waste heroes of Kromkommer. Of course you can also get a classic portion of fries or a salad with puffed quinoa and Brazil nuts.
About Mysteryland
Mysteryland is the longest running electronic music festival in the world. The festival – which focuses on music, culture, arts, talent and sustainability, brings visitors to inspiring and surprising worlds. Mysteryland is awarded by Julie's Bicycle with a '3-Star Industry Green Certificate', the highest award for sustainability in the creative, arts, music and theatre industry. The festival has also been awarded three stars from 'A Greener Festival Award'. Mysteryland is a concept of ID&T. For more information and ticket info, go to www.mysteryland.com.
The line up phase 1 (in alphabetical order):
Alesso | Apollonia | Art Department | Beatport | Ben Sims | Chris Liebing | Dave Clarke | Dillon Francis | DJ Jazzy Jeff | Dominik Eulberg & Gabriel Ananda | Doppelgang | Dubfire | DVBSS | Etikette | Fashionpack | Firebeatz | Frontliner | Healing Garden | Hercules & Love Affair | Hyte | Jeff Mills | Joran van Pol | Joris Voorn | Jonathan Karpathios | Julian Jordan | Jungle by Night | Knife Party | Kromkommer | Kris Kross | Lepeltje Lepeltje | Martin Garrix | Maya Jane Coles | Micha de Haan | Mightyfools | Mike Mago | Nero | Netsky live | Nicky Romero | Ninjin | Noisecontrollers | Oliver Heldens | Pan-Pot | Planetary Assault Systems live | Planet Delsin | Porter Robinson live | Psyko Punkz | Q-dance | Radio Noet Noet | ROD | Spinnin' Sessions | Steve Angello | Size Matters | STERAC | Studio 80 | Ten Walls live | The Amazing Agency | The Flexican & Sef | The Martinez Brothers | The Mini Madness Milkshake Island | The Whalley Range Allstars – Pig | Tiga & DJ Hell | Total Art Workout | Tropenmuseum | Ummet Ozcan | Vinai | Wildstylez | Yours Truly
Mysteryland Netherlands
29-30 August 2015
Haarlemmermeer, Netherlands