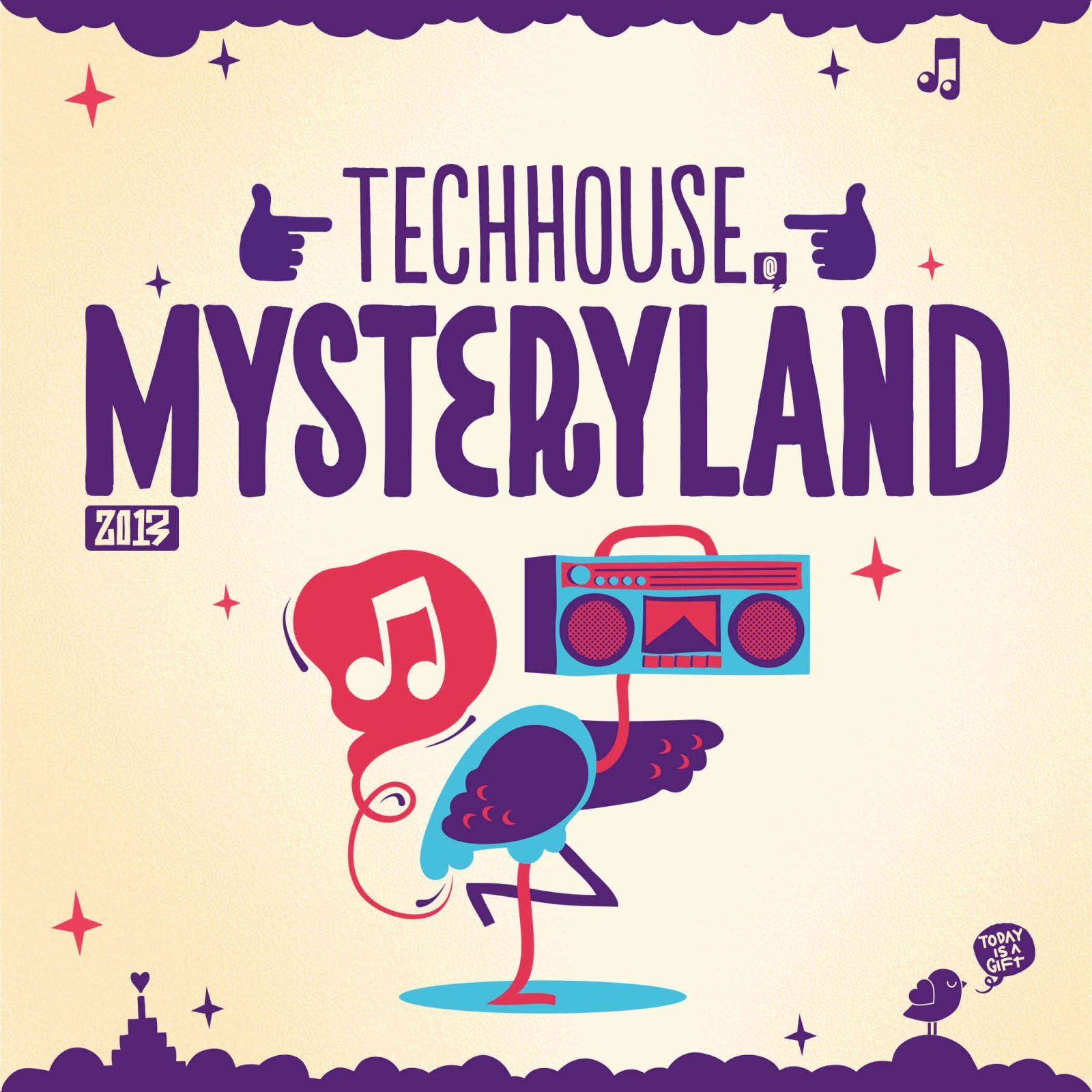 Mysteryland releases 3 compilations
Mysteryland goes big this year with not 1 but 3 compilations that represent the diversity that the oldest and most well known Dutch festival has to bring,
The 20th edition of Mysteryland will take place on Saturday the 24th of August near Amsterdam. Every year a team works very hard to create the beautiful world of Mysteryland and well known names and new talents are booked to perform at this event!

First up is "Electro House @ Mysteryland". With stages like The Big Top hosted by Dirty Dutch, Don't Let Daddy Know and the Mainstage, this music style isn't hard to miss. Deniz Koyu and Hardwell protégés Dannic and Dyro who can also be found on the line-up from the Don't Let Daddy Know stage, are included in this mix with their latest productions. It also includes festival bangers "Turn Up The Love" by Miss Nine and "Sir Ali (Turn it Up)" by Roul and Doors. The mix ends with the Blasterjaxx Remix for "Adagio for Strings", a classic hit by superstar DJ Tiesto.

Each year at Mysteryland big artists and upcoming talent from the Tech scene are added to the line-up and can't be missed. The best tech beats are carefully chosen and mixed for the release "Tech House @ Mysteryland".
Tracks from Tiga, Kölsch and Pirupa are food for your stereo. Bakermat, who is this year's biggest discovery in the music scene was also added with one of his latest tracks with the very Dutch title "Strandfeest".

Last but definitely not least Mysteryland presents "Hardstyle @ Mysteryland". The Q-Dance stage represents the harder styles in dance and makes sure fans gets the best there is! Headhunterz, Wildstylez, Brennan Heart, Coone and many more will rock the Q-Dance stage this year. The compilation mix combines the hardest kicks and biggest drops from Noicecontrollers, Frontliner, Psyko Punkz, Code Black and Wild Motherfuckers to name but a few.

These compilations are released through Be Yourself Music and exclusively available at download stores such as iTunes and Beatport.

Tracklist

Electro House @ Mysteryland 2013
01. Dirty South – Your Heart Ft. Joe Gil (Michael Brun Remix)
02. Audien – Wayfarer
03. HIIO – Get Up
04. Roul & Doors – Sir Ali (Turn It Up)
05. Miss Nine – Turn Up The Love
06. EDX – Hazed
07. Paris & Simo, Merk & Kremont – Tundra
08. dBerrie – Malfunction
09. Dirty South & Deniz Koyu – Halo
10. Julian Jordan – Ramcar
11. Dannic – Ignite
12. Deniz Koyu – Rage
13. John Dahlback – Nuke
14. Dannic – Viper
15. Dyro – Leprechauns & Unicorns
16. Tiesto – Adagio For Strings (Blasterjaxx Remix

Tech House @ Mysteryland 2013
01. Musclefarm – Mantequilla
02. Detroit Swindle – John Doe
03. De Sluwe Vos feat. Beaumont Livingstone – Believe (Timmy P Remix)
04. Tiga – Plush (Ame Remix)
05. Leftwing & Kody – Deep In
06. Dave Aju – Caller #7 (Seth Troxler & Subb-an Remix)
07. Tiga & Jori Hulkkonen – Trust Your Body
08. Olivier Weiter feat. Das Mädchen – Double Trouble
09. Kölsch feat. Troels Abrahamsen – All That Matters
10. Pirupa & Leon – Everylife (Tube & Berger Remix)
11. Heartik – Farewell Hands
12. Mark Fanciulli – The Tide (Joris Voorn Edit)
13. Bakermat – Strandfeest
14. 2000 and One – Toronto

Hardstyle @ Mysteryland 2013
01. A.SY.S. – Drums on Fire
02. Argy – Don't Give Up The Fight (Smoke Remix)
03. Wildstylez & Max Enforcer – Lose Control (feat. Frankie McCoy)
04. Noisecontrollers – Destroyer Of The Worlds
05. D-BLOCK & S-TE-FAN feat. F8TRIX – Beat As One
06. Fedde Le Grand & Nicky Romero ft. Matthew Koma – Sparks (Turn off your Mind) Atmozfears & Audiotricz Remix
07. Frontliner feat. Seraina – Tuning Into you
08. Psyko Punkz feat Murda – Trippy Hippie
09. Code Black – Feel's Good
10. Wild Motherfuckers – Wild Wild West
11. Brennan Heart & Zatox – Fight The Resistance
12. B-Front & Re-Volt – W.A.R.
13. Chain Reaction – Answers (Adaro Remix)
14. AniMe – Hands Up feat. Tha Suspect
15. Korsakoff & Viper – Rebottled

www.beyourselfmusic.com