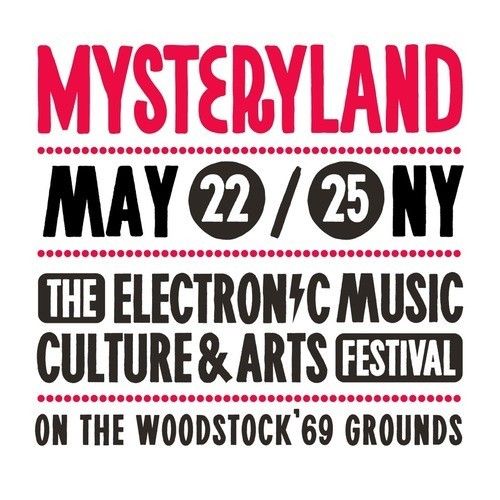 Mysteryland USA Announces 2015 Culture & Arts Lineup
Living up to its reputation as one of the world's most groundbreaking and trendsetting festivals, Mysteryland continues down its path of creativity as it presents its culture and arts programming for the 2015 edition of Mysteryland USA this Memorial Day Weekend, May 22-25. Complimenting its cutting-edge musical lineup, festivalgoers will be exposed to diverse and experiential environments in enchanted worlds, breathtaking art exhibitions and installations, mind-opening lectures, thrilling rides, interactive and immersive activities, and stunning theatrical performances, all accompanied by enticing food options.
Arts
Curated by Kevin Baltick, a Brooklyn-based creative director and event producer who has been organizing art and culture experiments for nearly ten years, the arts program will showcase the brightest imaginations in New York and beyond. Surround yourself to the vibrations of The Gamelatron, the world's first fully robotic orchestra consisting of custom built instruments handmade by master craftsman from Indonesia as featured in the Temple of Transition at Burning Man. A surprise hit at Mysteryland USA 2014, discover your true reflection at the return of the True Mirror Palace, a collection of non-reversing true image mirrors. Enter The Mal, a project from Camp Image Node, an interactive audiovisual dome soundtracked to minimal techno with visuals controlled by a Magic Hamster Ball. March along with the Big Head Brigade through the festival grounds as they put on their larger-than-life paper mache costume heads, derived from the Spanish tradition of "capgrossos". Observe the engineering marvel of a twenty-five ton Rube Goldberg machine at the life-size spectacle of the world's largest Mousetrap board game. Step into the world of Incendia where flame manipulation will be taken to the next level in a fifty foot diameter geodesic dome that will bombard all your senses at once.
Culture
Indulge in tasty eats from Brooklyn's Smorgasburg food fest before you get lost in the land of the rising sun with Geisha girls, sake, and more at the stateside debut of the mysterious Owari No Nai concept. Strut your way down the red carpet as you enter The World's Smallest Nightclub or watch live art completed by top tier street and graffiti artists presented by Dripped On Productions. Grab a book from The Bazaar Library and get lost in a fairytale or get your picture taken on Toads, giant art cars beautifully decorated as frogs. Venture into The Crooked Forest where you can unleash your inner cowboy or cowgirl as you test your strength on a mechanical bull ride at the Rodeo, partake in early morning deep house yoga sessions, compose your deepest love messages and seal them into a bottle, or learn how to construct sculptures through the art of paper folding during an Origami Workshop.
Healing Garden
Take a break from the dancefloor and explore new ways of thinking and get in touch with your spiritual side at the return of the Healing Garden. Situated on the Ceremony Field among the signature Mysteryland flags, watch the Table Syndicate (formerly Bastinado) create a unique and powerful therapeutic sound healing experience through the ancient sounds of the didgeridoo. Join the Gypsy Trans Temporalis in a get-together of storytelling and insight as they welcome you into their encampment of collective cultural nomads where they will share their knowledge on the magical characteristics of herbs, and offer a variety of 'psyche fair' elements including energy workers, tarot, rune and palm readers in their sorcery tent. Listen to the delicate and organic soundscapes of East Forest, a lifelong student of the scientific and sacred power of sound healing, as he performs with his vintage keys, layered vocals, chill beats, and original field recordings.
Unite with fellow Nomads as Abby Devine, Kris Karuna, Lisa Apatini, and Susanna Raeven, share uplifting experiences that heal and inspire through the flowing energy and vibrations present in transformational music and instruments. Connect the mind, body, and soul with Zoë Shailaja through the Munay Ki traditions of the Q'ero medicine people of Peru. Presenting their most special project to date, The Hi-Fi Mysteryschool brings their thirty-five minute animation movie "22: THE LIGHTCODES" containing "sacred" geometric patterns and harmonically pure frequency music on your journey into not only a new becoming of consciousness, but also a wider perspective of everybody else, the common awareness. Come see what the future holds at The Woodstock Lounge of the Future and listen to originals records in the Woodstock time machine or participate in cosmic board games, makeshift virtual reality, and shared canvas painting. Additional areas will include shamanic dance workshops and global peace meditation sessions from Provita, and a performance from DJ/producer and percussionist Srikalogy.
Speaker Stage
Hosted by NPR's lead education blogger and author Anya Kamenetz in the Healing Garden, join her as speakers present lectures on personal transformation, dreams, love, unity and diversity. Curious to know where dreams started? Join Kezia Vida Kamenetz on a discovery of new perspectives about your dreams and learn how to unlock their deep healing potential in a workshop filled with hands-on activities, discussion, and partner work. Discuss your relationship with your orgasms, from the shapes and sizes of things to come to how to have orgasms and how to make them even more pleasurable for you and your partner with sought after sex educator, speaker, and author, Jamye Waxman. What if the world you knew was ending, what would you do? Engage with Becky Hurwitz in "End Times! Design And Survival," a game that gets people to work together in groups and think about designing solutions to crisis situations. Hear about the world's most important festivals from Drs. Jasha J Van Der Wel as she highlights "Unity and Diversity in Global Festival Culture."
Known as the longest-running electronic music festival, Mysteryland's powerhouse headliners Diplo, Dillon Francis, Empire of the Sun, Kygo, Netsky (live), Porter Robinson (live), Robin Schulz, and special guest Madeon bring a wide range of sounds to keep more than 20,000 daily fans dancing all weekend, along with stages hosted by Adam Beyer's Drumcode, Bro Safari's Animal House, Matthew Dear's Subversions, Q-Dance, Verboten, Webster Hall, and much more.
Festival information
Mysteryland USA
May 22-25, 2015
Memorial Day Weekend 2015
Bethel Woods Center for the Arts
Bethel, New York
21+ festival
Mysteryland.us