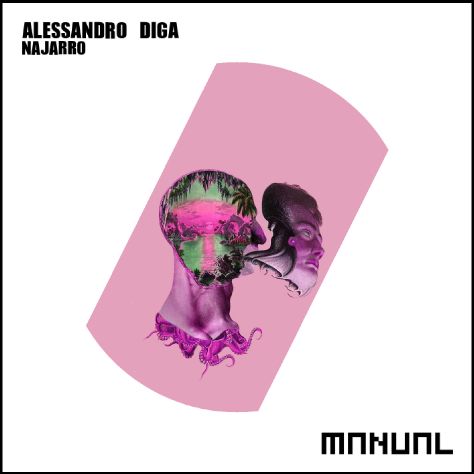 Alessandro Diga - Najarro
Dutch DJ/Producer Alessandro Diga is set to open 2018 with the third and final single taken from his stunning 'Figments Of My Imagination' debut artist album on Paul Hazendonk's Manual Music label. Two of the album's lavish aural delights, are featured here and 'Najarro' and 'Over You' both display Alessandro's bold and innovative creativity to perfection. The EP also features a superb remix of 'Najarro' from the masterful French hybrid Techno producer Teho, along with an exclusive bonus brand new track from Alessandro titled, 'The Void'.
The young Dutch artist's prime creative challenge is to capture emotions from a moment in time and embed them forever within his musical creations, and his vivid imagination is immediately on show through the mellow and inviting flow of 'Najarro'. His expansive creative palette also includes the clever use of vocal elements in the deeply enthralling 'Over You'. Maybe his highly original style stems from a musical background that saw him start with playing the trumpet and bugle as a youngster, and playing guitar in a punk band, before ultimately getting sucked into the electronic music scene?
Montpellier-based Theo Vicente (aka Teho) has created an absolutely sublime remix of 'Najarro', displaying his uniquely dreamy, melancholic yet energetic brand of melodic Techno. Having impressed with releases on the likes of Herzblut, Parquet, Traum Schallplatten, Sapiens and his own Labo T project, he is the perfect choice to interpret Alessandro's intense emotional beauty here.
Never one to rest on his creative laurels, Alessandro has already been working on new musical projects to be revealed through 2018. 'The Void' is apreview of what is to come from the melodic mind of this young artist, whose music neatly blurs those restrictive genre boundaries like truly great electronic music so often does so well. He undoubtedly has a very exciting musical future ahead of him.
Out Now:
Alessandro Diga – Figments Of My Imagination LP (Manual Music) MANCD015
Ltd Edition CD: https://manualmusic.bandcamp.com/album/figments-of-my-imagination
Beatport: https://www.beatport.com/release/figments-of-my-imagination/2022828