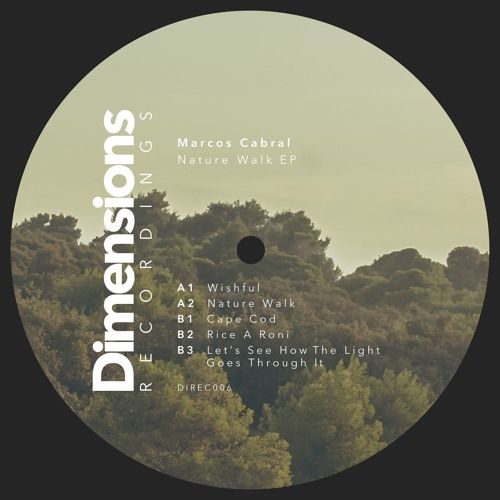 Marcos Cabral - Nature Walk EP
New York's Marcos Cabral steps up for his first full release on Dimensions Recordings, with the Nature Walk EP, dropping 13th April 2018. Following on from his epic 'Prochainement' masterpiece on Dimensions 002, the EP will be the sixth offering from the Dimensions Recordings powerhouse, providing a glimpse into the mind of well-established and hugely respected artist, Marcos Cabral.
'Nature Walk' is a broad EP that demonstrates just why Marcos' records have been finding their way into a multitude of DJs' bags for the last fifteen years. From his work with Jacques Renault as Runaway, and his coveted Hamilton Dance Records output, to his more recent deeper and darker leanings for leading labels such as Clone and Mule Musiq, Marcos has quietly and studiously worked at developing an impressive catalogue which most folks who have brushed with house and techno will have heard… whether they know it or not.
The EP provides a snapshot of some of the tastes and styles that Marcos has experimented with over the years, the rolling, energetic and optimistic sounding, not quite house, not quite techno of 'Wishful' gives way to the brooding, dub techno of title track, 'Nature Walk'. 'Cape Cod' sees Marcos in classic, house mode with a cut that could easily have dropped on NYC's Nu Groove Records, whereas 'Rice A Roni' is a no nonsense nugget of twisted, grinding, acid. The EP rounds off with 'Let's See How The Light Goes Through It', a spacey hypnotic workout for the late hours and a fitting end to a stand out EP from the self proclaimed, Hardest Working Man! Already garnering global support from Larry Heard, Antal, Josey Rebelle, Hunee, Mike Huckaby and Ralph Lawson – listen to the full album, exclusive stream via Bandcamp / Resident Advisor: http://bit.ly/2HVyBK9
MARCOS CABRAL : NATURE WALK EP
Tracklist:
A1 Wishful
A2 Nature Walk
B1 Cape Cod
B2 Rice A Roni
B3 Let's See How The Light Goes Through