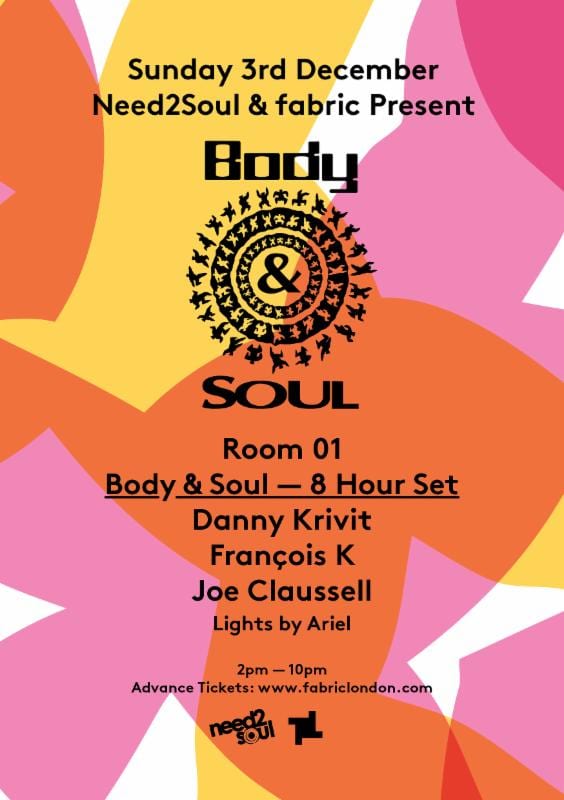 Need2Soul bid farewell after 15 years – First in 2-part finale announced with Body & Soul
After 15 incredible years service to underground sounds in the UK, revered party series and label,Need2Soul announce they are to throw two final shows before retiring Need2Soul to the musical pastures for good.
Joining forces with fabric, with whom they've enjoyed a long-standing relationship since hosting fabric's Room 1 way back in 2007, details for the first in the two-part finale have been announced, revealing a special, all-day show on Sunday 3rd December 2017.

Honouring Need2Soul's roots, each show will celebrate a city who's sounds inspired the brand's inception, with part one dedicated to New York, featuring an 8-hour session from iconic NYC trio Body & Soul made up of Danny Krivit, François K and Joe Claussell.
Founded in 1996, Body & Soul have been at the bedrock of underground music culture in New York for more than twenty years. Famed for their weekly parties that united people of all casts and colours, Body & Soul epitomises the utopian shared experience of the 90s dance music movement. An ethos shared passionately by Need2Soul, and one that will undoubtedly make for a very special event on December 3rd.
Since 2002, Need2Soul have been at the beating heart of London's underground music scene, making a distinctive impact on club culture as we know it today. Cherished within electronic music communities across the globe, they have hosted some of the scenes leading lights at unexpected, intimate venues, attracting people from all walks of life to their famed Sunday sessions, from music fanatics, to celebrities, drawn by Need2Soul's free-spirited environment where the music has always taken centre stage.
Having hosted events a most of London's established venues and chosen amongst a handful of nights to host closing dates at The End and The Cross, Need2Soul were amongst the first to set down a path that would lead to the warehouse movement which swept the UK in the mid naughties.
These final two shows promise to celebrate Need2Soul's incredible journey, offering party-goers a chance to see them off in style they so deserve.
To secure your place at this special event, please head over to Resident Advisor for tickets: www.residentadvisor.net/events/1018597
---
TICKETS:
www.residentadvisor.net/events/1018597
EVENT LISTING INFO:
EVENT: NEED2SOUL & FABRIC PRESENT: BODY & SOUL – 8-HOUR SET
VENUE: FABRIC, LONDON
DATE: SUNDAY 3RD DECEMBER 2017
TIME: 14:00 – 22:00
MORE INFO:
http://bodyandsoul-nyc.com
SOCIALS:
www.facebook.com/BodyAndSoulNYC
twitter.com/bodyandsoulnyc
www.instagram.com/bodyandsoulnyc