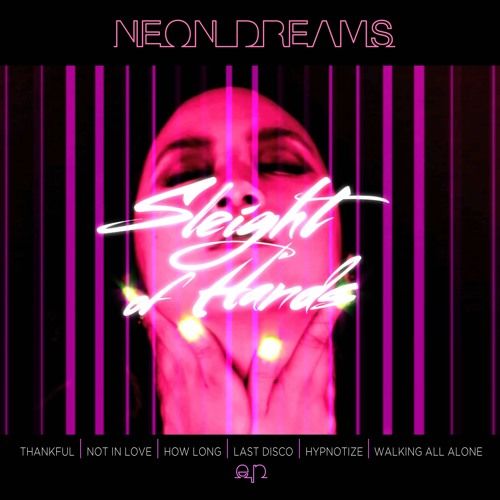 Sleight of Hands - Neon Dreams EP
Sleight of Hands – comprised of San Francisco rave stalwarts Manny Alferez (DJ M3) and Phil Collis (Bachelors of Science) – have delivered the Neon Dreams EP, featuring six deftly produced cuts ranging from mid-tempo electronic funk to silky deep house to prime time club stompers. Previously responsible for singles on Smoke N' Mirrors, remixes for the likes of Groove Armada and Dirty Vegas, and top tracks for their own Green Gorilla Lounge imprint, the duo has been consistently working crowds on the club and festival circuit. The Neon Dreams EP cements their reputation as a rising act on the global electronic music scene.
The release features female vocals are the forefront, with the sexy, slowed-down groove of "Thankful," the emotional ride of "Not In Love" with the vocals of Jesse Rennix, and Octavio Genera's gorgeous interpretation of "How Long." The Neon Dreams EP also nods its hat to Sleight of Hands' clubbier inclinations, presenting the after-hours deep house of "Hypnotize," "Walking Alone" with its peak time build-ups, and the shimmering dance floor magnet "Last Disco In The Attic." Sleight of Hands' acute sense of funk binds all six tracks, making for a compellingly diverse yet unified EP.
Label and Artist Links:
www.greengorillalounge.com
www.greengorillalounge.com/sleightofhands