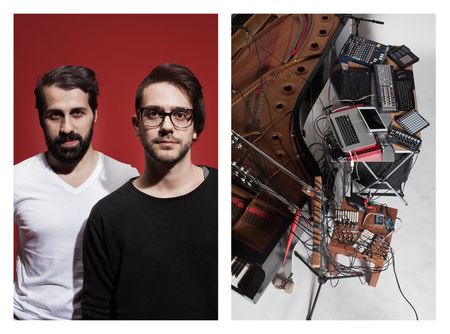 Grandbrothers - Neon
Grandbrothers have shared a brand new video for album track 'Neon', ahead of their 15-date European tour which starts in a few days, bringing them to 3 UK cities (London, Bristol & Manchester) to share their unique brand of forward-thinking grand piano-led electronic music.
Alongside news that the London show has now sold out, they have announced an additional London headline show, to take place at Corsica Studios on 22nd September. Tickets are available here.
Grandbrothers are Erol Sarp and Lukas Vogel. After meeting at university in Dusseldorf, Erol and Lukas formed Grandbrothers in order to bring together their respective musical backgrounds and disciplines: Erol is a trained jazz pianist and Lukas constructs synthesizers. Together, they create a sound that combines classical composition with modern, experimental production and sound design.

Their first song, Ezra Was Right, found an early champion in Gilles Peterson, who included the track on his Bubblers 10 compilation and played it numerous times on his Worldwide radio show for BBC Radio 6 Music, with the song eventually being voted #7 by listeners in his end-of-year poll in 2013. A full EP on FILM followed – backed by remixes from legendary Manchester DJ Greg Wilson, Optimo's JD Twitch, and Kim Brown – which sold out its initial run within ten days.

The duo's debut album Dilation is a product of two years intensive work. Dilation builds on some of the early ideas established on Ezra Was Right while exploring further elements of minimalism, ambient music, IDM, and techno. Each of the duos new tracks expertly build into sweeping, cinematic soundscapes, recalling the structural and rhythmic qualities of club music as well as composers such as Steve Reich and Ryuichi Sakamoto's collaborations with Alva Noto.

Classical, yet forward-thinking; expressive and emotional; Dilation was an early highlight of 2015 and sure to put Grandbrothers on the radar for the future.
Describing their live set up, the band explain:
"We use a system of self-built hammers that trigger all parts (metal, wood, strings) of the grand piano in order to create all the sounds you hear including percussions. On stage that looks like an open heart surgery on the grand piano with a lot of cables attached."

https://www.facebook.com/grandbrothers