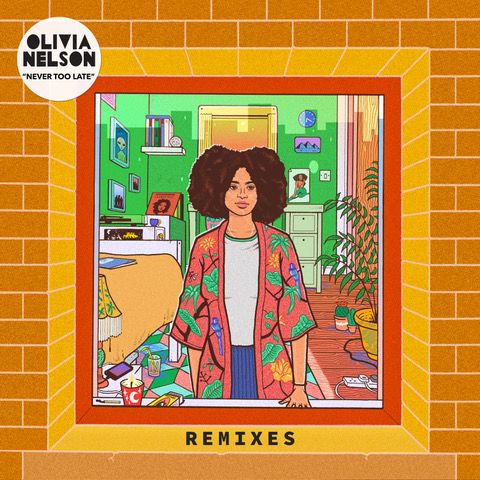 Olivia Nelson - Never Too Late (Remixes)
London based singer-songwriter Olivia Nelson shares two incredible remixes of new single 'Never Too Late' – out now across all platforms.
Exciting newcomer Paul Mond puts a bailie funk spin on the single, whilst Fabich goes for a house touch. Both fantastic. This remix release follows on from 'Never Too Late' playlisted on BBC Radio 1 earlier in the week, Olivia making 'featured artist of the week' on BBC Introducing and in September we saw the single added to the BBC Radio 1Xtra list, plus Spotify support via New Music Friday UK, US, Sweden, Japan, Turkey, Singapore, Indonesia + more.
Never Too Late features on Olivia's debut 'For You' EP which Jamz Supernova made her EP of the week in September on BBC Radio 1Xtra, charted on Amazing Radio's best of the week and reviewed by I-D Magazine, Clash and Notion Magazine.
On November 12th, Olivia headlines Camden Assembly in London, UK, with support from neo-soul singer Raheem Bakare and a DJ set by Mixmag/BBC 1Xtra's Jaguar. Tickets on sale here:- https://bit.ly/2qgbRxG
Olivia Nelson 'Never Too Late' (Remixes) [Hear This Records]
Release date: 26th October
Paul Mond remix stream: https://soundcloud.com/oliviajnelson/never-too-late-paul-mond-remix
Fabich remix stream: https://soundcloud.com/oliviajnelson/never-too-late-fabich-remix
Spotify: https://open.spotify.com/album/59VICLC2A58AJW7hVLuILW?si=ThLOiAeXSxijH89…
Socials:
https://open.spotify.com/artist/4QJrAwNc5j17E5N2PxpqGj?si=iMHdplpsRDmqVQ…
https://soundcloud.com/oliviajnelson
https://www.instagram.com/oliviajnelson/
https://twitter.com/oliviajnelson
https://www.facebook.com/OliviaJNelsonOfficial/