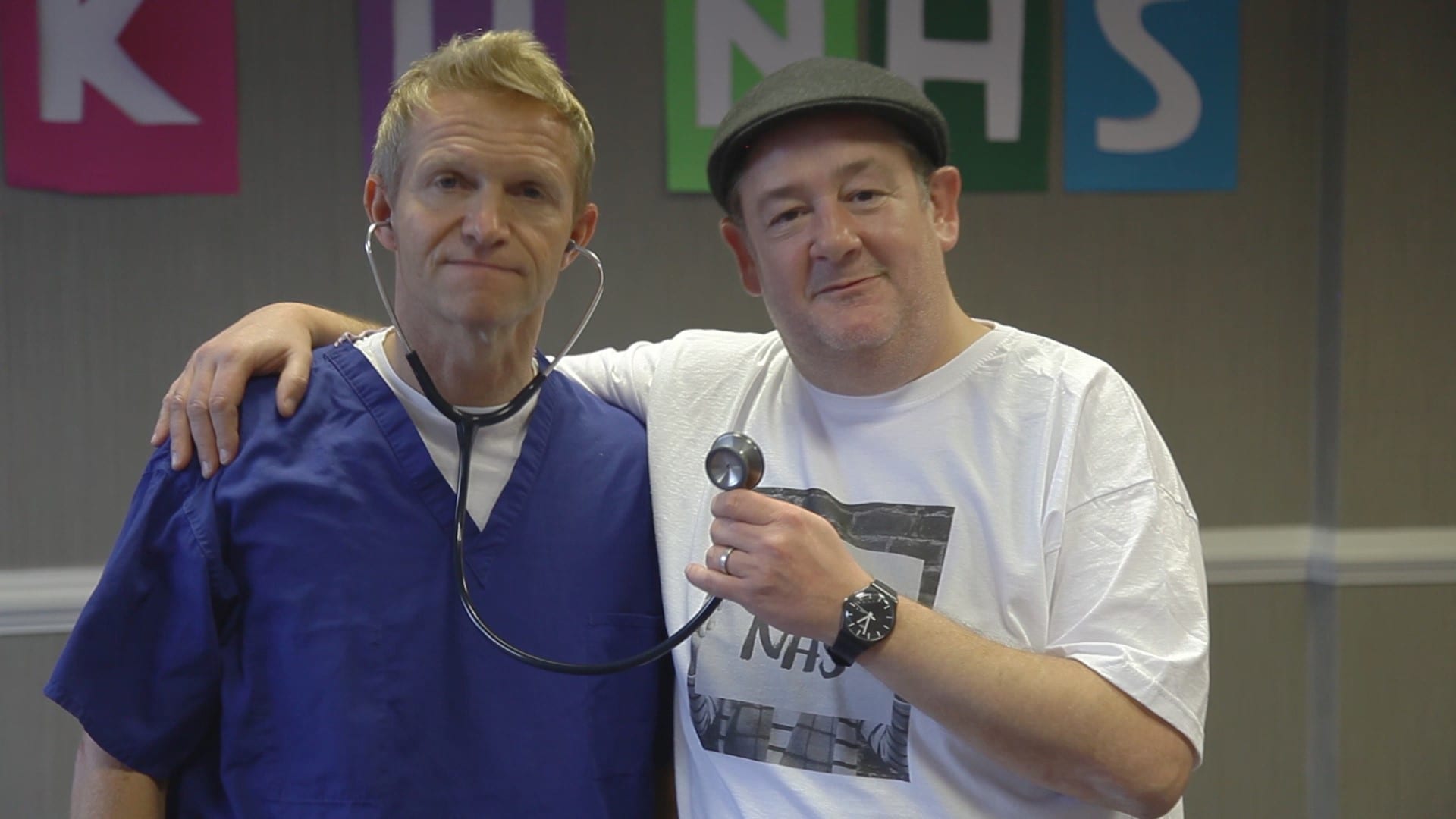 New NHS Christmas song released with star studded comedy video
Following the huge success of the NHS Choir in 2015 which beat Justin Bieber to the Christmas number one, a new NHS music video has been launched for 2017, with a whole host of celebrities backing #ThankUNHS.
The song was written by ex-NHS doctor, Adam Kay, who wrote the best-selling book 'This is going to hurt', which showed the true behind the scenes of the NHS. The track is performed by comedian and musician Micky P Kerr and is the perfect combination of hard-hitting lyrics and light-hearted video.
The track, which brings together The Kink's 'Days' and 'Thank You Very Much' by The Scaffold, features a range of celebrities including Johnny Vegas, Shaun Ryder and Julie Hesmondhalgh. It also features hundreds of members of the public singing their gratitude to the NHS.
In the track, NHS patients are saying #ThankUNHS for helping with everything from cancer treatment and speech impediments to delivering their children and mental health services.
The video also highlights every member of NHS staff, looking beyond the doctors and nurses, that work throughout the Christmas period to keep each aspect of the service running, including porters, estate managers, receptionists and IT staff.
Johnny Vegas said: "Myself, and all those who I love, have been helped countless times by the amazing staff at the NHS. To say a simple thank you to them over Christmas, when we're all tucking into our vats of wine and their morale is dipping, seems like a great thing to do."
Former Coronation Street star Julie Hesmondhalgh said: "Like probably everybody in this country, I have a million things to be grateful to the NHS for. My daughter was born in the NHS and my Dad died with great dignity and the best care possible in an NHS hospital.
"The NHS is the thing that we should be proudest of in our country and this is just to say how grateful we are and to promise to keep on fighting to save the NHS, we will not let it go"
The general public is being encouraged in the video to share their own #ThankUNHS pictures across social media and these will be populated on the campaign's dedicated website www.thankunhs.com.
The #ThankUNHS chorus is sung by Micky P Kerr and children's choir Little Belters. The Manchester-based children's choir company, founded by elite opera singing sisters Claire and Tina O'Brien, featured on Dragons' Den last year where a rendition of Years and Years' 'King' by a team of 5 to 11 year olds moved Touker Suleyman to tears.
#ThankUNHS is the brainchild of Manchester filmmaker and owner of specialist film agency Magnafi, Simon Lewis. Simon was also behind the film and ad campaign that helped take the NHS Choir to number one in 2015. He was supported in the campaign by Manchester-based content agency Trunk, Cheshire-based engagement agency Big Brand Ideas and creative Twitter community One Minute Briefs.
Simon said: "I got the idea for the track after reading Adam Kay's book. Whilst it delivers plenty of laughs, it also does a great job of showing just how tough it is within the NHS.
"Many of my family work within the NHS so I see first-hand the incredible strain they are under, and how it can affect their morale. #ThankUNHS is our way of trying to boost the morale of all those working within the NHS this Christmas. At a time when many of us are kicking back and indulging in festivities, the NHS continues to look after us, under increasing pressure. This is a chance for us all to say thank you."
For more information visit www.thankunhs.com