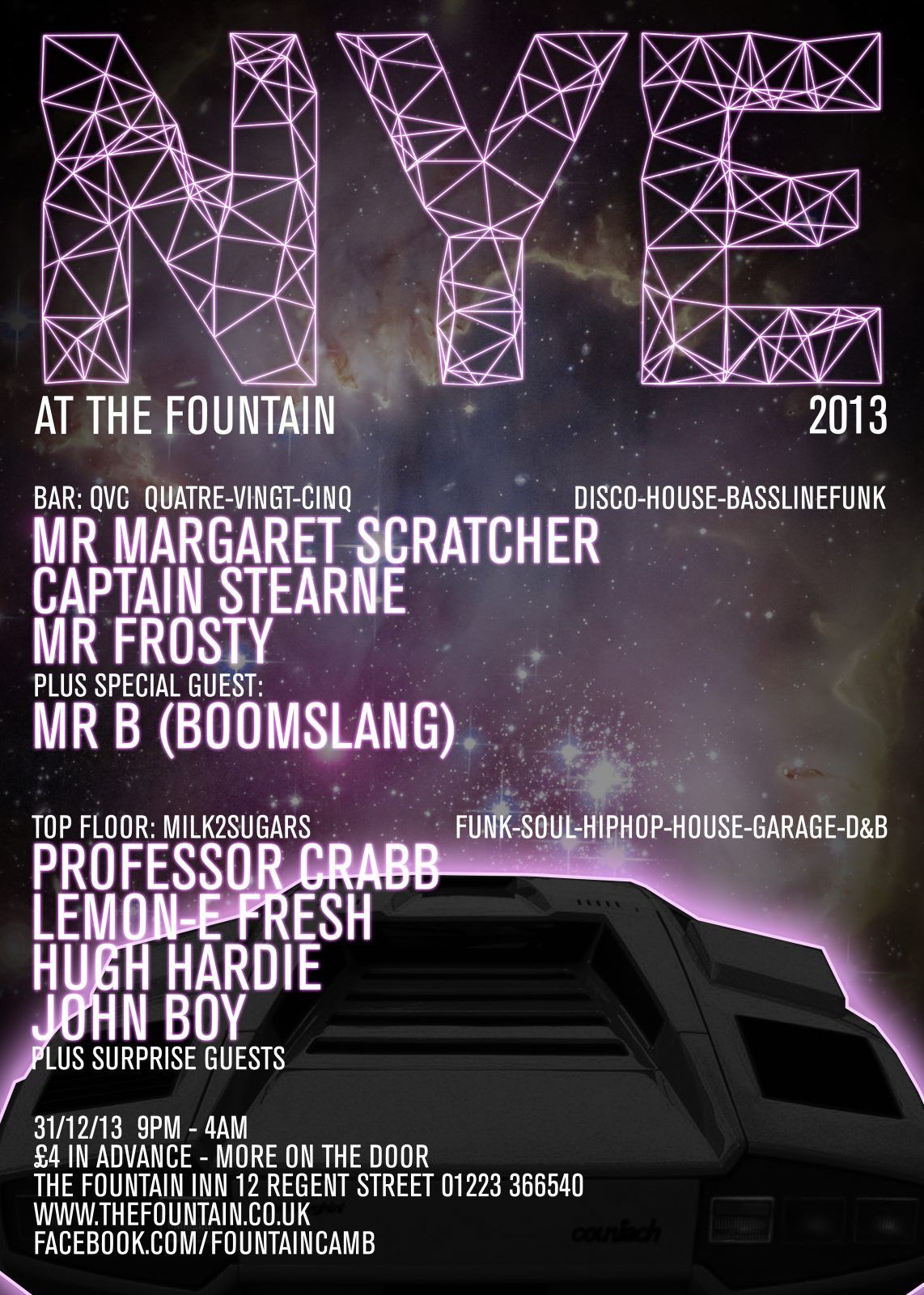 New Years Eve '13
See the New Year in in style at The Fountain! If you're looking for the ultimate venue for your New Year revelry, then look no further.
We have an unrivalled line up, with local legends QVC hosting the ground floor and Milk2Sugars hosting the top floor.
After yet another highly successful year of rocking parties around the globe, the QVC qrew are ready to take you by the hand, twirl you round, and lead you into a brand new year, via their trademark blend of dirty disco, house and bassline funk… And with the addition of their all new AV show, it's a night which is as much of a treat for your eyes as it is your ears…
With this level of auto and visual entertainment, it's only natural that the qrewmembers would want to take time out to enjoy it themselves, and so with this in mind, they've arranged for a very special guest to take the helm…
Mr B became synonymous with bringing quality underground music to Cambridge, when he launched his successful Boomslang night, which was regarded by those in the know as the best breaks night in the country, showcasing such acts as Stanton Warriors, Plump DJs, Rennie Pilgrem to name a few. Often imitated, but never bettered, Boomslang grew and evolved into an absolute monster, and we're happy to have the mastermind behind it all grace the turntables to show you why…
Milk2Sugars have gone from strength to strength this year with their monthly residency at The Fountain. The crew will be armed with a mashup of Funk, Soul, Hip Hop, House & Garage. Expect a constant stream of heavy dance tunes to keep you, the party people going all night long! They are event travel from far corners of the earth to ensure your New Years Eve is a night to remember!