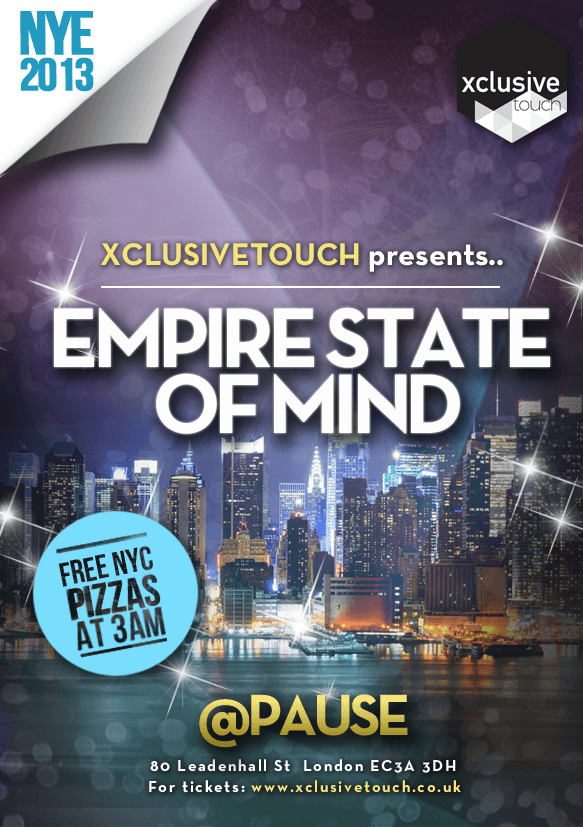 New Years Eve Empire State of Mind
Early Bird Tickets £25
http://original.pngxclusivetouch.fatsoma.com/events/98069/
Hosted and Managed by XclusiveTouch…
A prize event on our annual calendar, the Empire State of Mind New Years Party is set to rock Pause-Bar this year! New York is the theme for the event, a city known for its food, fashion, music and most importantly incredible parties!
***** A T T R A C T I O N S*****
– New York Themed Party
– Champagne reception 2100-2200
– Complimentary New York Pizzas 3AM!
– Reasonable Drink Prices
– Ideal location
***** E N T R A N C E *****
£25 (Early bird rate, price will rise closer to the date)
http://original.pngxclusivetouch.fatsoma.com/events/98069/
***** T A B L E S *****
Booking a table allows queue jump, a seating area for your group and discounted ticket entrance (£20). Tables work on a minimum spend basis.
REGULAR – £500 – 4-7 Guests
PREMIUM – £750 – 7-10 Guests
VIP – £1000 10-13 Guests
GOLD BOOTH – £1500 – Seats 13-20
These sections are very limited, please call 020 7734 9116 or 07780466113 for more details on availability and booking procedure. Please note a 20% deposit is required to secure your table reservation.
***** D R I N K P R I C E S *****
Spirit & Mixer (Double)… £9.90
Wine… £22
Cocktail Jugs… £33
Moet & Chandon… £99
Jack Daniels… £125
Grey Goose… £135
Lauren Perrier Rose… £165
***** M U S I C *****
RnB, House, Funky, Hip-Hop, Commercial, 90s and Club Classics.
***** D R E S S C O D E *****
Glamour Smart & Stylish. Strictly No baggy or ripped jeans, sportswear, trainers, plimsolls or T-shirts.
***** C O N T A C T *****
Event Manager Tickets and Tables: Robbie
Email: [email protected]
Mob/Whatsapp: 07780466113
Telephone: 020 7734 9116
BBpin: 2979A6C0
Twitter @xclusivetouch