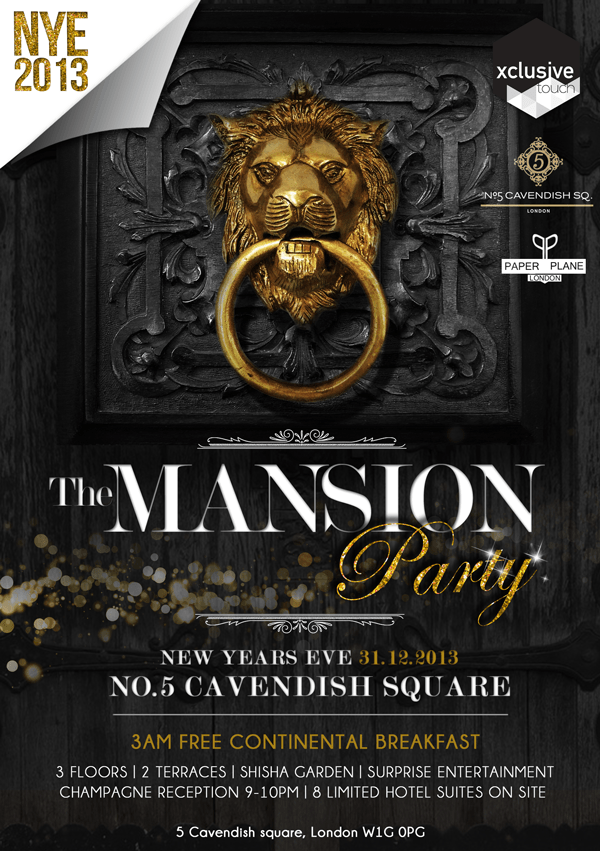 New Years Eve The Mansion Party
www.xclusivetouch.co.uk
TICKETS – http://original.pngxclusivetouch.fatsoma.com/events/98166/
£35 Early Bird
Spend your New Years Eve in a luxury 3 floored Mansion with XclusiveTouch…
This New Years Eve we host an exclusive party at No5 Cavendish Square, a classic Georgian town Mansion based in the heart of London. No5 Cavendish is one of the most luxurious venues in the world and a must see location for anyone who hasn't yet visited. There are private hotel suites available to reserve on the night, each equipped with sleeping facilities and a DJ area, enabling guests to party right through to the morning.
***** A T T R A C T I O N S *****
– 3 Floored Luxury Mansion
– 2 Separate Floors of Music
– Fantastic View over Cavendish Square & Shisha Garden
– 8 Limited Hotel Suites on site (enquire for prices)
– 1 Hour Champagne reception 2100-2200
– Free Continental Breakfast Served at 3am
***** T A B L E S *****
Booking a table allows queue jump, a seating area for your group and discounted ticket entrance. Tables work on a minimum spend basis.
SILVER – £500 – 4-5 Guests
CHARLIE SHEEN – £750 – 6-8 Guests
CASANOVVA- £1000 – 8-12 Guests
HUGH HEFFNER – £2,000 – Seats 12-15
These sections are very limited, please call 020 7734 9116 or 07723387032 for more details on availability and booking procedure. Please note a 20% deposit is required to secure your table reservation.
Glamour – Smart & Stylish. Strictly No baggy or ripped jeans, sportswear, trainers, plimsolls or T-shirts.
***** A D D R E S S *****
5 Cavendish Square, London, W1G 0PG
Nearest tube: Oxford Circus
***** C O N T A C T *****
Contact Event Manager: Van for Guest list, info & Table bookings
Email: [email protected]
Mob: 07723387032
Telephone: 020 7734 9116
BBpin: 28716A3A
Twitter: @xclusivetoucch