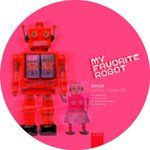 Nhar Life's Ether EP
French producer Nhar has been releasing deep and hypnotic techno sounds for almost a decade, and now makes a fantastic debut on Canada's My Favorite Robot Records. With his 'Life's Ether' EP the producer offers up four tracks that expertly exemplify his arty style, passion for rhythm and soft spot for melody.
Labels like Boxer, Mobilee, Factor City, Jennifer Cardini's Correspondent and many others have released Nhar's music before now and in the past he has been resident at a number of important clubs in France. As such he taps into plenty of raw emotion with his music, as evidenced once again here.
Opening track 'Life's Ether' has a melody that rides up and down the scale in sombre fashion with crisp, snapping snares riding alongside. Washes of sweeping pads lift you off your feet and subtle chord changes help move things along. It's emotive music that really gets inside your head. 'Coral Caves' is slightly more cheery – the glassy, thin melodies echo like old Casio keys and this time the bassline is more supple and athletic as it bubbles away underneath the track.
'You Are Transparent' wallows in moody, sinewy waters with unsettling bassline notes never really settling into a pattern and spiraling pads circling you in a mild sense of uneasy tension. The percussion is sharp and cutting and jangling synth notes ring out in a nerve tingling fashion making for an intense and emotive listening experience.
Last but not least, 'Pure Maths' features similar bassline work and the same frisky synth lines but picks up the pace and drops into a nicely kicking electro-fried groove. Like a vast and shiny hall of mirrors this is reflective music that conveys a veritable swathe of emotions with apparantly effortless ease.
This is yet another truly musical journey served up by the always evolving MFR label that should win Nhar many new fans as a result.

Tracklist
1. Nhar – Life's Ether
2. Nhar – Coral Caves
3. Nhar – You Are Transparent
4. Nhar – Pure Maths