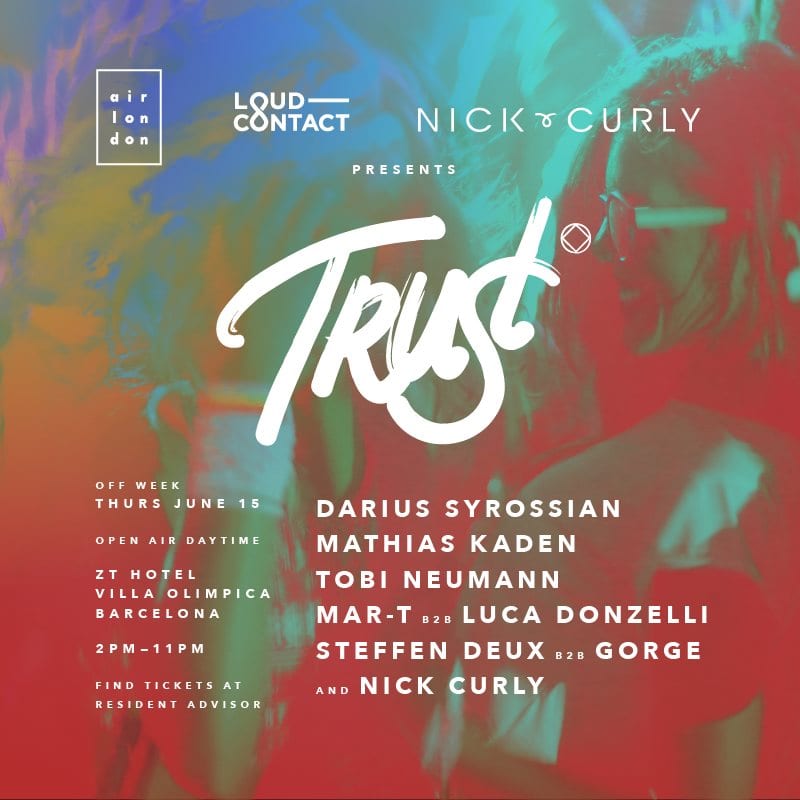 Nick Curly presents Trust party in Sónar OFF week, Barcelona
Nick Curly's world renowned Trust party is all set to roll into Barcelona for a great open air event at the ZT Hotel Villa Olympia on Thursday 15th June. Nick will be joined by Darius Syrossian, Mathias Kaden, Tobi Neumann, Mar-T, Luca Donelli, Steffen Deux and Gorge.
Trust finds Curly roll into the best clubs in the world with a selection of handpicked guests. Over the course of the evening, they all serve up their slick grooves and the atmospheres are second to none. So far already in 2017 Trust has rolled into Mexico City, Newcastle and fabric in London.
This next event is a special one which makes use of a little known but magical venue. It is an open air space with fantastic architecture that with be bathed in sun and has a pool in which to cool off.
As well as a set from the 8Bit boss and definitive host and tech talent, Nick will be joined by Do Not Sleep main man Darius Syrossian, Cocoon and Watergate associates Mathias Kaden and Tobi Neumann, plus back to backs from Amnesia resident Mar-T and Italian master Luca Donelli, plus the talented Steffen Deux and loopy house star Gorge.
This is sure to be one of the key events during Sonar week, and it all plays out from 2pm until 11pm.
RA: https://www.residentadvisor.net/event.aspx?918650
Trust Facebook page: https://www.facebook.com/trustcurly/