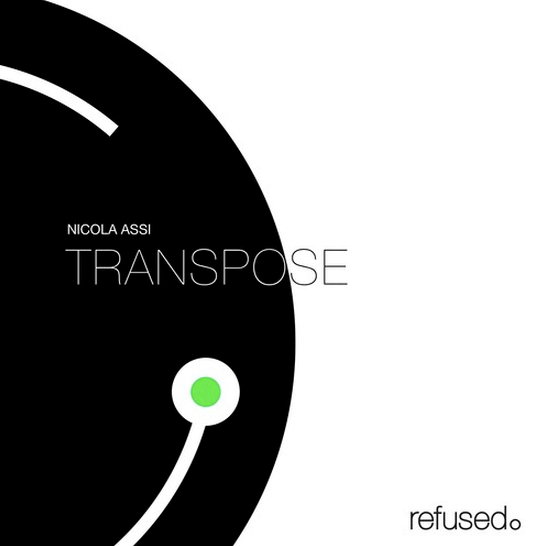 NICOLA ASSI – TRANSPOSE
refused. welcomes another fresh new artist to the roster, Nicola Assi, with his EP "Transpose" out March 3rd. Offering up three fine techno tracks, this EP showcases Nicola's raw talent, intricate sound and impeccable production quality. Studying classical music growing up, Nicola could have never imagined what doors he would soon discover, and anxiously open to unveil a world in underground techno music. Discovering the Italian underground techno scene in his younger years, it was then he knew that his ear was tuned for a different kind of music much more obscure and untraditional than what he was exposed to in his studies.
Week-to-week Nicola Assi would grow on his knowledge of house and techno music through exposure to the night life, in the scenes that showcased this music. Growing up in iconic clubs such as Alterego, Be, Bolgia and Bunker, it was seeing the stream of amazing DJ's coming through and the experience he would have in the crowds that motivated him to start DJing and producing music of his own.
It was in 2014 that Nicola got his first big break when his track "Hekaras" released through his alias duo group Lovcom. It was played by techno master Richie Hawtin and "Light Off" played by Roger Sanchez. An immensely incredible moment for Nicola was just the beginning of this great journey in music he is abut to embark in.
This 3-piece EP is an energetic, bass-fileld techno indulgence made to make you move…

Uye – Frist up on Nicola's Transpose EP is this energetic and deeply majestic track, Uye. Outlandish accents, and extraterrestrial voices echo in the background while percussions and chime and flutter around the bass. Tree – A bit darker, fuelled by an urgency in a driving bassline. Tree breaks down with a bundle of kick-drums, percussions and hi hats. An energetic techno jam with clean crisp breaks building this track up and moving it forward. Upon – The last track of the EP will get you in a techno frenzy with its winding sounds and pulsing bass. Paired with a deep manipulated groan and jabber to guide us through to the end, Upon finsihes this EP off with a bang!