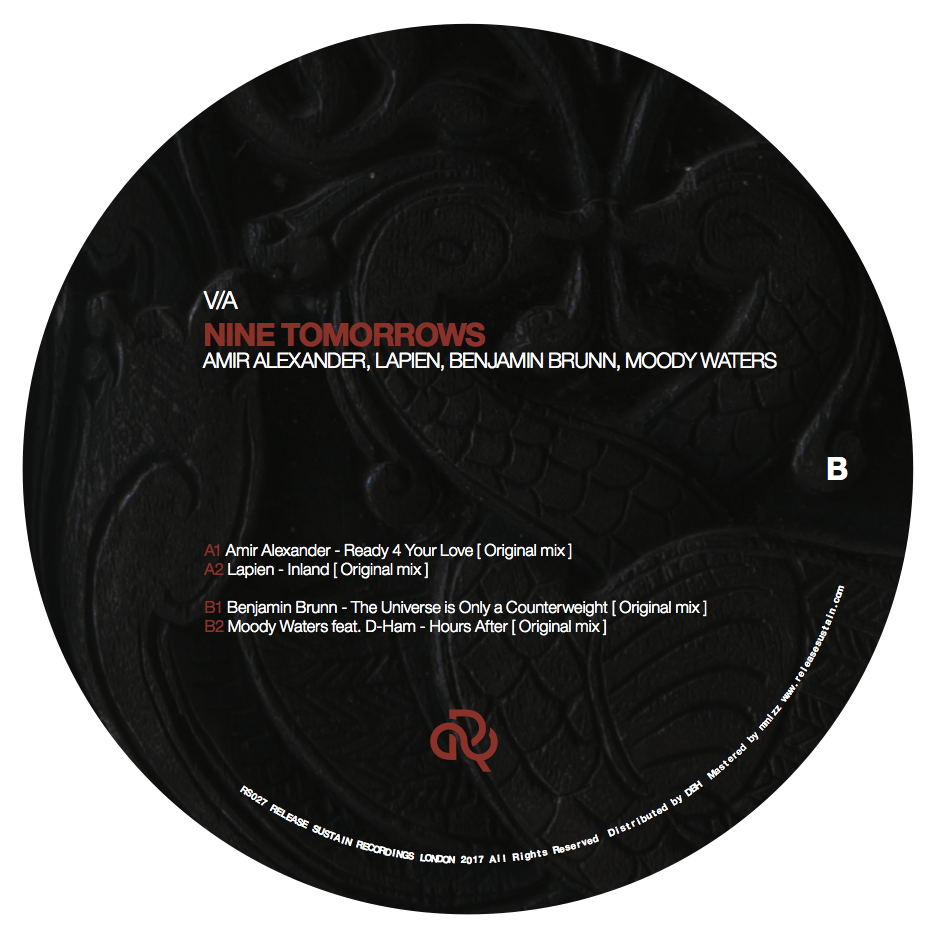 Various Artists - Nine Tomorrows
Release/Sustain returns this November with a various artists package featuring Benjamin Brunn, Amir Alexander, Lapien and Moody Waters entitled 'Nine Tomorrows'.
Release/Sustain has carved out quite the reputation over the past decade with it's London based Conclave event series welcoming DJ's like XDB, Losoul and Vakula over the years and the imprint featuring revered underground acts such as DJ Aakmael, Basic Soul Unit, Fred P and Chaos In The CDB onto it's roster. Here we see the label continue to prove itself a force to be reckoned with by welcoming a further array of talent via a new VA in the shape of 'Nine Tomorrows'.
Up first is Sweden based American producer Amir Alexander who offers up his signature style of raw, deep and entrancing house with 'Ready 4 Your Love!', six and a half minutes of swinging 909 drums, wandering pads and choppy vocal samples make for a perfect opener. One half of Delsin duo Artefakt, Lapien steps up next with 'Inland', taking things down a darker path with hooky acid-tinged bass staps, spiralling dub echoes and a robust percussive drive.
Smallville/Mule Electronic favourite Benjamin Brunn follows with 'The Universe Is Only A Counterweight', delivering his unique approach to contemporary house with murky arpeggios, squelchy bass licks and dynamic drums building towards baroquely unfolding synth work in the latter stages. Moody Waters then rounds out the package with the aptly named 'Hours After', fusing ethereal atmospherics and organic drums with delayed resonant bleeps and D-Ham's poetic spoken word vocals.
'Nine Tomorrows' is out on Release/Sustain 27th November 2017.
Track list:
1. Amir Alexander – Ready 4 Your Love!
2. Lapien – Inland
3. Benjamin Brunn – The Universe Is Only A Counterweight
4. Moody Waters feat D-Ham – Hours After