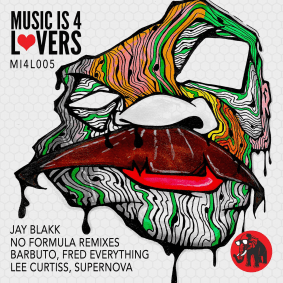 Jay Blakk - No Formula Remixes
US record label, music blog and party brand Music is 4 Lovers starts off their year with a stellar remix package of Jay Blakk's No Formula EP from 2018, featuring heavyweight names Supernova, Barbuto, Lee Curtiss and Fred Everything.
First up is a heavy-hitting rendition by Supernova, the Italian duo behind the Lapsus Music label that has been setting tech trends for 20 years now. Their fantastic version builds and builds with tense chord stabs and rolling tech drums that will get the floor going wild.
Then comes Detroit originator Lee Curtiss, member of the Visionquest crew and someone with a mesmeric take on deeply emotive dance music. Here he cooks up some nice shuffling, bristling drums that are soft yet dynamic and come with plenty of spaced out pads and lush vocal samples, all layered up to heartfelt effect.
Barbuto is an American DJ & producer who has headlined at the likes of WMC and always serves up dark and bass heavy techno. His hard hitting version has weighty kicks and popping hits all run through with incessant hi hats that build the pressure.
Last of all is Lazy Days label boss Fred Everything, who brings real quality jazz and lounge vibes to his deep house. His gorgeous remix is late night and deeply absorbing with its warm pads and rubbery drums sinking you into the groove.
This fantastic bundle covers all styles with equally high quality levels and marks another fine release for the Music is 4 Lovers label.
Tracklist:
1. There's No Formula For Love (Supernova Remix)
2. Comfort Anxiety (Lee Curtiss Remix)
3. Sides Of Emotion (Barbuto Remix)
4. When I Think Of You (Fred Everything Remix)