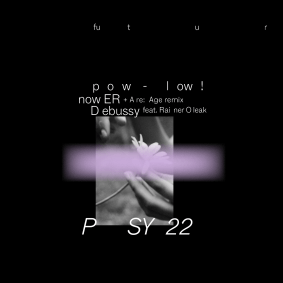 Pow-Low - nowER
The ever eclectic PSYCLE. label heads into its 11th year with a third standout EP from producer Pow-Low in collaboration with award winning film-score composer Rainer Oleak from Berlin and featuring a remix from Are:Age. This floating electronic fusion track is a tribute to the most important classical composer of the 19th century, Claude Debussy, who is considered to be the forerunner of the jazz genre.
Pow-Low is a student of jazz star Pierre Favre, has been playing live since 13 and releasing music on vinyl since 17 and is skilled on the synclavier system. He has worked at the legendary Record Plant studio in Hollywood as well as at South Africa's Bop-Studios as in-house engi- neer. Since 1999 he has run a mix and mastering studio called Schallzentrale and has mas- tered thousands of tracks including music by Peter Gabriel, Minilogue, EDX, H.R. Giger, Friv- olous & Colonel Abrams to name but a few. In addition he was lead singer and producer of No Religion, the world's first techno-metal band, which was signed to EMI/Virgin and has released two albums as well as having also produced for celebrated metal band Cornor. On top of this he runs his own event Hertz, which has welcomed many big dance acts, and has been resident at various key clubs in Zurich.
Opener 'nowER' is seven fantastic minutes of supple deep house with majestic chord work. Vocals are also stitched in, and warm bass and icy hi hats all glide along next to the groove. It's one that will awaken any floor and take things up a notch in style.
Remixing is Are:Age, a young producer from Zu?rich who plays regularly at the famous Hive- Club and releases on this label as well as Baroque and Babylon Records. His remix is warm and groovy, with squelchy chords and smeared synths all oiling the shuffling drums.
Then comes composer Rainer Oleak for the brilliant collaborative tune 'Debussy,' which marries magical piano playing with deep pounding drums. It is a cerebral and cosmic effort that brings two worlds together in heady fashion as the keys dance and strings swoon over acid lines and broad synths. Few house tracks will make as emotional an impact as this one.
Once again, PSYCLE comes correct with a fascinating package of inventive cross-genre sounds.
Tracklist:
1. nowER (Original)
2. nowER (Are:Age Remix)
3. Debussy feat. Rainer Oleak