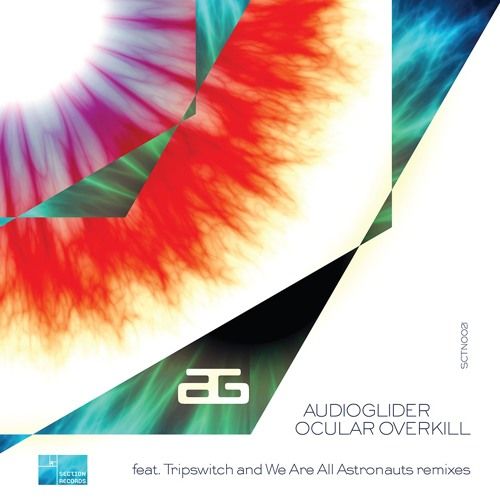 Audioglider - Ocular Overkill
Audioglider (aka Roberto Sodano) has been a busy boy since the release of his critically acclaimed debut album 'Accidental Beauty' on Section Records two years ago. With releases and remixes popping up on a whole host of quality labels such as Sudbeat, Stripped, 238W, Stellar Fountain, Suffused, Mistique and Soundteller, word has been spreading far and wide about the unique style and deft production skills of this London-based producer.
'Ocular Overkill' is an early taste of the diverse musical delights that are set to arrive in July 2016 with the release of Audioglider's next long-player on Section Records, the magnificently shimmering 'Subaquamarine'. When an artist (tongue firmly in cheek) describes his music as a "downtempo and spaced-out nu disco prog shoegaze fusion", you cannot fail to be intrigued about what to expect!
'Ocular Overkill' is a perfect introduction to the workings of Audioglider's diverse musical mind, combining a spaced-out ambient intro, fantastically funky pots 'n' pans percussion, an irresistible groove, hum-along 80's inspired synth and piano hooks, and hooky vocal motifs, to perfection. Audioglider takes elements of the dancefloor and concocts a modern Balearic classic style – head-nodding, hip-shaking, smile inducing, stardust sprinkled, sun shining, memories of joy and nostalgia, in a unique, timeless musical capsule.
But that is not all… Section label boss and musical maestro Nick Brennan (aka Tripswitch), fresh from his own newly released, highly rated 'Vagabond' (Iboga Records) album release, takes 'Ocular Overkill' on a glorious, extended, euphoric journey. Whilst the excellent progressive chillwave duo, We Are All Astronauts, from Boston (USA), recreate the track in their own unique style, for a suitably stunning downtempo finale to the package.
Audioglider has been writing, recording, and honing his craft for years. A teenager in the eighties, with dodgy haircuts to match, he saw Kraftwerk supported by the Human League, and straightaway fell in love with electronic music. During the 90's he released tracks under a series of strange and possibly ill-advised pseudonyms (such as Crystal, Backdoor Man, Autovelox & Pastaboy), before finally settling on his ethereal Audioglider moniker as a perfect name to encapsulate the essence of the music. Watch out for his new 'Subaquamarine' album coming soon…
Artist Info:
https://soundcloud.com/audioglider
https://www.facebook.com/audioglider
Remixer Info:
https://soundcloud.com/tripswitch
https://soundcloud.com/weareallastronauts
Label Info:
http://www.sectionrecords.com
https://soundcloud.com/sectionrecords
https://www.facebook.com/sectionrecords