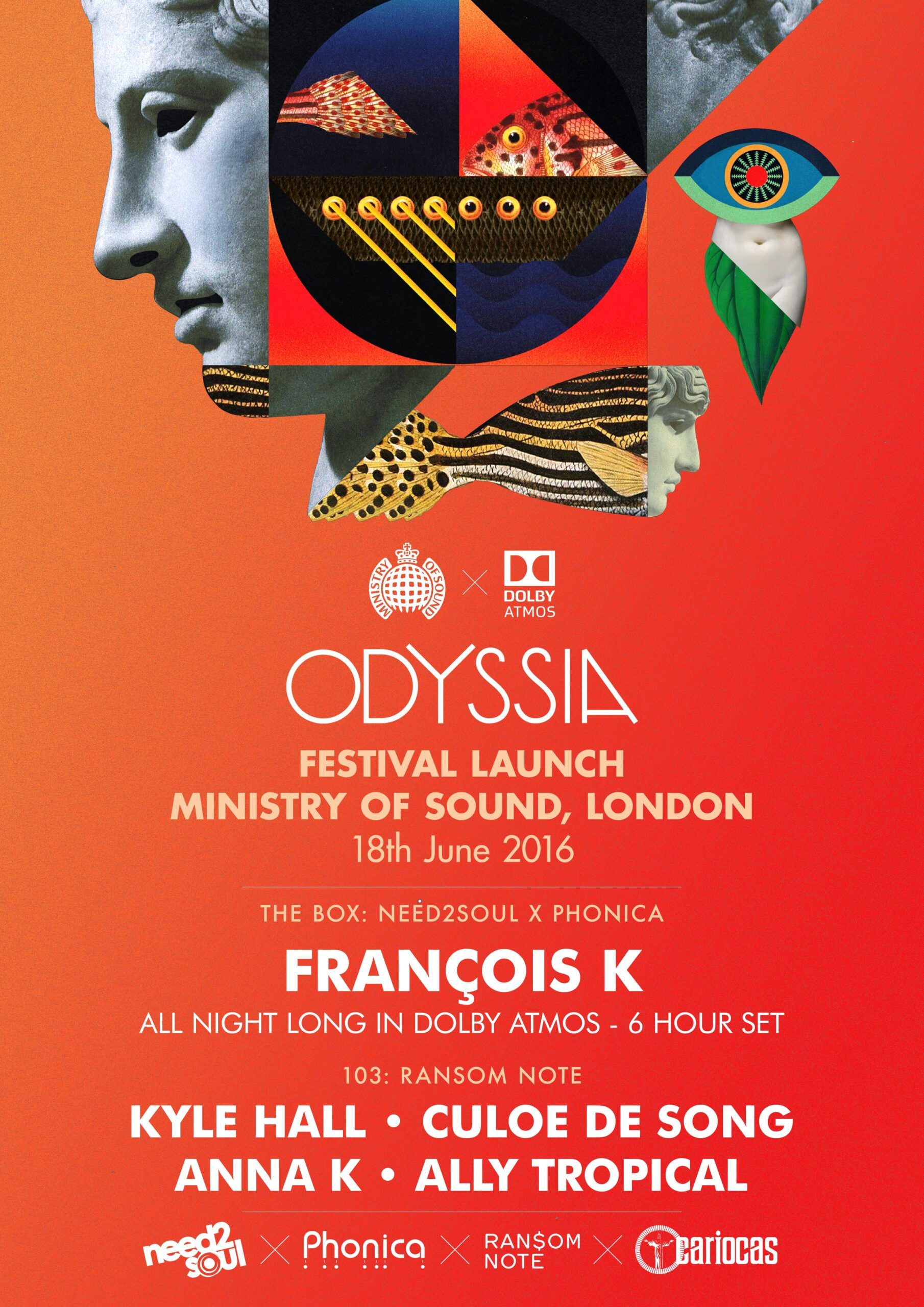 Odyssia Festival Launch Party: François K (6 Hour Set)
Odyssia is a brand new festival hitting Greece at the end of August. Located at Cariocas Beach, a stellar collection of house and disco DJs make up the bill for the inaugural edition, including DJ Harvey, Body & Soul (François K, Joe Claussell and Danny Krivit) and Kyle Hall are among the first names released.
Saturday 18th June see's the launch of Odyssia Festival at Ministry of Sound, London. With none other than François K taking the reigns as the sole DJ controlling the imitable sound system in The Box. In 1990 François picked up DJing once again, after a short hiatus in the late 80s. As part of the first wave of high profile American DJs to play at Ministry of Sound when it first opened, this really is a fitting occasion for his return and one that will surely go down in the history books, as Ministry of Sound celebrates its 25th birthday this September.
Over in 103, Detroit native Kyle Hall leads the charge. His productions are so richly musical, so thoughtful and mature, that it seems crazy to think that he was born in 1991. With releases on Hyperdub, R&S Records and Planet E – a label owned by Carl Craig – he is clearly destined for a rich artistic future. Joining him is Culoe de Song, a South African artist who's been making some serious waves over the last few years. Having produced a number of high profile projects that gained him international recognition, he has since performed alongside international acts such as Rocco, Manoo, Black Coffee, Vinny Da Vinci and most notably tore the roof off an appearance at Ministry of Sound for John Digweed's Bedrock Easter party. Odyssia resident Anna K and Ransom Note regular Ally Tropical also join the billing for 103.
Line-up:
The Box:
Need2Soul & Phonica
Francois K (6 Hour Set)
103:
Ransom Note
Kyle Hall
Culoe De Song
Anna K
Ally tropical
Baby Box:
To Be Announced
Loft:
Secret Music
Jameson
SLF
+ Special Guest Francesco Mami
​
█ Early Bird :£10 [On Sale Now] ██ 1st Release Tickets: £16
███ 2nd Release Tickets: £18
████ 3rd Release Tickets: £20
█████ 4th Release Tickets: £22
██████ 5th Release Tickets: £24
███████ 6th Release Tickets: £26