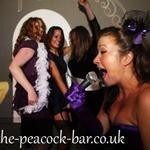 "Oh What a Lovely Recession 70s 80s night"
EVER FRIDAY NIGHT -"Oh What a Lovely Recession" 8pm-2.30am (Open from 5pm, 2 for 1 cocktails till 8pm, Shared Cupcake & Chocolate Classes 6.45pm)
On Fridays from 8pm-2am we bring you "Oh What A Lovely Recession" a club night with a twist combining burlesque shows early with retro indie tinged 80/90s/00s Djs after to create a truly memorable night .
Please note we also have shared cupcake lessons & chocolate workshops on Fridays (£35pp) commencing at 6.30pm.
We begin the performances from 9pm with a great burlesque & cabaret shows – anything from Sinatra to Tranny's (see the list of performers below) – and we always include a lot of audience participation!.
After the shows from 10.30ish its indie tinged disco and dancing with DJ Paul Knight of Living & School Disco fame spinning indie tinged 80s, 90s, 00s tunes with a bit of rock thrown in too until carriages at 2.30am. All aided by tacky original 70s/ 80s visuals and rubbish cheapo lighting for that real School Disco feel.
Entry Complimentary all night (guestlist for guaranteed entry) – book your guestlist or reserved area online from our Bookings Page. But do come early as the shows commence at 9pm on the dot and our prima donnas don't like to be kept waiting! DJs and dancing after from 10.30pm ish till carriages at 2.30am Oh and don't forget to lcaim your free tequila & sambucca shots for reserved areas every Friday